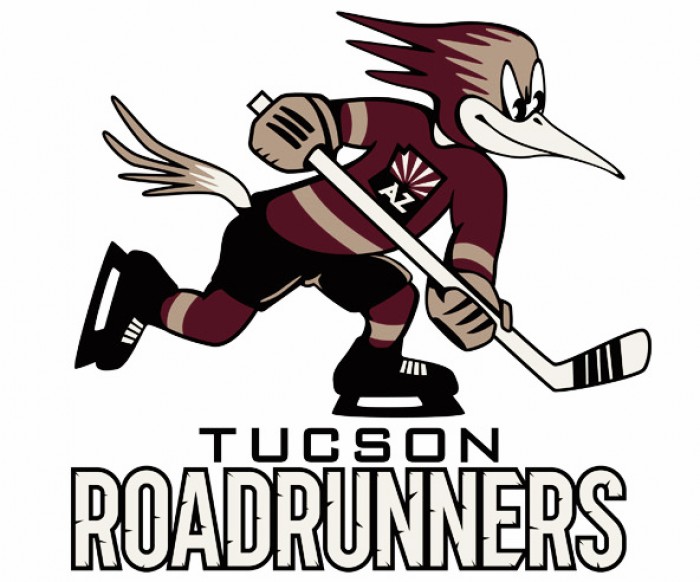 The upstart AHL Tucson Roadrunners have signed four forwards, three defensemen, and one goaltender to their roster so far.
What will supplement those signings will be the players who do not make the parent Arizona Coyotes' final cuts when training camp ends.
Many players will be cut, especially if they don't have a contract with the Coyotes or Roadrunners.
GM John Chayka's enthusiasm is evident when he told Arizona Coyotes' Dave Vest:
"It's a real exciting time for us," General Manager John Chayka said. "We've put in a lot of work this off-season to try and improve our group and add to our prospect group. I really think that this prospect camp will be the most talented rookie camp ever for this organization. It's going to be very competitive. We've got a lot of real good, young players all competing for spots and competing to play games at the NHL level and get into our exhibition games this season. We're ready to go, for sure."
Possible Roadrunner roster additions -- defensemen
Jakob Chychrun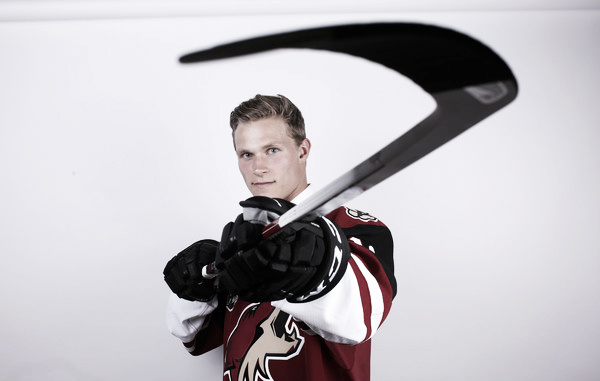 Even though Chychrun is anxious to prove he belongs on the Coyotes' roster, he is up against some stiff competition. As it stands right now, he is one of 12 defensemen on the Coyotes training camp roster. With the team likely to carry 7-8 (at the most) blue-liners on the team, he stands a better chance to get some ice time and develop further in the AHL. Maybe next season Jakob.
Cam Dineen
Cam Dineen was the Coyotes' third-round pick (68th overall) this summer. The 5-foot-11, 185-pound Dineen accumulated 13-46-59 in 68 games with North Bay (OHL) last season, and was named to the OHL All-Rookie First Team. Dineen tallied 59 points ranking him third on the team and second among OHL defensemen. He also added eight assists in 11 playoff games with North Bay.
Dysin Mayo
Mayo had a good year with Edmonton of the WHL, scoring 6-37-43 in 71 games, along with 86 penalty minutes showing he can hold his own. He also appeared in five AHL games last season for Springfield, the former Coyotes' AHL affiliate last season. He recorded one assist.
Kyle Wood
This young defenseman is huge at 6' 5", 235 pounds and has a promising future. He was acquired from the Colorado Avalanche Mikkel Boedker trade, and will be a player to watch in Tucson. He can flat out move bodies out of his way, and was impressive in the rookie development intra-squad game, scoring an overtime goal.
Watch for Wood to be battling for a Coyotes' roster spot next season.
Kyle Capobianco
Capobianco played for Sudbury of the OHL, who had a horrible record last season, but you wouldn't know it by his numbers. He tallied 7-36-43 in 68 games for them. His development will be aided by playing in Tucson.
Possible Roadrunner roster additions -- forwards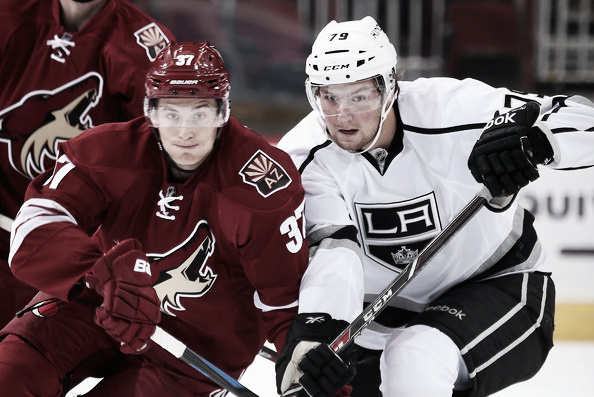 Brendan Perlini
Perlini has got to step up his game to make the Coyotes' roster. His statistics last season weren't what he expected with 25-20-45 in 57 games for Niagara of the OHL. His potential is there, and he's had a rough road to travel overcoming a hand injury at last years' training camp, but it's time for him to get his act together now. He can get some ice time in Tucson, and possibly be available for recall to the Coyotes if need be.
Nick Merkley
Merkley was having a banner year last season when in February '16 he was injured. He sustained an ACL tear and missed the rest of the season. He was going strong with 17-31-48 in in 43 games for Kelowna of the WHL. He is recovered enough to make the trip to Gila River Arena and participate in the rookie camp beginning on September 17th.
Playing in Tucson will help him to recover from his injury and get back to full strength. Besides, the Coyotes' roster is overflowing with forward prospects this season.
Ryan MacInnis
MacInnis has an outside chance of breaking into the Coyotes' lineup, but the likelihood that he will start in Tucson is fairly certain. He would be a player the team would like to call up if injuries occur, and don't forget he'll only be a two-hour drive away. MacInnis had a terrific rookie development camp, and his stock rose because of that.
Michael Bunting
Bunting will get a good look, and has some experience playing in the AHL when he appeared in 63 games for the Springfield Falcons last season. He came in with 11-14-25 for the season, so he needs to continue to work hard, and keep in mind this kid has speed, an ingredient the Coyotes seem to have with quite a few players in their wealth of prospects.
Conor Garland
Garland is a prolific scorer, and it will be tough to keep him off of the Coyotes' final team roster, but again...the numbers are against him. Some say his size will hinder his NHL potential, but he doesn't think so. His 257 points in 129 games the last two seasons says it all. That means he is scoring at almost two points a game, and he too possesses unbelievable speed and tenacity to be around the puck.
He could also be an emergency call-up, or be given a look late in the season to see how he competes against NHL players.
Tyler Gaudet
Gaudet does have NHL experience when he appeared in 14 games last season for the Coyotes, scoring one goal, and two assists. He played the majority of the year in Springfield where he tallied 4-9-13 in 44 games. He's a good fill-in player, and will be a valuable addition in Tucson.
Laurent Dauphin
Dauphin played eight games with the Coyotes last season, tallying one goal, his first in the NHL. He played the better part of the season with Springfield where he had 11-13-24. He will be playing in Tucson this season.
Henrik Samuelsson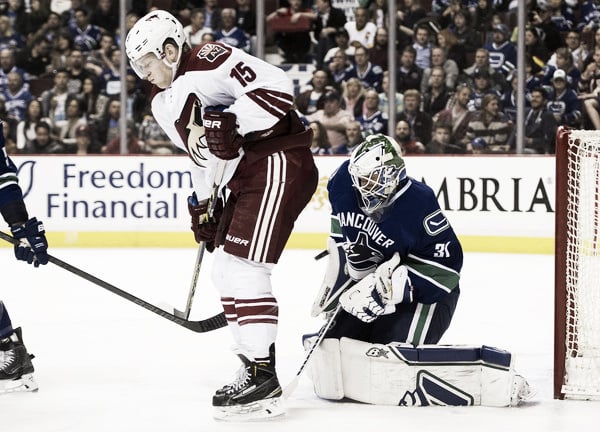 Many have forgotten about Samuelsson, but he will be in camp after missing part of last season with an injury. He managed 3-9-12 in 43 games before his injury. The team was really high on him, and it remains to be seen if he can make it as an NHL player. This season playing for Tucson should help him to get his game back in order as he aspires to play for the Coyotes.
Possible Roadrunner roster additions -- goalies
It looks like Justin Peters and Adin Hill along with Marek Langhamer will battle it out for the two goaltender spots. More than likely, it will be Peters starting and Hill being the backup.
Recap
That makes eight defensemen, and 12 forwards, along with the two goalies making the team. Of course, the Roadrunners will begin play one day before the Coyotes on October 14th against the San Diego Gulls. By then, final roster decisions will be made by the Coyotes determining which players will be sent down to Tucson.
With the above-mentioned talent heading down to the Ol' Pueblo, the team stands to be very talented and it will make for an exciting season of AHL hockey for fans to enjoy.