It was announced in a NHL.com article that Jacob Trouba, 22, wants to be traded from the Winnipeg Jets. He's apparently tired of not playing on his normal right side defense, and behind two others who play that side in Dustin Byfuglien and Tyler Myers.
He told TSN:
"I want to play on the right side to realize my potential. That's not going to happen in Winnipeg. This has nothing to do with Winnipeg as a city. This is about me getting the chance to be the best player I can be. I've worked hard to get this far. I don't want to look back in 20 years and wish I hadn't just gone with the flow. Sometimes you have to put yourself first. This isn't an easy decision. But I want to play on the right side."
The list of suitors is long
There is a list of teams interested in the talented defender. They include: Arizona Coyotes, Boston Bruins, New Jersey Devils, Edmonton Oilers, and the Toronto Maple Leafs.
Winnipeg has made it known that they want a young left-shooting defenseman, and a young forward. The team has $7,569,208 of salary cap space, and doesn't seem interested in spending it on Trouba.
The most logical team to make a deal with seems to be the Arizona Coyotes. They have a wealth of young prospects in their system, especially forwards.
As far as left-shooting defensemen, they have as real comer in Jakob Chychurn, whom they may not want to trade at this point. Besides him they have Klas Dahlbeck, Jarred Tinordi, and Kevin Connauton who could be trade bait.
As far as forwards go, let your imagination (or the Jets' whims) go wild.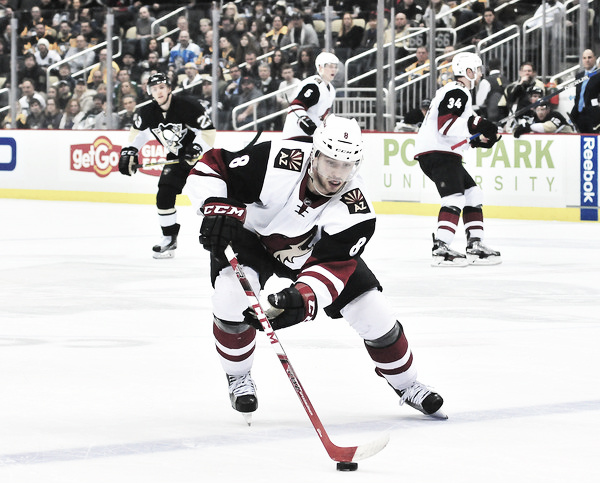 There is always the possibility that Tobias Rieder could be included in such a deal. He and his agent have made it known he will not be in training camp (as is the case with Trouba) due to contract negotiations breaking down. Rieder wants a salary in the vicinity of $2.75 million, and the Coyotes are more inclined to be in the $2-2.3 million neighborhood.
Other possibilities for a forward to be included in a possible Trouba trade could be: Brendan Perlini, Ryan MacInnis, Conor Garland, or Laurent Dauphin. All have raised eyebrows at the Coyotes' rookie training camp thus far.
What kind of compensation does Trouba want?
Speaking of salary, Trouba has made it known that he feels he is worth $7 million a year, and dreams of an eight-year deal. That's probably not going to happen for any team seeking his services.
It has been well documented that the Coyotes have coveted a right-hand shooting defenseman to team up with the top pairing of All-Star defenseman Oliver Ekman-Larsson.
Michael Stone has been tried, with limited success. Connor Murphy has really stepped up his game and could fill that role too.
With a number one pairing of Ekman-Larsson/Trouba, and a secondary pairing of newly acquired Alex Goligoski/Stone, or Murphy, the defense will really start to dominate.
If GM John Chayka really wants to put his team in some serious contention not only to make the playoffs, but to be in the hunt for a Cup, then he needs to think long and hard about adding Trouba to his team.
He has tallied 23 goals, 49 assists in 211 games thus far with the Jets. He also added 12 power play goals, 336 hits, and 429 blocks to his resume. Another stat which attracts Chayka's attention is his Corsi for percent at even strength. His is a very respectable 51.6.
At 6' 3", 202 pounds he makes his presence known when his zone is attacked.
Every hockey (or for that matter any other major sport) expert knows that defense makes championships, and if the Arizona Coyotes want to be included in that premier group, they should put the best possible team on the ice night in and night out.