 Tobias Rieder has been signed.
Most Arizona Coyotes' fans probably never thought they'd hear those words considering the amount of time it took to get the job done. The two sides started this contract stuff way back in February. Late Monday night, while Rieder wasn't able to help his teammates defeat the Vancouver Canucks 4-2, he learned that he will indeed remain with the Coyotes after all.
Deal details
He agreed to a two-year $4.45 million contract according to his agent Darren Ferris. He will get $2 million in the initial year and $2.45 in the second year. Ferris had offered the team a two-year $5 million contract, but GM John Chayka turned that down.
It began to look like Rieder would be traded, or play in the KHL, where he had some offers.
Since Rieder was a holdout, after he completed his play for Team Europe in the World Cup, he did not participate yet in the training camp activities or pre-season games. He should report to the team in the next few days. Playing in the World Cup is equivalent to training camp, or better so he should come into camp in shape and ready to go.
If he hadn't signed by December 1st, he would not have been eligible to play the remainder of the NHL season.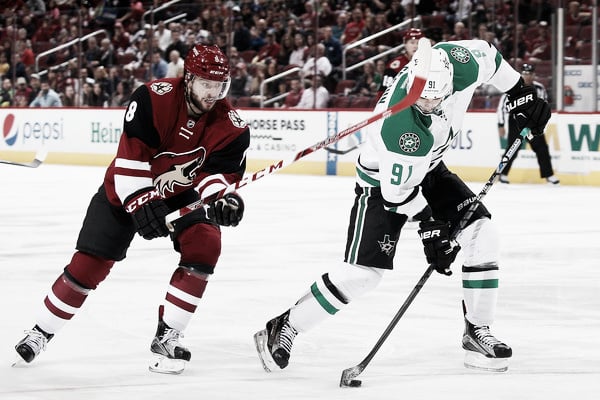 The forward roster openings just decreased by one
This raises the already tough competition for forward roles on the Coyotes. It may not have been good news for Lawson Crouse or Christian Fischer both of whom would have been prime candidates to replace Rieder. Rieder's success last season, when he scored 14 goals, 23 assists in the top-six group of forwards led him to believe (along with his agent's input) that he was worth the amount his agent demanded.
Read more on the Arizona Coyotes ->> Arizona Coyotes cut 17 players from training camp roster
Rieder mentioned that he really didn't want to get traded, and his agent more than likely used that as a threat to up the ante on his contract. General Manager John Chayka may have been born at night, but he wasn't born last night. He remained adamant in his stance for the amount he would spend to acquire Rieder's services. When push came to shove, Rieder must have realized that there was so much depth on the Coyotes forward line of prospects that he could easily be replaced, and for less money.
Let's just say it wouldn't be a good idea to play poker with Chayka, he will tear you up.
The Coyotes' penalty kill unit will again enjoy Rieder as one of its primary experts. All Rieder needs to do is work on his poor 7.4 per cent shooting percentage to improve his accuracy and goal scoring statistics. He is already an excellent defensive player and has shown his blazing speed when he passes defenders in the wind.
And, remember how skilled he is in scoring short-handed goals. He'll be welcomed back to the pack.