 The new T-mobile arena has already hosted its first NHL exhibition game on October 7, 2016 with the Dallas Stars playing the Los Angeles Kings in front of over 15,000 fans, as part of the Frozen Fury series of games.
T-mobile arena is a big hit
T-Mobile Arena features a joint venture partnership of AEG and MGM Resorts International, and is a privately funded, 20,000-seat, $375 million indoor arena located on the Las Vegas Strip between New York-New York Hotel & Casino and Monte Carlo Resort and Casino.
Hockey fever is growing in Sin City.
And, they have already sold 16,000 season tickets, which is quite amazing.
The owner, Bill Foley is building the hype up for the team name, as he disclosed the name has been chosen, but it won't be released until next month sometime.
And when it is announced, if the team is called the Las Vegas Silver Knights, this uniform concept is quite attractive.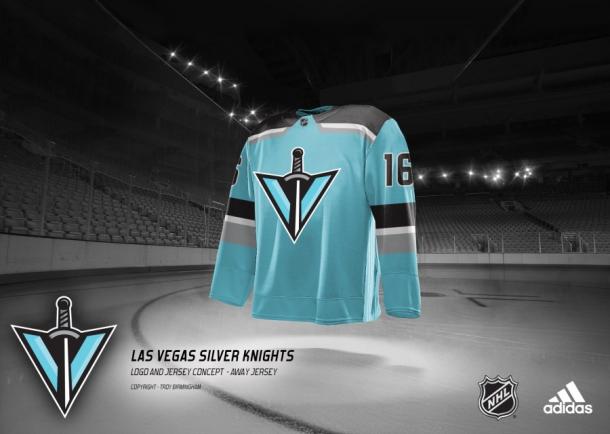 Talk about marketing, Foley knows what he is doing.
So what will the new team be called?
Owner Bill Foley told Nicholas J. Cotsonika of NHL.com:
"Our goal is really to … have a logo and a name that gives us the ability to create a culture around this team that will be built here for years and years and years to come," Foley said. "If anything, that's why I've been a little bit [particular] about this, kind of waiting and waiting and trying to refine and refine. So I appreciate everyone's patience. We're very close."
What we already know is the team will be named either the Golden Knights, Silver Knights, or Desert Knights. All three names have been copyrighted. What's your favorite?
In fact, Ken Boehlke of sinbin.vegas has stated the team name could be revealed November 18th, a week before "Black Friday", causing some shopping frenzy for the new team's jerseys, and team paraphernalia.
The team has already broken ground for a new practice facility on October 5th, which will contain two sheets of ice, offices for staff members, and a restaurant.
Foley is doing it right.
Now, all the team needs is a Head Coach (they're working on it), and players.
Expansion draft rules
Speaking of players, the expansion draft rules will be such that this new expansion team should get some really talented players.
Those rules state each of the 30 teams may select one of the two to go on their list of protected players:
a) Seven forwards, three defensemen and one goaltender
b) Eight skaters (forwards/defensemen) and one goaltender
Vegas must select 14 forwards, nine defensemen and three goalies by the end of three days after each team submits their protected list by 5pm ET on June 17, 2017 to start play next season.
This leaves the new Vegas franchise some awfully good possibilities for shoring up a team worthy of being very competitive in its initial season.
To look back in NHL history at other new expansion teams' initial season records, it is apparent that the new teams struggled.
The 1970 Ottawa Senators had a miserable 10-70-4 record, while the 1993 Florida Panthers actually almost made the playoffs with a respectable 33-34-17 record.
What will the (Las) Vegas Knights initial season record be?
If they can become respectable right off the get go, the idea of future expansion will be that much more palatable to all concerned.
Players' reaction to playing hockey in Vegas
Stars' forward Jason Spezza told NHL.com:
"It's going to take a little bit of getting used to, being in Las Vegas for hockey," Stars center Jason Spezza said. "But I thought they did a good job. For a first run I think it was pretty good. It's definitely suited for hockey. It doesn't look like there's too much extra stuff going on. The fans are in good spots. The lighting's really good. I like the bright lights."
And soon, the additional bright lights of the Vegas strip will be the destination for the NHL, and it should be a very unique, entertaining experience here in the "entertainment capital" of the world.