The Minnesota Wild simply didn't play their best on Sunday night against the New York Islanders, as they fell 6-3. While forward Zach Parise had himself a great game, as he scored his 300th and 301st career goals, Wild coach Bruce Boudreau found a group to blame for the loss, his fourth line.
"They were minus-3. I don't know how many minutes they played, but they didn't play too many." Boudreau commented after the game. "It can't happen; if that happens, you're gonna lose. And when you're going back-to-backs, you gotta use them."
One thing that surely didn't help was the three straight goals that the Islanders scored in the second period, all within a three-minute span, with John Tavares, Calvin de Haan, and Johnny Boychuk all found the back of the net to erase what had been a 1-0 Minnesota lead.
Bruins plagued with injury, poor play
Things haven't been much better for the Boston Bruins, as they lost 4-2 to the Montreal Canadiens on Saturday night in a game that saw just 21 shots fired at the Montreal net, with only six being on goal.
To make matters worse for the Bruins, on Monday they were forced to recall goalie Malcom Subban on an emergency basis, signaling that the injury to starter Tuukka Rask could keep him out for at least another game.
In his fourth professional season, Subban has appeared in just one NHL game, which was two years ago in St. Louis where he gave up three goals in 31 minutes before being pulled, not exactly what the Bruins were hoping for heading into the Minnesota game.
Keys to Victory
For Minnesota, their path to victory has to go right through the Boston defense to whoever is in goal on Tuesday night. If it does end up being Rask in net, then they are going against someone who is just coming off an undisclosed injury. If it's Subban in goal, then they are going against a rookie who's only other appearance was a disaster.
For Boston, their path to victory revolves a quick start, which has been their Achilles heel through the first few weeks of the season.
Head coach Claude Julian noticed this after the Montreal game, saying: "I hope it's not a habit. It's certainly not what we're looking for. But there's no doubt, I think it's pretty obvious that with the amount of games we've played, five games, we haven't scored first. We talked about that this morning, trying to get that first goal, and it hasn't happened yet."
News and Notes
- Minnesota's Charlie Coyle will have a homecoming of sorts on Tuesday. The 24-year-old grew up in Weymouth, Massachusets and played his college hockey for the Boston University Terriers.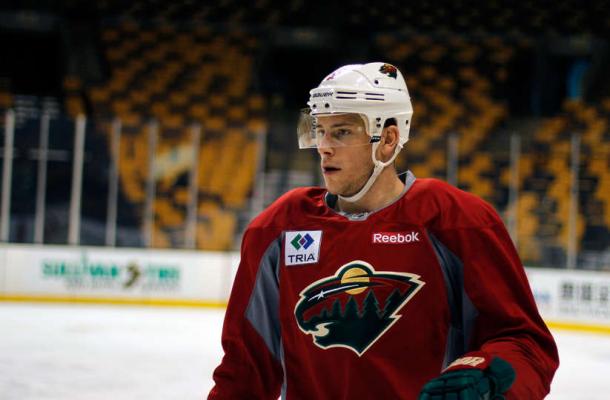 - After the game, the Wild will return to New York to face the Buffalo Sabres on Thursday night, while the Bruins will also travel to New York for a Wednesday matchup with the Rangers.