It's only been 12 days since the Arizona Coyotes last faced the Philadelphia Flyers on opening night at Gila River Arena. But for the players, it must feel like 12 weeks. When you're losing five straight games as they have, you feel like you're in a time warp.
Beam us up Scotty
Well, boys, it's time to get beamed up from the time warp and play some winning hockey. You do remember how to do that, right? It's not that they have played horribly, they haven't. They have lost two three-goal games, one two-goal game, and two one-goal games, to be exact.
They don't want to use the excuse that they have a young team, but the truth speaks volumes. They are the only NHL team to have five rookies on their season starting roster. Young players are exciting to watch, but they also make rookie mistakes due to lack of experience.
The last time these two teams faced each other was opening night, and the Arizona Coyotes managed an overtime victory compliments of Mr. Overtime himself, Oliver Ekman-Larsson tallying the extra frame goal. The game Tuesday night against the New Jersey Devils saw his over the top heroics go down the tube thanks to one borderline call and a linesman in the wrong place at the wrong time.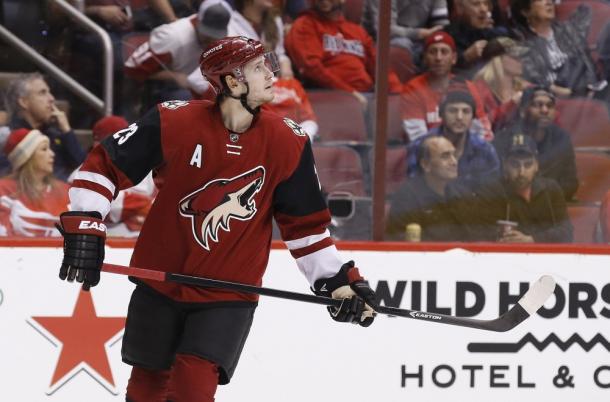 Is there a way out of this losing streak?
Now IF the Coyotes can regroup (and at this point what else can they do) and remember what kind of effort it took to win against the Flyers almost two weeks ago, they may be on the path to recovery. But this patient is not out of urgent care quite yet.
They still haven't had a shutdown performance from three different goaltenders, and they really need to help their netminder out much more than they've shown on this nightmare road trip. In fact, Head Coach/V.P. of Hockey Operations Dave Tippett seems purely disappointed that some easy five-hole goals have eluded his goalie in the last three losses.
What to expect against the Flyers
In the game against the Flyers, the Coyotes need to forget (if possible) the losing streak and play their game. The Flyers' record is 3-3-1, and are coming off an overtime shootout victory over the Buffalo Sabres on Tuesday night at home. They've won two of their last three and will be looking to take advantage of an Arizona team who is down and out...for now.
If they can manage to play a tighter defense, and actually get some offense going from players like Max Domi and Anthony Duclair, they have a real chance of breaking this spell of losses. If they can leave the city of brotherly love with a win, they will come home for three home contests. Nothing like sleeping in your own bed, and seeing your family to encourage you to play better.
They play the Colorado Avalanche, San Jose Sharks, and Nashville Predators. These teams may not be struggling like the Desert Dogs, but they are winnable games. That word WIN has eluded the Coyotes, and that should make them hungry to win...hungry like a coyote.
And celebrate like this: