The Arizona Coyotes homecoming, which was celebrated as Halloween night at Gila River Arena, found them receiving the trick instead of the treat.
The Colorado Avalanche, playing back-to-back games were fresher, faster and took it to the Desert Dogs most of the night.
Arizona takes the lead in the first
The Arizona Coyotes came out fast and furious as has been their trait lately, but didn't maintain an early lead compliments of Radim Vrbata's picture perfect goal at 14:57.
The play started as Martin Hanzal made a slick behind-the-back pass to his line-mate Max Domi on the left side. Domi's excellent passing ability was instrumental as he drew Av's defenders toward him, and laid a pass on a streaking Vrbata's stick in the slot.
Sharpshooter Vrbata scored his fourth goal of this 2016-17 campaign, as he flicked a quick wrist shot by young goalie Calvin Pickard for an Arizona lead of 1-0.
The period ended with the Coyotes enjoying the treat of a 1-0 lead.
Second period lead loss
But, as noted in the preview of this game, Matt Duchene of the Av's is a swift center, who must be defended closely. The Coyotes didn't do that, and Duchene tallied his fourth goal at 5:51 in this his seventh game this season.
The speed of the Av's, which is supposed to be the Coyotes' forte was evident, as they got to more loose pucks than the hometown team, and put it to good use.
The Arizona Coyotes had two power play opportunities, which they squandered. The special teams didn't act too special in this contest.
Third period horror
The Avalanche scored early to take the lead at 1:42, thanks to a tripping penalty assessed to Jordan Martinook at 0:49. Rene Bourque got a lucky power play goal off the end boards, and the Colorado club was showing they were the team more prepared for this game.
Then, at 11:24 they put the hurt on the Coyotes by getting that third goal by none other than Duchene. The shot hit Louis Domingue's catching glove, but still got by him. Another mistake by the Coyotes' goalie cost them a chance to stay in this game.
As has been most of the games this season for the Coyotes, they were forced to play catch-up once again.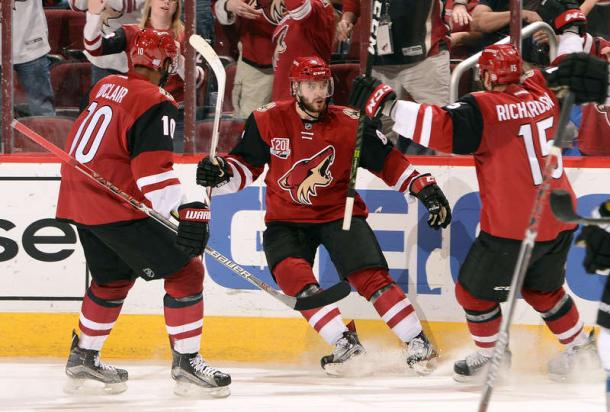 They got a late goal, on a pretty lead pass from Oliver Ekman-Larsson to a speedy Tobias Rieder who had a breakaway, and he buried it for his second goal of the year.
In desperation mode, the Coyotes pulled Domingue but to no avail. This game was lost due to poor special teams play. The power play continues to hit a dry spell here in the desert, with a 3 for 28 success ratio. That is only a 10.7 per cent power play, which is not good enough to win in the NHL.
Coach Tippett's remarks
Remarking about the fact that both teams came out seeming tired, Tippett mentioned, "Yeah both teams were sluggish, there wasn't alot of energy in the game whatsoever, you know we looked like we had come off a long road trip, and they played last night so...it was a game where we just had to hang in there, and we made a couple of mistakes and it cost us."