When your team is in the midst of losing six of eight games, sometimes it takes playing an elite team like the San Jose Sharks to get things going.
Well, the Arizona Coyotes are going to have that opportunity tonight as the Western Conference champion Sharks visit Gila River Arena.
Sharks are playing well
The Sharks are 6-3 and have their terrific threesome of Joe Pavelski, Brent Burns, and Joe Thornton leading the way. Pavelski is a Shark player who loves to play the Coyotes because he has had nothing but success against them. Burns is Burns...hard to stop him. Thornton seems ageless and runs like the energizer bunny, but sneakier.
More from the Arizona Coyotes ->> Arizona Coyotes: reasons for bad start
The Coyotes need to be aware that the Sharks are awesome on the power play with a 24.41 percent success rate, and even better on the penalty kill with an impressive 84.62 percent ratio. So, that means the Coyotes' power play, which has been anything but powerful with a 10.7 percent scoring rate, may not be much of a threat to San Jose. It also means if the Coyotes continue their ill-fated march to the sin bin, the Sharks will make them pay for it.
Roster change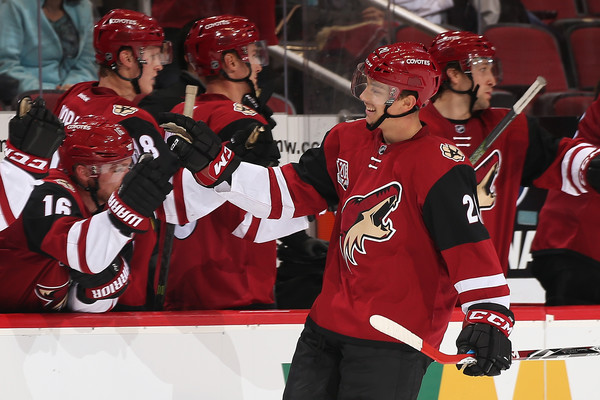 It was announced on Monday that the Coyotes assigned center Christian Dvorak to the AHL Tucson Roadrunners. This no doubt is being done to give Dylan Strome another shot at staying here in the NHL.
He's only appeared in three games thus far and has been practicing hard, working on his game to improve.
This move doesn't in any way mean that Dvorak is being demoted. Strome can't be sent to the AHL, he would have to go back to junior, due to his age. Dvorak has performed adequately with three assists in seven games. We will more than likely see him back with the Coyotes later in the season.
The other two young prospects, Lawson Crouse and Jakob Chychurn seem to be safe at this point, passing their nine-game trial period before their destiny is determined.
Line changes again
One thing Head Coach/V.P. of Hockey Operations Dave Tippett has always done is mixup his lineup until he gets results. With a terrible 2-6 record he's not changing that trait.
It looks like their main first line is still intact with Martin Hanzal centering Max Domi and Radim Vrbata. With Strome back in the lineup, he moves to the second line with Jamie McGinn and Anthony Duclair. The third line consists of Brad Richardson in the middle, with Tobias Rieder and Shane Doan on the wings. The fourth line has Jordan Martinook, Lawson Crouse, and Ryan White. Laurent Dauphin is the extra skater. Louis Domingue more than likely will get the start in net.
That was per Sarah McLellan of azcentral.com, and subject to change.
Michael Stone is still questionable to play, according to Tippett, and Mike Smith got on the ice for practice, but not in pads.
Game plan
The Coyotes need to stay out of the penalty box and improve on their special-teams play. One veteran who knows that well is Alex Goligoski who told McLellan:
"Special teams decide the game a lot of the time. It has a few games for us. I think we're penalty killing too much, and that's usually a problem. It's tough to kill off (chances) when you've killed five, six or more. But power play, we're executing pretty good a lot of the time. We can still get a lot more stuff to the net and create some chaos down there."
The Coyotes have given up eight of the 25 goals to get in the net while down a man. That hurts their efforts on offense, and the answer is to go to the box less. It's a matter of discipline and structure. San Jose is coming off a three-game winning streak, including an impressive 4-1 win over the struggling Nashville Predators on Saturday night.
For the Coyotes to come away with a win, they must play their best game of the season. There's no time like now to begin their upward climb out of the NHL cellar.
We'll see what happens when the puck is dropped at 7pm Tuesday night.