 The Arizona Coyotes got off to a horrendous start this season going 1-5 on an extended road trip after winning their home opener.
They seemed to get back on track recently, before the Anaheim Ducks' game by winning three of four games.
Then, for some unapparent reason, they looked absolutely terrible in the first period in Anaheim.
How terrible?
Try giving up three goals and 21 shots. That terrible.
It could have been worse, had Louis Domingue not made some game-changing saves. His defense totally abandoned him. Then, in the last two periods, the shot barrage decreased to just 12 more shots.
Still, the lack of puck possession is causing inflated shots on goal against the Coyotes. Giving up an average of 34.7 shots a game shows that the game is being played in the Arizona defensive zone way too much.
More from the Arizona Coyotes ->> Arizona Coyotes win overtime thriller against the Nashville Predators
To make matters worse, they are only generating 28.6 shots on their oppositions' net. If statistics like this continue, more losses will surely follow.
Well, if anyone who follows the team will know, that doesn't go down too well for Dave Tippett. He has been known to bench players of any caliber if he feels they need an attitude re-adjustment.
Just ask Connor Murphy who got pine duty when Tippett was not a fan of his play last season. Murphy got the picture and came back strong after the benching.
Whether the call-ups today of Tyler Gaudet and Anthony DeAngelo of the AHL Tucson Roadrunners were to make a point, or fill in gaps from both Martin Hanzal and Michael Stone's continuing injuries is still up for debate. If Gaudet plays, that means either Dylan Strome, Christian Dvorak, or Laurent Dauphin will sit. The way Strome has been invisible, it may very will be him who finds himself sitting in the press box instead of down on the ice.
The team needs some type of shake-up to start competing better. Coyotes' netminders are feeling like they should be receiving combat pay the way the endless artillery continues to attack their net.
So far Goligosky has not been impressive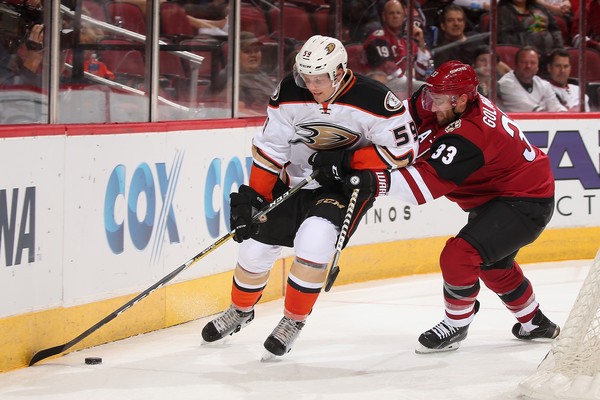 When GM John Chayka went out on the open market to acquire Alex Goligoski, he was certainly doing so to upgrade the poor Arizona Coyotes' blue-line.
So far, he hasn't been burning up the NHL. He does have six assists in 11 games, but is also the team leader with the worst +/- rating of -8. He has eight giveaways, with only one takeaway. He's been paired up with various different defensive linemates including Murphy, Luke Shenn, and most recently Oliver Ekman-Larsson.
With what Chayka dished out for a contract ($5.375 million a year for five years) one would expect a bit more output. Giving him the benefit of the doubt, he had to move here, just had a new baby, and is still acclimating.
Will things improve once Smitty is back?
Maybe.
Mike Smith has been out a while and will need to get back into the swing of things once again. The main issue with the Coyotes has been more of what is going on in front of their goalie, although Tippett has been critical of shots his goalie should have kept out of the net.
Louis Domingue, with his record of 3-6, .893 save percentage, and a poor 3.87 goals given up per game is not getting it done.
Next up is a game against the Colorado Avalanche
All this may be clearer after tomorrow night's game in Denver. If the Coyotes get clobbered again, don't think twice about Tippett and or Chayka, making some moves.
Chayka has put together what he thought is a competitive team, but so far this season, they have not shown that fire in their belly to win games. The forwards need to backcheck and help the defense, and the offense has not been that bad thus far, with 2.82 goals per game.
Once the defense steps up from their current 28th position in goals against, the team will start to see some success.
Unfortunately that has been slow to develop.
One thing is for certain, if the Coyotes play like they did in Anaheim you'll see steam coming out of Tippett's ears.
Not a pretty sight.