 Back-to-back games are not a fun time for hockey players, yet they must be played.
The Chicago Blackhawks were missing their captain, Jonathan Towes and their star goalie Corey Crawford, but didn't seem to miss them as they shutout the Arizona Coyotes.
Mike Smith was back in net after his exhausting effort Saturday night against the Columbus Blue Jackets, where he made 58 saves. The Coyotes had no answer for the powerful Blackhawks, and fell for the fifth straight game, including a shootout loss and an overtime affair.
The team just seemed out of gas, no extra effort to compete, and their Head Coach, Dave Tippett was again stating that plays are not being made to be successful.
First period was Coyotes' best
The Coyotes came out looking like they wanted this game, but took a penalty at 14:37, when Jamie McGinn was called for hooking. The Blackhawks capitalized led by Patrick Kane's skill on the power play. As he schooled Jakob Chychurn on the right boards, he got a shot off which Artem Anisimov was able to beat Luke Schenn's coverage and deflect past Smith for a 1-0 lead at 15:37.
The Coyotes did manage to outshoot their opponent 9-5, but still trailed as the first period came to a close.
Second period, turning point of game
The middle frame was all Blackhawks, and mostly Marian Hossa, as he tallied his first of two goals, followed by a score by Dennis Rasmussen to blow the Coyotes' out of the game.
On Hossa's first goal he received a pass in his skates as he broke in on the right side, but managed to gather in the rubber disc and squeeze a shot by Smith at 6:26, giving his team a two-goal lead.
Then, the real killer for the Desert Dogs came just 19 seconds later when Richard Panik rushed the net, got by Michael Stone and forced a shot on Smith, who made the original save. But, Panik was able to regain possession of the puck, going around the net, and placing a pass on Rasmussen's stick, who Alex Goligoski was unable to defend against.
The Coyotes only managed six shots on Scott Darling, and their lack of energy was evident.
Third period - the Hossa show
Marian Hossa was not done yet and to close out a game already in the Blackhawks' back pocket, he scored again at 16:44 to put the hurt on the Arizona club.
He had a breakaway, compliments of a Niklas Hjalmarsson pass. He broke in on Smith and placed a wrist shot into the net. The tired Coyotes, playing their third game in four nights, were done.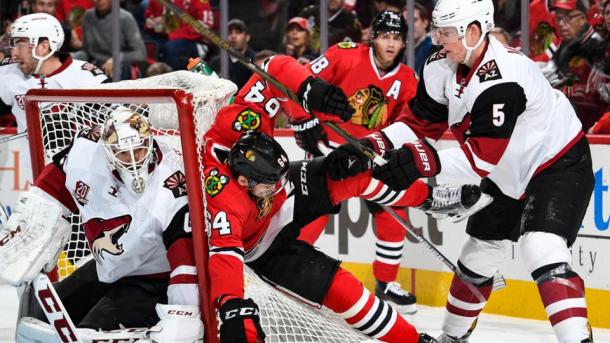 The only statistic the Coyotes won in this game was hits, where they bruised the Blackhawks 37-16. Obviously that wasn't enough to overcome the Chicago club.
It was the first time the Coyotes were shut out this season, and now they head back home to play Calgary on Thursday night in an attempt to get back on track in the winning column.
This game was one the team can put behind them, and to improve they must play better defense, and find a way to generate more scoring chances.