 The Arizona Coyotes may have turned the corner with their improved play recently beginning with the game Thursday night against the Calgary Flames.
In that game, they started to show some spark that they really can compete in this league.
More from the Arizona Coyotes ->> Arizona Coyotes blanked by Chicago Blackhawks
They then followed that up with a extraordinary performance against the Nashville Predators, which could be the turning point to a fairly disappointing season thus far for the Desert Dogs.
Lawson Crouse
Lawson Crouse had by far his best game in the NHL against the Nashville Predators. On one play, he beat two Nashville players into the offensive zone and waived off an icing call. If that wasn't hustle enough for the huge 6' 4", 220 pound winger, he continued to retrieve the puck away from two defenders and lay a perfect pass on Alex Goligoski's stick for the first goal of the game, and the first in a Coyotes' uniform.
Then, his physical play was more than outstanding as he hit the Preds with every opportunity to let them know he's in the NHL to stay. He even took on superstar P.K. Subban in some fisticuffs and held his own.
He was flying down the ice most of the game, and Nashville just had no answer for him.
If he can continue with that style of play, with that level of intensity, he will have a permanent spot on the Coyotes' roster.
And he's just 19 years of age.
Brendan Perlini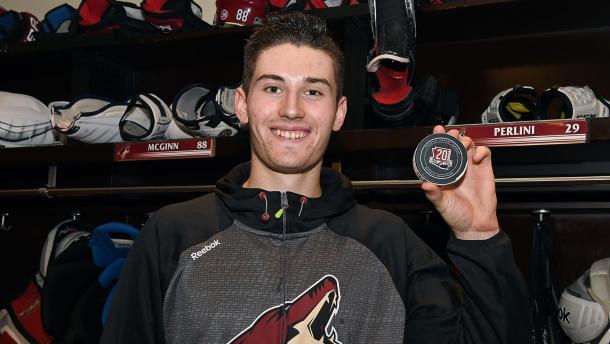 In just his fourth game since being called up from the Tucson Roadrunners to help ignite some offense into the lineup, Brendan Perlini scored his first NHL goal. He joins four other Coyotes who have accomplished that feat this season.
Perlini made no mistake on a beautiful pass from captain Shane Doan, as he drew two defenders towards him only to pass the puck to a wide open Perlini. Brendan put it top shelf against one of the premier goalies in the NHL. Pekka Rinne didn't stand a chance on the shot, and that gave the Coyotes a 3-1 lead.
Perlini has great speed, and a wicked shot to augment his chances of staying with the parent team. He had been tearing up the AHL with 11 goals in 16 games, and five assists to go along with it.
He's a keeper, and the team has really picked up their level of play since his call-up. Let's see if he can continue to impress.
Laurent Dauphin
"Flipper", as Laurent Dauphin is affectionately named by his teammates also has started to shine. He was sent down to Tucson recently, along with Anthony DeAngelo to improve his game.
He did just that, as he scored the second Arizona goal against Nashville on a rebound. He had played 18 games to begin the season with the parent team, and apparently likes playing at the NHL level better. He is a hustling fourth line player who excels in fore-checking and hounding opposing players.
He fits right into Dave Tippett's system, and he may have a future with the team as a fourth line performer.
Jakob Chychurn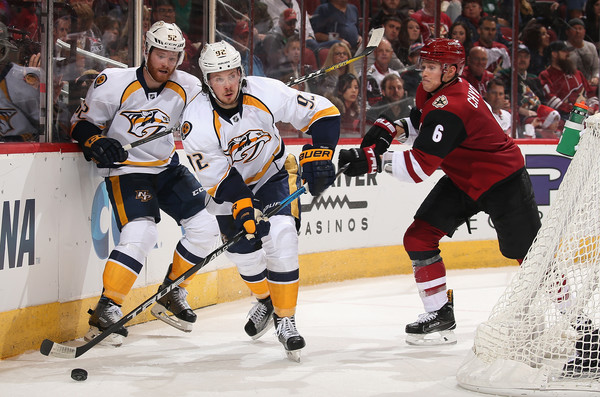 Jakob Chychurn has been in and out of the lineup as Tippett has been experimenting to get some idea of chemistry certain players possess with others. Chychurn is a physical specimen at 6' 3", 200 pounds and has been beyond impressive as a 18 year old this season.
He's not afraid to drop the gloves, as Brayden Shenn discovered when Chychrun battled him in a fisticuffs match.
The coaching staff has shown great confidence in the young player by putting him on the ice for power plays or penalty kills. He may still be a bit rough around the edges, but has tremendous potential to be playing on the Coyotes' blueline for years to come.
Anthony DeAngelo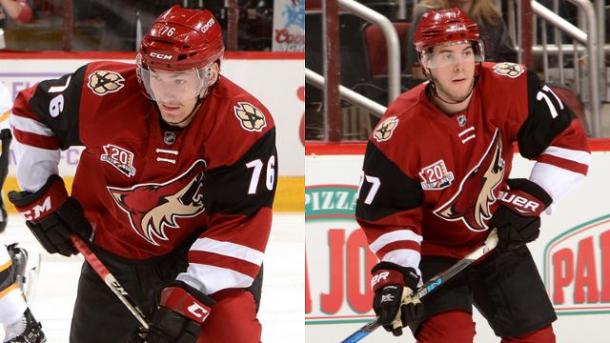 DeAngelo was called up with Dauphin to shake up the Coyotes usual starters and get the point across that on Head Coach Dave Tippetts' team you play hard, or you sit.
Both Michael Stone and Anthony Duclair were healthy scratches for the Nashville game.
DeAngelo is being groomed to take Stone's spot from him on the blue-line if he can improve his defensive lapses. On the offensive side of the puck, Anthony has the passing ability way beyond his years, and pushes the puck with the best of them. His future is definitely something the team can rely upon as he improves his play, or Stone doesn't pick his up.
Right now DeAngelo and Goligoski seem to click well on the defensive pairing, and that could be a solid second blueline duo.
Chayka making some moves
Stone could be on the trading block, as GM John Chayka looks to turn around this meager season's results thus far.
He went to the wavier wire today, and acquired center Josh Jooris from the New York Rangers. He also traded with the Toronto Maple Leafs to acquire another center by the name of Peter Holland. He was a former 15th overall pick by the Anaheim Ducks in 2009.
With the loss of Brad Richardson due to a severe leg injury, Chayka is looking to store up some additional players to fill the void, and create some fierce competition for jobs in the lineup.
He will more than likely continue to hear offers on Martin Hanzal, whose contract is expiring this season end. Anthony Duclair's lack of playing to his potential may put him on the trading block if he can't pick up his level of play. He has been on several different lines, but seems to only excel when playing alongside Max Domi.
Speaking of Domi, he was placed on injured reserve after being injured in a fight with the Flames Garnet Hathaway. He came away with a bloodied face, but a smile was on his face. That particular fight may have more to do with the fire the team has shown recently than anything else Head Coach Tippett could have implemented.
Who says fighting has no room in the game anymore? It certainly got the Coyotes out of their recent funk, and Ryan White also has to be recognized as a player who shows opponents you don't want to mess with him or his teammates.
Final thoughts
The Coyotes newly found desire to play better will be tested heartily as they embark on a four game road trip to Pittsburgh, Detroit, Toronto and Minnesota before coming back home for one of their longest home stands of five games before and after the Christmas holiday.
With two new players to add into the mix, we will see what this team is made of, and if they can step up their level of play to become more competitive.