 The Arizona Coyotes were soundly beaten to a pulp last night in Pittsburgh, by the ugly score of 7-0. There was nothing pretty about the way the Yotes played, and their Head Coach, Dave Tippett must have made that known to the team who showed up tonight at the Big Joe in Detroit.
More from the Arizona Coyotes ->> Arizona Coyotes facing wrath of Dave Tippett after poor effort
Whenever new players are integrated into the lineup, good things can happen. And, in this game newly acquired center Peter Holland wound up being just the remedy to the Yotes woes.
He was joined on a line with Anthony Duclair (still pulling splinters out of his posterior from sitting on the bench), and Jamie McGinn to gather five points in the game.
First period saw Coyotes grab the lead
There should be no more motivation necessary when a professional sports team gets beaten so severely that it hurts to watch them. The Coyotes came out a different team in this initial period. They scored a power play goal early at the 2:01 mark to get things rolling.
Anthony DeAngelo wristed a beauty off a lead from Tobias Rieder, who drew the defense towards him only to pass it off to a breaking DeAngelo down the left side. He picked the inside of the post as Jordan Martinook as well as Shane Doan screened Jimmy Howard. It was DeAngelo's third goal of the season.
Nothing like taking the lead early, but could the Coyotes hold it?
Not really, as at 16:12 Andreas Athanasiou scored his fifth goal for Detroit Red Wings on a net crashing affair to tie the game at one.
Then, at 19:44, Lawson Crouse, whose play has really accelerated of late, got the go-ahead goal with an assist from Radim Vrbata. Crouse used his huge 6' 4", 220 pound frame to bull his way to the net and slide one under Howard.
Second period was decisive
The next goal would either make the game tied, or the Coyotes were going to take the lead. The latter was what transpired, as the talented Jamie McGinn got his fifth goal of the season from a beautiful feed from Holland to forge the Coyotes to a somewhat commanding lead of two goals.
This play was all due to the hustle displayed by Jakob Chychurn who kept the puck in the offensive zone and made a spin-around shot which hit off McGinn's skate. The puck went directly to Holland who backhanded a pass to McGinn.
The newly found chemistry of Holland, McGinn and Duclair could help prevent Duclair from being traded due to his recent lack of playing up to expectations.
Holland looked to fit right in even though he has not played a game since November for his former Toronto Maple Leafs team.
The Coyotes penalty kill was superlative stopping three power play opportunities, and deflating any idea that Detroit would make a comeback.
Third period - McGinn does it again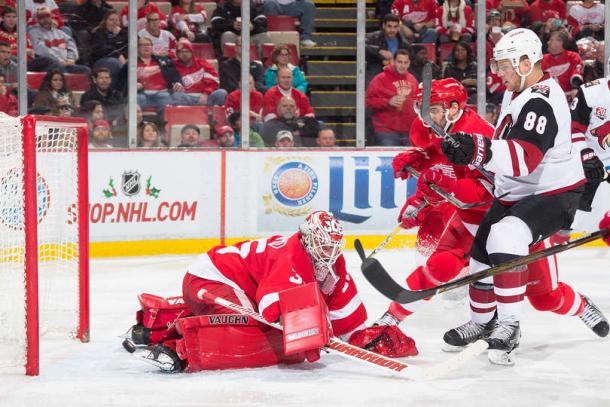 The Coyotes held strong in the final period as the Red Wings came on like gang-busters trying to get back in the game. They plastered Mike Smith with 18 shots on net, but Smith was up to all of them. He was rewarded with the first star award for his efforts.
Jamie McGinn scored again at 11:27 on a beautiful feed from Duclair who hustled behind the net and found McGinn wide open. Holland also assisted on the play for his second point in his Coyote debut.
Just like the total team effort was a complete turn-around from their performance (or lack thereof) against the Penguins, Mike Smith too showed up for this game. He again made an inordinate amount of saves with 37, and had an excellent .974 goals against average.
This win showed that the Arizona Coyotes can play competitively, but now they must keep it up.
They face the Toronto Maple Leafs on Thursday night and it will be the first time they see Scottsdale, Arizona superstar Auston Matthews play.
It will also be a homecoming for Peter Holland as he heads back to Toronto where he was playing recently until acquired by the Coyotes for a sixth round 2018 draft pick, only if the Coyotes re-sign him or trade him.
Not a bad deal for a guy who was not getting any playing time in Toronto.