 As most Arizona Coyotes' fans are well aware of, Max Domi does not back down from a fight when challenged. It's in his DNA. His father, Tie Domi was involved in 333 fights in his illustrious NHL career.
Sure, the younger Domi is a more offensive player than the elder, but he has that mean streak in him which tells him to defend himself or his team-mates when the moment arises.
The fight that got him injured
That moment happened in the Calgary Flames game on 12-8-2016 at Gila River Arena. Domi and Garnet Hathaway dropped the gloves and for some reason, Domi also received an interference penalty in addition to the five for fighting.
The game was tied at one goal apiece at the time, with Domi getting his fifth goal of the campaign. That will be the last goal he scores for a while, as he is sidelined with a broken bone in his hand after the fisticuffs.
At first, it was announced that he was week-to-week with a head injury, and then it was corrected to the hand injury, which required surgery.
Needless to say, a hockey player can't function without a hand working properly, making him pretty useless. He will need between one to two months to recover, according to GM John Chayka.
To lose the second leading scorer on your team is quite a blow. It means that others like Brendan Perlini will get the opportunity to fill in and help the team's weakness at left wing.
Desert Dogs are bit by key injuries
It is the second major injury the Desert Dogs have sustained recently. They lost center Brad Richardson after 16 games when he broke two bones in his leg in a freak collision. Now, the team's forward lines will suffer further trying to replace a guy who is so inspirational to the team.
So far, the Coyotes have won two of three since his departure, so perhaps others can step up and fill the void.
Fighting pro's and con's
Injuries are part of the game, but some think that fighting has no place in the game. It can also be argued that fighting can inspire a team to new heights, and lift a team's spirits. That's all fine and good except when you lose a player of Domi's stature from fighting and not a typical injury.
The argument can go forward that Domi stepped up and fought a player who had four inches and ten pounds on him, showing his courage and willingness to do whatever it takes to help his team win.
On the other hand, it now leaves the team without his services at a time where the team had been struggling with him in the lineup.
So, should have Domi not fought? Or, perhaps let someone who deals in pugilistic prowess better than him... like a Ryan White?
The fight did seem to fire up the Yotes at the time, yet they did go on and lose the game in overtime.
The team is not an offensive juggernaut as it is coming in at 2.21 goals a game and placing them in 28th position in the NHL. Losing Domi only decreases their chances of increasing their scoring statistics. Which, of course, means they need to play exemplary defense to win hockey games.
That hasn't been the case either for the Arizona club. They rank 26th in goals against with a meager 3.14 goals allowed a game.
Does this mean the team is in the depths of destruction? Not necessarily. The addition of Peter Holland recently has shown some promising results. He is on a line with Anthony Duclair and Jamie McGinn, and they had five points in the Detroit Red Wings game.
In any case, the prediction that Max Domi could hit the 25-30 goal plateau has little if no chance of transpiring. Using the one to two month prediction, he will miss anywhere from 20-25 games, meaning the team will only have approximately 30 games remaining on their schedule.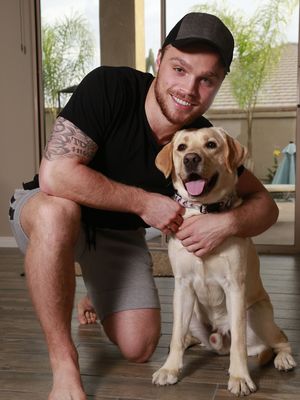 It looks like Max and his specially trained diabetic alert dog Orion will be seeing a lot of each other as he recovers from his hand surgery. At least he can still skate and keep his lower body in shape.
Tough break for Max Domi, but for a NHL player who battles Type-1 Diabetes, this is nothing.
He'll be back to help his team as soon as it is possible.