There seem to be many factors guilty of blaming the lack of success the Arizona Coyotes are experiencing this season.
Injuries have decimated the team
Injuries have certainly been a huge reason they are not winning more hockey games. Losing a key center like Brad Richardson to a major leg injury has not helped their progress.
Then, to make matters worse they lost star second-year forward Max Domi when he broke his hand in a fight. Since Domi's departure, the team has a poor 3-9-1 record.
Don't forget they also were without goalie Mike Smith due to an injury in the second game of the season, putting them at a loss immediately.
Numbers don't lie
To compare this year's team to last year's statistically shows how much they have regressed this season. Last year, after 39 games the Coyotes were 19-16-4 for 42 points. They currently possess a record of 11-22-6 for a mere 28 points and just one point ahead of the lowly Colorado Avalanche, who are buried in the NHL cellar.
More from the Arizona Coyotes ->> Arizona Coyotes are in serious downfall
Going back further (and this is painful) to the 2014-15 season, the Desert Dogs had a 15-20-4 record for 34 points at this point. That was before the monumental dive-bomb they fell into where they had a seven-game losing streak, an eight-game losing streak, and a 10 game losing streak in a span of 33 games.
They still may be able to improve in the second half of this season to avoid the horror of that experience two seasons ago, but haven't been showing signs of it yet.
Currently, they are on a nine game losing streak which has netted them just one point, the prospects of turning things around seem dismal, at best.
Turnovers have been brutal
In any sport, turnovers can kill a team. This season the Coyotes' turnovers have killed any momentum they may have tried to accumulate.
In the game against the Anaheim Ducks Friday night, Mike Smith was undecided what to do with the puck in his crease, as he tried to get rid of it, but put it on Ondrej Kase's stick, who scored the winning goal in overtime.
Lack of puck possession adds to downfall
The Coyote's poor puck possession has been an issue for most of the season. They get locked in their own zone, and cannot get any offense generated because their players aren't able to advance the puck up the ice.
One trait that can be noticed is their affinity for using dangerous drop passes while advancing towards the offensive zone on a power play. Dropping the puck behind causes the danger for a turnover, and fails to trick, or put the opposition out of position. It also doesn't move the puck towards the eventual point of being able to place a shot on net.
The shots on net have been way lower than they should be, and the attempts to score a "highlight" reel goal just isn't working. Putting pucks on the net, and getting the opposing goalie scrambling is much more effective. Shots on net also release the possibility of rebounds or deflections.
Chasing the game has been the norm
How many times have we heard Head Coach Dave Tippett complain that his team puts themselves in harms way by falling behind and chasing the game? Or, here again...or yet here again.
Whether it's the lack of discipline by taking untimely penalties, or just poor concentration maintaining puck possession, the team needs to turn things around quickly.
Just how quickly? With 41 games remaining, and the possibility of obtaining the bare minimum of 90-95 points to qualify for the playoffs, the team needs to go on a run of winning about 33 of those games.
How do you spell UNLIKELY ?
With the trade deadline on 2-28-17, expect the Arizona Coyotes to be listening to offers for players like Martin Hanzal, Michael Stone, Ryan White, Radim Vrbata, or even Shane Doan who all are seeing their contracts set to expire at the end of this season.
This team needs a quality young scoring forward to establish themselves as a playoff threat. They have a good number of defensemen on their AHL Tucson Roadrunner roster to fortify the blue-line.
One trade possibility would be left winger Gabriel Landeskog of the Colorado Avalanche. He is said to be available since the Av's are pretty much cleaning house due to their horrible season results so far. Landeskog, 24 is a big forward at 6' 1", 215 pounds, and has 107 goals in this his sixth campaign.
He is from Sweden, and the Coyotes' Oliver Ekman-Larsson would love to have him as a teammate. His current cap hit is $5,571,428.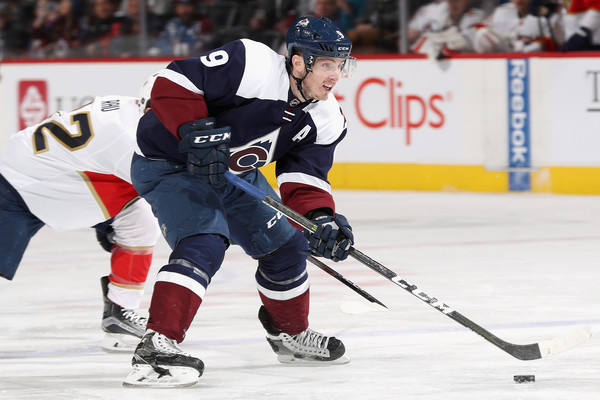 Another Colorado player who would fit in is center Matt Duchene. Now, his offensive upside falls right in the Coyotes' wheel-house of needs. His $6 million salary is deserving, but could be accomplished if you include the needs the Av's have stated they desire. They want young defense prospects.
Enter, the Coyotes' Kyle Wood, or even Connor Murphy. Both are right handed shooters and have the youth and promise Colorado seeks.
Wood has great numbers with eight goals, 21 assists in 28 games. He's huge, 6' 5", 235 and was originally in the Colorado system drafted 84th overall in 2014. He came over to the Coyotes in the Mikkel Boedker trade.
Connor Murphy has been a disappointment thus far this season, and with the upcoming Anthony DeAngelo pressing for deserved playing time, Murphy could be expendable. He just signed a six-year $23.1 million contract with Arizona.
Another available defenseman would be Michael Stone, who carries a $4 million contract. Packaging Stone and Murphy for Duchene would work as far as salaries go, but do the Av's want two right-hand shooting D-men?
All of this is just speculation. We'll need to wait to see what Coyotes' GM John Chayka and Tippett decide to do.
Can you imagine a line of Max Domi, Matt Duchene, and Anthony Duclair?
One thing is fairly certain... the team needs to improve their personnel if they expect to advance to the post-season.
They just aren't close to doing that this season.