So far this 2016-17 season the Arizona Coyotes have been trying to ascertain why they are mired in the basement of the Pacific division, and 29th in the NHL.
They are young and have had substantial injuries to key players like Brad Richardson and Max Domi.
More from the Arizona Coyotes ->> Arizona Coyotes' Brandon Perlini may be the scorer they need
Losing is no fun
Trying to break out of a nine-game losing streak wasn't easy, but they did it with two straight wins over the New York Islanders and Winnipeg Jets. Unfortunately, they have followed that up with four straight losses. Their last game with the tough Minnesota Wild was by far their best effort in a long time.
They fell behind 3-1, but came back with two quick goals in 30 seconds in the middle stanza, only to give up a power play goal with about seven minutes left to play. It was a hard to swallow loss 4-3. The effort displayed gives Head Coach Dave Tippett some hope. On Monday night against the Edmonton Oilers, he was not of that opinion. He called out his team for lack of effort or emotion, as did their goalie Mike Smith.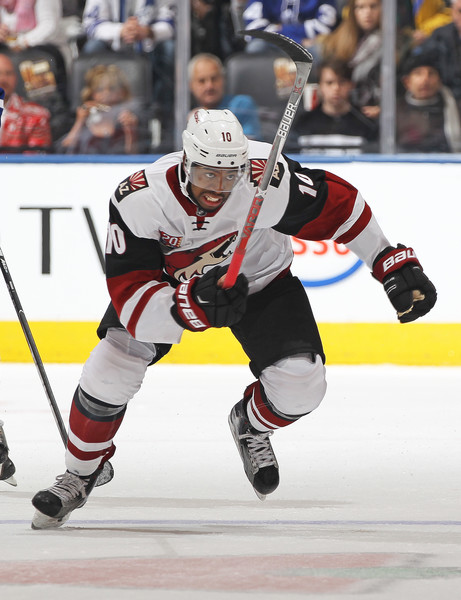 Duke is headed to Tucson
So, before the game on Thursday against the Jets, the Coyotes announced that they were sending forward Anthony Duclair to their AHL affiliate in Tucson. To say he has struggled offensively this season is an understatement. His three goals and six assists in 41 games are not going to keep him in the NHL. It may be a rude awakening for Duclair, but one which is hoped to inspire his scoring prowess and get him back to the NHL soon.
The team wasn't done yet.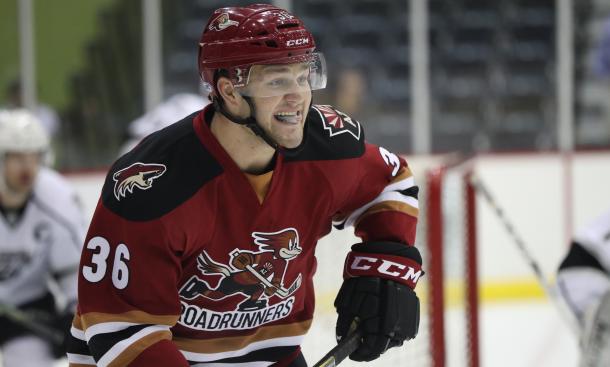 Christian Fischer is headed to the NHL
Today, they announced that they were sending forward Laurent Dauphin back down to Tucson and calling up highly regarded right wing Christian Fischer. Fischer has 16 goals, 16 assists in 31 games with the successful Tucson Roadrunners this season. The 6' 2", 210 pound forward was a second-round pick (32nd overall) in the 2015 Entry Draft for the Coyotes. Last week in three games for Tucson he tallied three goals and four assists.
The Coyotes could certainly use his firepower and are hoping he will bring what left wing Brandon Perlini has contributed to the Desert Dogs goal-scoring of late. Perlini has seven goals in 20 games in his NHL debut. Fischer will make his first appearance in an NHL game Saturday at Gila River Arena when the Arizona Coyotes face the Tampa Bay Lightning.
In other news, the team hopes to get the services of Max Domi back in a couple of weeks. His tough play has been missed and it was a welcome sight to see Ryan White back in the lineup against the Wild. The fourth line consisting of White, Lawson Crouse and Dauphin played some inspiring minutes.
Crouse tried to fire up his team by fighting tough guy Chris Stewart, and even though he may have gotten the worse end of the fray, he was applauded by captain Shane Doan for his efforts.