Every season about this time, the trade winds start flowing. This year is no different. There are a number of Arizona Coyotes players whose contracts will expire at the end of the season. Any GM worth his weight in hockey pucks knows it's better to get something for a player before he goes off into free agency, then gamble getting nothing for him.
Which players may get traded
First of all, Martin Hanzal's name has come up most frequently in trade rumors. The team has not ruled out re-signing him, but thus far talks are infrequent if at all, indicating he could be traded.
The talk around which team may want Hanzal has the Montreal Canadians at the top of the list. But, other teams such as the St. Louis Blues may also show some interest. It is no secret that the Coyotes covet Kevin Shattenkirk, and almost landed him in a trade once before.
According to Elliotte Friedman of Sportsnet: The Arizona Coyotes initial asking price for Martin Hanzal from the Montreal Canadiens was Michael McCarron and two draft picks. One of the draft picks was a first round pick, and the other being a conditional pick.
More on the Arizona Coyotes ->> Arizona Coyotes make roster changes hoping for improved play
The Coyotes have expressed interest in a young player on an NHL team's active roster, preferably a center. McCarron, 21 is a right wing and has only played 15 games this season with one goal and three assists. His size is comparable to Hanzal's at 6' 6", 231 pounds.
So far, Montreal is not ready to pull the trigger on that deal.
Hanzal has some decent assets with his size and faceoff abilities being his most admirable. His downside is his inability to stay healthy having missed a good number of games due to injuries. His physical style of play and presence in front of an opposing goalie can attract him to other teams seeking those skills.
With Dylan Strome due to be back in the lineup next season, Hanzal has become expendable.
The team is very deep at the center position with Brad Richardson (when he returns from his injury), Christian Dvorak, Clayton Keller who may be able to join the team next season, and newly acquired Alexander Burmistrov. Ryan White may also be another player who could stay or be traded since his contract is expiring.
They also have centers Laurent Dauphin and Tyler Gaudet down in Tucson developing.
Another player who could be dealt is Radim Vrbata. Often a successful linemate of Hanzal's, his contract was only for one season, and some teams seeking a rental player to get them through the playoffs could come calling about Vrbata.
He is the leading scorer on the Coyotes this season with 11 goals, 22 assists in 47 games. He is a sharpshooter who knows how to score, and could help a top team looking to advance to the Cup Finals.
Michael Stone's name has come up as well in trade rumors. His one- year six million dollar contract could be a bit high for some teams, along with his decreased level of play this season recovering from leg surgery.
Stone could fit in nicely with the surging Edmonton Oilers who are seeking a top four right-handed defenseman. The Oilers are rich with young players who could be traded to Arizona for Stone.
With the play of young Anthony DeAngelo on right defense, the Coyotes seem set to have a replacement for Stone's spot. DeAngelo has three goals, six assists in 20 games and is an adept passer. He is down in Tucson working on his defensive skills.
Will Shane Doan remain a Coyote?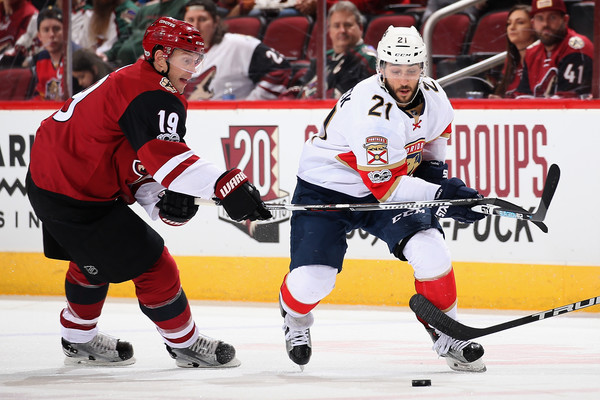 It seems almost unthinkable to even be discussing the possibility of a trade for the one player who has been with the team since it's inception.
Yet, Shane Doan may decide (and it's completely up to him) to move on to a team who will give him a shot at every NHL player's goal -- a Cup.
Doan admits that the conditions would need to be ideal for him to even consider leaving. His production and playing time have decreased this season, and it could very well be his last as a player.
So, why not go for it?
After the trade deadline -- then what?
It seems that playoffs hopes have pretty much disappeared for this season, so the team will be hoping to get another draft choice who could help the team make the playoffs next season and beyond.
Whether any of these prospective trades come to fruition is not yet known. As the deadline approaches more teams become more proactive at acquiring the talent necessary to win it all.
For Arizona, that must wait at least few more years for all the young talent to improve and become elite players.