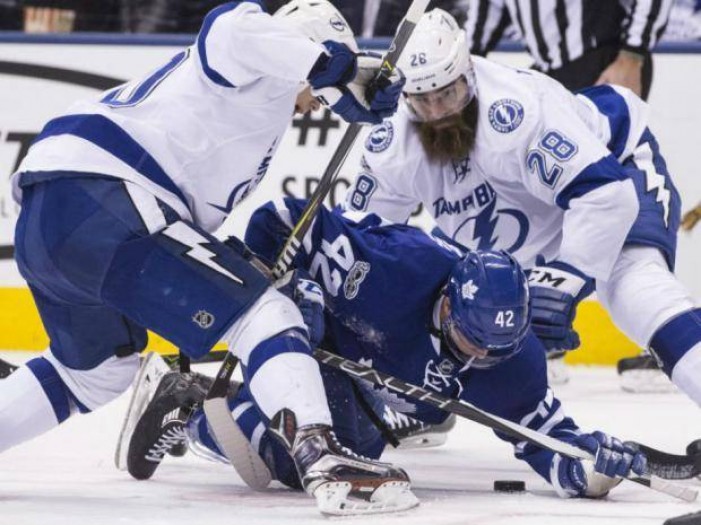 Thursday night's matchup between the Toronto Maple Leafs (39-25-15), who occupied the second wild-card spot in the Eastern Conference, and the Tampa Bay Lightning (39-30-10), who trailed the Leafs by five points and the Ottawa Senators (42-27-10) by six, held significant Eastern Conference NHL playoff implications.
The Leafs, after suffering a 4-1 loss to the Washington Capitals on Tuesday, with a win over the Lightning at the Air Canada Centre (ACC) would clinch their first playoff berth in four years but more importantly could improve upon their position to secure home-ice advantage in the first round of this year's playoff.
"The path of least resistance is something to shoot for," said Maple Leafs defenseman Connor Carrick after the game Tuesday. "You want to gain home ice and match up who you play best against.
"We're going to have to go through a good team at some point. You want home ice and climb up the standings as best you can, just from a gratification standpoint. If you're a better team, you're pushing your shoulders back at this time of year, you want to be finishing strong. It's the Stanley Cup playoffs, anything can happen. We've seen eighth seeds win and vice versa."
Tampa Bay Lightning remain optimistic
After a shutout loss on Tuesday to the Boston Bruins, Lightning defenseman Victor Hedman said, "We're not out of it yet." It's obviously a tough hill to climb, and we need a lot of things to go our way." Lightning defenseman Anton Stralman said, "we're at the point where we can't give up any points."
"We didn't have any margin for error, and now our margin of error is razor thin," said Lightning coach Jon Cooper.  "But we're not done yet, and it (puts) a lot of pressure on that Toronto game."
The game was the fourth meeting of the season between the two teams. The home team hadn't won thus far in the season series. The Maple Leafs won both games played at the Amalie Arena 5-0 on March 16 and 3-2 in overtime on December 29. Tampa Bay defeated the Leafs 7-3 at the ACC on Oct. 25. Tampa Bay had won three of its past four visits to Toronto.
Teams play to a scoreless first period
After 20 minutes of play which featured fast-paced first period end-to-end action, the Lightning outshot the Leafs 13-11, hits 16-4, takeaways 4-2 and blocked shots 5-2 but both teams remained scoreless on the scoreboard at the intermission.
Tampa takes advantage in fast paced second period
At 7:34 during a Lightning power-play with defenseman Roman Polack off for a minor interference penalty, centerman Brayden Point buried a wrist shot from inside the circle for his 15th goal of the season assisted by left winger Ondrej Palat and defenseman Victor Hedman.
Centerman Nazem Kadri skated toward the net and tipped Matt Hunwick's wrister past Tampa goalie Andrei Vasilevskiy for his 32nd goal at 9:42 to tie the game at 1 in the second period.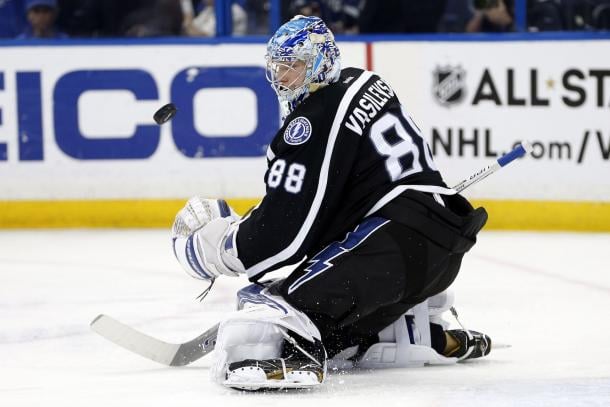 At 11:50, right winger Nikita Kucherov danced around three Leafs defenders and fired a quick wrister that beat Leafs goalie Frederik Andersen for his 39th goal to give the Lightning a 2-1 lead.
After 40 minutes of exciting playoff-like hockey, which featured some highlight reel saves by Andersen, the Lightning continued to outshoot the Leafs 21-20, hits 24-17 and blocked shots 13-7 as well as on the scoreboard by a 2-1 advantage.
The Lightning when leading after two periods are an outstanding 24-3-1, while the Leafs when trailing after two periods are miserable 3-20-3.
At 2:00, leftwinger Michael Bournival scored only his 2nd goal on a great pass from defenseman Andrej Sustr and Hedman, who collected his 55th assist on the year and third tonight. The goal gave Tampa Bay a 3-1 lead early in the third period.
Then at 14:11, Point unleashed a heavy wrist shot from the slot that beat Andersen top-shelf for his second goal of the game and 16th of the season late in the third period.
Lightning alive and well
With the 4-1 victory, the Lightning split the season series with the Leafs but more importantly kept their 2017 playoff hope alive and well.