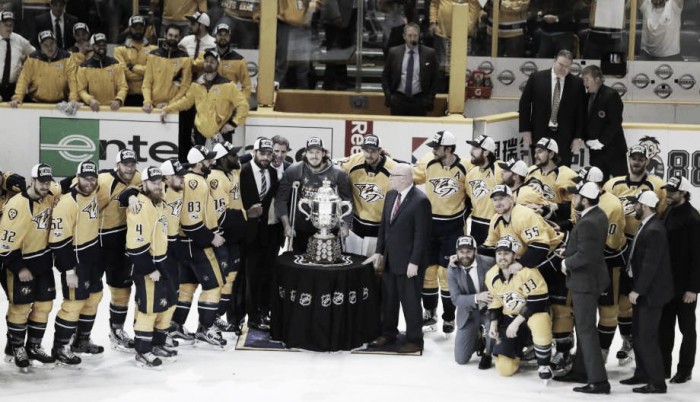 Colton Sissons recorded a hat trick and goaltender Peka Rinne made 38 saves as the Nashville Predators defeated the Anaheim Ducks 6-3 in Game 6 of the Western Conference Finals.
The victory sends the Predators to the Stanley Cup Final for the first time in franchise history. Nashville will face the winner of the Pittsburgh-Ottawa series with the Penguins leading three games to two.
Bernier starts in net for Ducks, mostly ineffective
After starting goalie John Gibson was injured in Game 5, it was determined he would be unable to play in the crucial elimination game, so Jonathan Bernier would be in between the pipes for Anaheim, making his first career playoff start.
Just 81 seconds into the contest, Austin Watson's shot deflected off of Ducks defenseman Brandon Montour and past Bernier to give the Predators a 1-0 on their first shot of the game after a Ducks giveaway.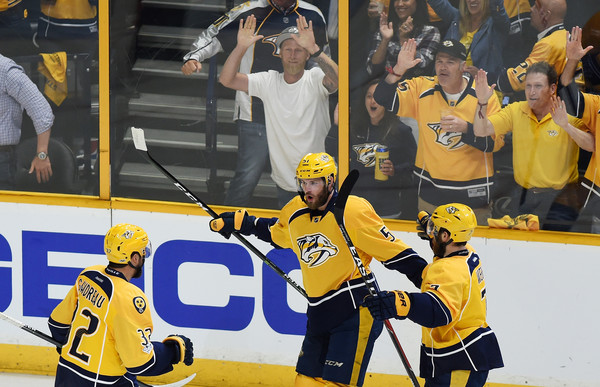 After forcing a turnover, Sissons took a cross-ice pass and beat Bernier stick side to give Nashville a 2-0 lead just 8:47 into the game. Ondrej Kase's second career goal, both coming in this series, cut the Anaheim deficit in half.
Sissons increased the lead to 3-1 with a goal off of a scramble in front five minutes into the third period. Chris Wagner again reduced the deficit to one, banking the puck off of Rinne's head and the game was tied after Cam Fowler's shot from above the left faceoff circle beat the Predators netminder.
Sissons scores eventual winner for Predators, pair of empty netters seal trip to Finals
Sissons scored the game-winning goal and completed his hat trick with 6:00 remaining in the third period on a rush with Calle Jarnkrok. He tried to cut to the middle of the ice but lost the puck. Jarnkrok got to the loose puck and found Sissons for the goal.
"Jarnkrok and I had a bit of a 2-on-2," Sissons said. "There was a turnover and I actually got lost on the backside, and [Jarnkrok] made a beautiful pass, a saucer pass right on my tape, and fortunately I put it away."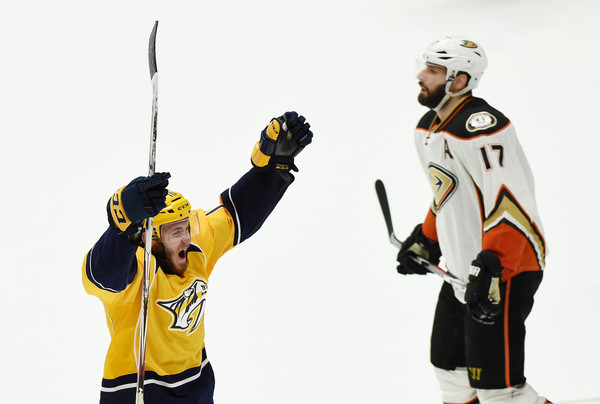 Filip Forsberg and Watson added empty net goals to seal the franchise's first trip to the Finals in their 19-year history. "It feels good, man," Sissons would later say. "I'm not going to lie. Obviously I don't think I even dreamt this moment, scoring a hat trick in a Western Conference clinching game".
"I can't speak enough for just our whole group. We've been through some challenges together and we stuck together no matter what. We believed and here we are."