 The Pittsburgh Penguins have won their second consecutive Stanley Cup championship with a 2-0 victory over the Nashville Predators in Game 6 of the Stanley Cup Finals. A game that looked to be headed to overtime saw former Predator Patric Hornqvist score the tiebreaking goal with 1:35 to play before Carl Hagelin added an empty-netter to clinch the title.
The Penguins are the first team since the 1997-98 Detroit Red Wings to repeat as Stanley Cup champions. All five of the franchise's titles have been clinched on the road. Sidney Crosby was named the Conn Smythe winner for the second straight year, the first player to do so since Mario Lemieux in 1991-92. Pittsburgh is also the first team in the salary-cap era to repeat as champions.
Nothing to separate the teams after one period
The Predators, who were 9-1 at Bridgestone Arena coming into Sunday's game, needed to set the tone after getting shut out in Game 5. Instead, it was the Penguins who seemed sharper, outshooting the Predators and generally causing more action in front of Nashville goalkeeper Pekka Rinne's goal.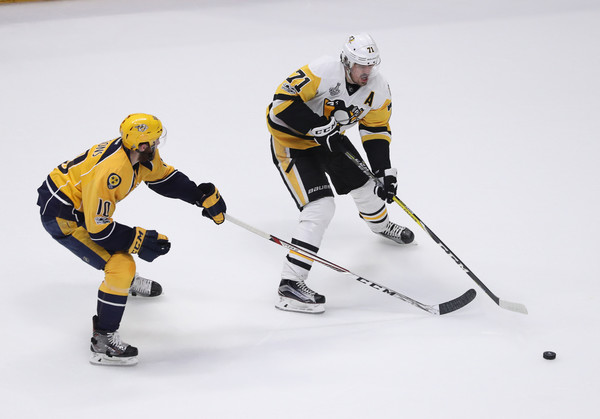 The Penguins had been pushed around in Nashville in Games 3 and 4, getting outscored 9-2. While the Predators were physical early, accumulating 17 hits, the Penguins seemed to skate past them at other junctures, with Crosby and Evgeni Malkin both getting clean looks at Rinne.
Predators have goal disallowed
It appeared Nashville had taken the lead when Colton Sissons threw himself at a loose puck in the Pittsburgh crease and pushed it past Pittsburgh goaltender Matt Murray. But the officials ruled that the play had been blown dead before Sissons touched the puck.
While television replays appeared to show that Murray never had control of the puck, the replay also confirmed the whistle was blown before Sissons poked the puck past Murray. Penguins center Scott Wilson said: "I didn't even hear the whistle, and I was standing right there." he would go on to add: "But obviously, us getting a bounce like that was huge."
Murray also stopped Sissons on a breakaway midway through the period and also gloved a shot from Viktor Arvidsson later on. The Pittsburgh netminder stopped all 27 shots as he recorded his second straight shutout of the Finals and fifth of the playoffs.
Penguins hold off Predators attack in third period, Hornqvist clinches second straight cup
Nashville certainly wasn't without their chances as the game wore on into the third period. With Olli Maatta in the box for tripping, Trevor Daley punched Ryan Ellis to set up a 5-on-3 for the Predators, but Murray came up big, stopping a shot by Mattias Ekholm followed by another save on Arvidsson. The game seemingly was destined for overtime until the deciding play of the game and the series took place.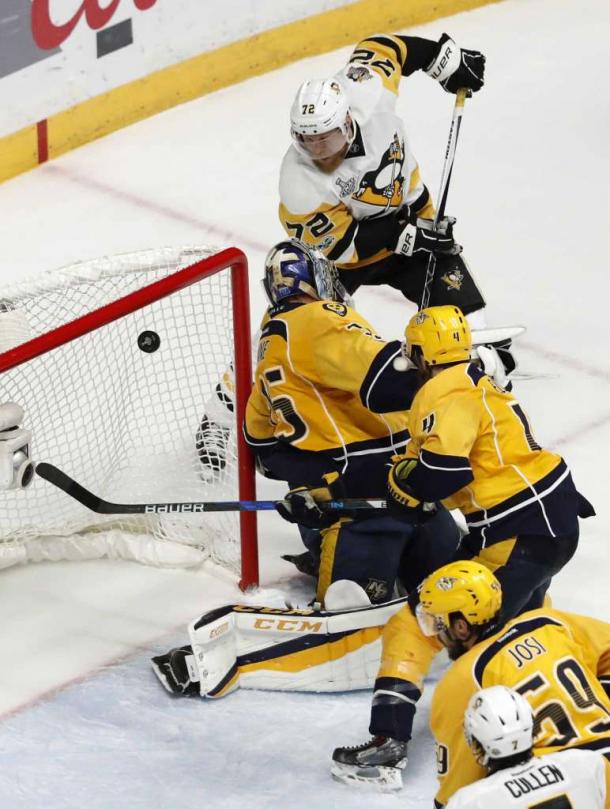 Justin Schultz took a shot from just inside the blue line that went wide, but it caromed off of the boards behind the Predators' net and bounced right to Hornqvist, who shot it off of Rinne's back and past him for the eventual Cup-clinching goal. "Obviously, it's going to be the biggest goal I'm ever going to score," Hornqvist said. "That's always going to stand really close to my heart." With the goalie pulled, Hagelin was all alone and he tapped into an empty net to seal the title.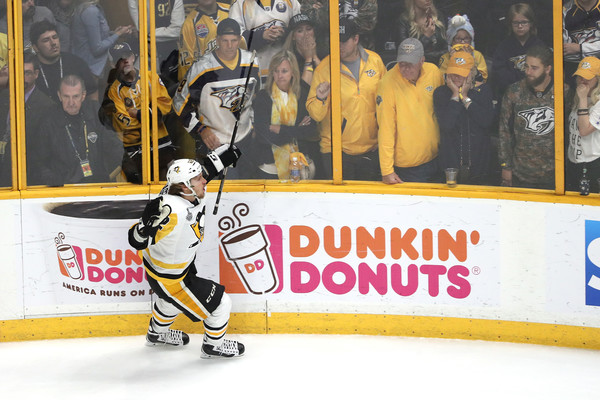 Post-game comments
Crosby, who now has three championships, two league MVP's and two Cup Finals MVP's to his name: "We knew it was going to be tough all year, but we just tried to keep with it. We had a lot of injuries and things like that. We just kept finding ways. That was really what we did all season, all playoffs. It's great to be able to do it.
"You have a small window to play and have a career. I feel fortunate, but I also understand how difficult it was so you just want to try to make the best of it. We've got a collection of guys who understand what it takes to win".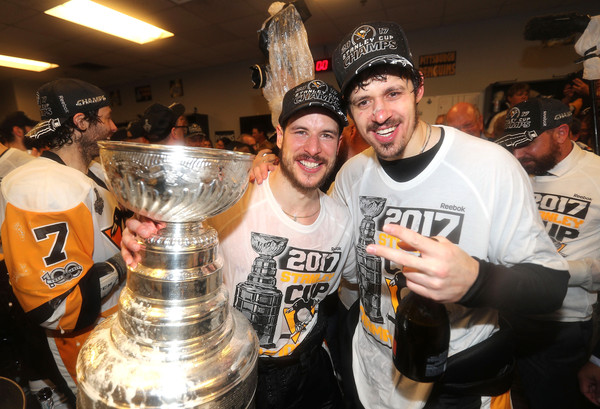 Penguins owner Mario Lemieux, who has been a part of all five of the franchise's championships, two as a player and the last three as owner: "It's been an amazing year from the start, trying to repeat. A lot of these guys played injured in the playoffs and showed a lot of character. Of course, Sid being the best player in the world again and winning the Conn Smythe. He was our leader and picked up the team when we needed it."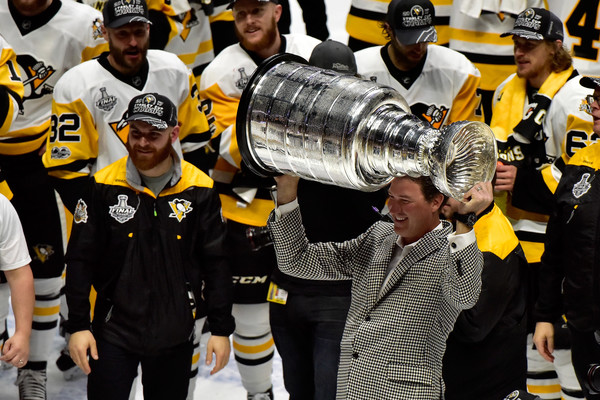 Malkin would say "we are young, we are hungry, we want more" while Murray, who shut Nashville out for the final 146:52 of the series said receiving the Cup from fellow goalie Marc-Andre Fleury "was one of the most special moments of my life". The first goalie to ever win two titles as a rookie added "What an experience. It doesn't get any better."
For the Predators, the best season in franchise history concludes two wins short of their first championship. Captain Mike Fisher: "We never gave up. We lost a lot of guys to injuries. Sixteen seed. No one really gave us a chance against anyone and here we are in Game 6. Things didn't go our way, but that happens. That's sport. Like I said, this team never gave up. We believed all the way."
Defenseman P.K. Subban, in calling Crosby "a great leader", also said: It stings. I think the biggest thing we've got to take from this is, remember the feeling. That's what's going to drive us. .... We're going to be back here again next year."