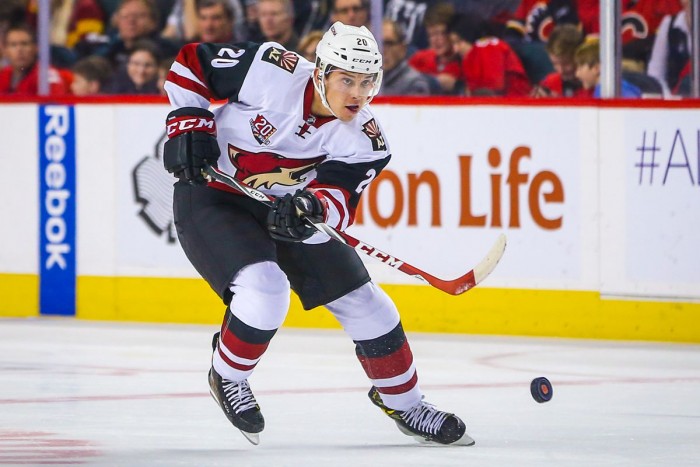 Arizona Coyotes general manager John Chayka announced today that the team has recalled center and the third-round pick in 2015, Dylan Strome.
Chayka told Coyotes' Dave Vest:
"Dylan did a nice job taking advantage of the opportunity to work on his game at the AHL level," Coyotes General Manager John Chayka said. "He was focused on the areas we asked him to work on and was very productive as well. We're expecting him to come up and continue to grow with the group here. Obviously, his production is elite at the AHL level, especially for his age. He has great poise with the puck and converts on his chances. He continues to progress on his all-around game and we felt he earned the opportunity to be in Arizona."
Strome has been tearing it up in Tucson. He has eight goals, 16 assists and is scoring at a clip of 1.73 points per game
Can Strome help the struggling Coyotes?
At this point, any help would be welcomed. After winning four of five games recently, they came home to lose two of three. Strome's speed and faceoff abilities can always help them.
Strome's reaction to Dave Vest was, "I did what they asked me to do when I got sent down, and I feel like I've really been playing well," Strome said. "I'm excited to get up there and hopefully stay."
The Arizona Coyotes next go on the road to visit the Edmonton Oilers and Strome will have the chance to play against his older brother Ryan who was traded from the New York Islanders to the Oilers.
It will certainly be a shot in the arm for the Coyotes who have crawled out of the game with a mediocre 6-17-3 record.
While Strome can't single-handedly rescue the Arizona Coyotes, he can certainly help them. Head coach Rick Tocchet has some ideas on how they can use Strome's skillset.
While Strome is aware that the NHL level of play is more elite, he is ready for the challenge and hopes he is here in the NHL to stay this time.
Roster move
To make room for Strome on the roster, the Arizona Coyotes sent center Mario Kempe down to Tucson. He registered two goals, two assists in 18 games.
It seems that the team should also look to bring back big forward Lawson Crouse who stands 6'4", 220lbs, and knows how to drop the gloves. He has collected eight points (3-g, 5a) in 11 contests and really knows how to clear the corners out. If the team continues on its downward path he may get another look.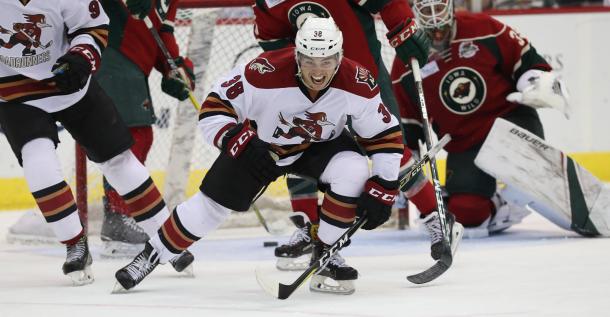 Another young prospect right wing Nick Merkley was second behind Strome in scoring in Tucson, with 21 points (11-g, 10-a) in 16 games. He also could get the call to see if he is prepared for the NHL. He had a good training camp and is playing well in the AHL.