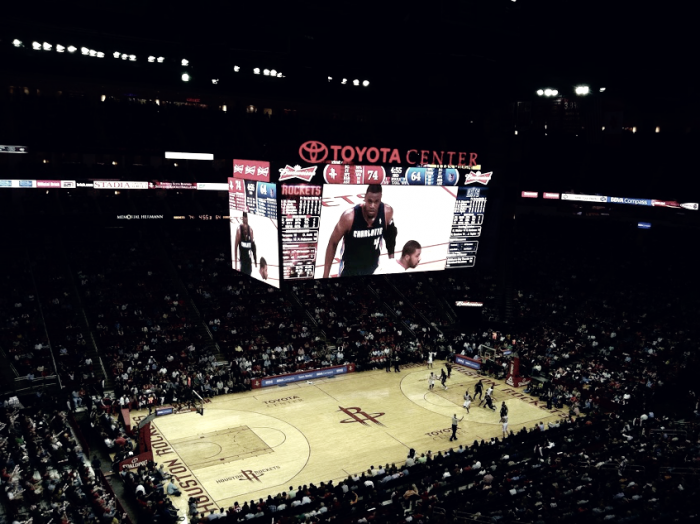 The new owner of the Houston Rockets NBA team, Tilman Fertitta wants to bring the NHL to Houston. Considering that Fertitta is a multi-billionaire and Houston is the fourth-largest city in the U.S., it could happen.
Who is Tilman Fertitta?
Fertitta was born in Galveston, Texas and now resides in Houston. His company Landry's Inc. is estimated to be worth $3.5 billion and he purchased the Rockets for a reported $2.2 billion.
Let's just say he passes the test of financial stability that an NHL franchise demands. Forbes states that his net worth is $3.1 billion. He's come a long way from peeling shrimp at his father's restaurant in Galveston to being a billionaire, and now a professional sports owner.
Fertitta wants to bring the NHL to Houston
He realizes any deal to add an NHL team in Houston will need league approval so he recently met with Commissioner Gary Bettman to get an idea what all will be involved in the process.
In a statement to Brian T. Smith of the Houston Chronicle Fertitta mentioned, "I'm very interested in the possibility of bringing the NHL to Houston. But it will have to be a deal that works for my organization, the city, fans of the NHL throughout the region and the NHL Board of Governors. We are in the very early stage of evaluating what opportunities may exist but look forward to a thorough process."
Smith also conducted a Twitter poll to capture what the Houston fanbase thought of the idea of NHL hockey coming to the area. The yes votes amounted to 67 percent of the poll.
If the idea of the NHL is to fly in Houston, the attendance must be off the charts similar to what the newest NHL franchise Vegas Golden Knights experienced when they started selling season tickets.
Can Fertitta fill the Toyota Center with fans as Bill Foley did in Sin-City? It will become the deciding factor as it was in Las Vegas. When the NHL expanded to Nevada the $500 million franchise fee and over 15,000 season ticket sales were what pushed them over the finish line in getting a new NHL franchise.
So will it be an expansion or relocation team?
At this point, it doesn't really matter. Fertitta is a successful businessman who knows how to get things done and will have no issue whether it is an expansion team or another team struggling to exist and needing to move to Houston.
When one takes a look at the NHL cities with issues at their present location, it's easy to see that relocation could happen. The Calgary Flames are having severe difficulty with a planned downtown arena and could exit the city if they don't get their way.
Additionally, the New York Islanders have stated their plans to leave Barclays Center in Brooklyn, which was not originally configured for hockey, and desire a new arena in Belmont Park on Long Island.
The Arizona Coyotes are having all kinds of problems both on and off the ice, but attendance has never been up to expected levels. Last season they averaged just 13,094 fans through the turnstiles, and are struggling with the worst record (6-17-4) tied with the Buffalo Sabres with just 16 points.
The Carolina Hurricanes are even worse. They had 11,776 fans last season, and have been rumored to move for the last couple seasons.
The Florida Panthers are yet another franchise who can't attract fans with only 14,620 attending a game in the sunshine state.
Expansion makes sense for NHL
With both Seattle and Quebec City mentioned as possible expansion cities, neither has been able to excite the NHL hierarchy that they should become the 32nd NHL team.
Seattle needs a new arena since their Key Arena seats 17,459 for basketball, but some of those seats will be eliminated if configured for NHL hockey.
Quebec has an arena but it is receiving flak from surrounding NHL teams like the Montreal Canadiens, Toronto Maple Leafs, and Ottawa Senators that they are infringing on their fanbase. Plus, Quebec may not have the capability of supporting an NHL team with its small population.
The NHL NEEDS a Western Conference team to equally align both conferences with 16 teams each. Presently, the Western Conference has 15 teams, while the Eastern Conference has 16 teams.
Houston would fit nicely in the Central Division which is lacking that eighth team to balance out the division. Placing them in that division also creates an instant rivalry with the current Dallas Stars.
Don't think the NHL didn't consider that when they added Las Vegas. The Los Angeles Kings, Arizona Coyotes, San Jose Sharks and Anaheim Ducks will all create a fierce rivalry in the Pacific Division.
It would certainly make more sense to add a franchise in Houston at this point.
Timing is everything and it seems that Tilman Fertitta has both the financial ability and business sense to dot all the 'i's' and cross all the 't's' in a process which is complicated.
Fertitta has publicly stated, "I would put an NHL team here tomorrow...we'll do whatever we can do, but whatever we do has to make sense."
It's just a matter of time now as to what transpires, but it looks fairly positive that Houston will be in the mix to be added to the NHL.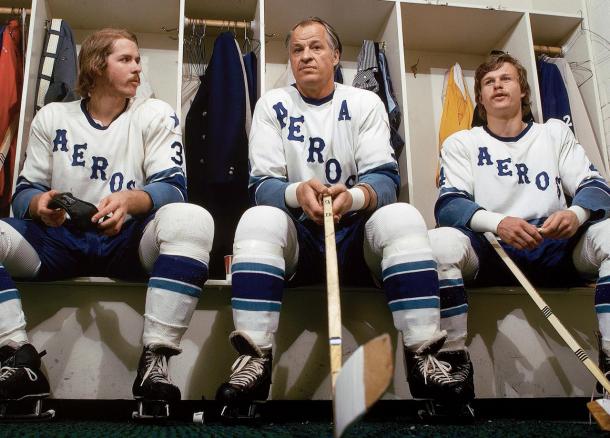 Houston Aeros, perhaps?
Gordie Howe and his sons would be proud.