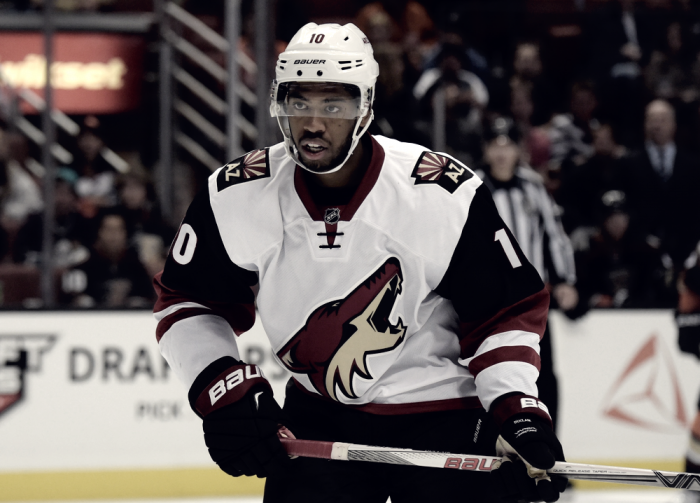 When Anthony Duclair was traded from the New York Rangers to the Arizona Coyotes, little did he know how difficult sticking around in the NHL would be.
His first full season with the Rangers he gathered a single goal and six assists in 18 games.
Then, he got traded to the Arizona Coyotes.
Duclair didn't disappoint in his first full season... but then
In his first full season with the Coyotes, Duclair didn't disappoint. In 81 games he threw in 20 goals and added 24 assists. It appeared that the Coyotes got the better end of the deal which sent Keith Yandle to the Rangers.
But, did they?
The following 2016/17 season saw Duclair's play significantly deteriorate. He tallied just five goals and 10 assists for a meager 15 points. He was sent to the AHL Tucson Roadrunners to find his game.
There he collected one goal and six assists in 16 games. It was widely reported that the team was shopping him around to be traded when he didn't have a contract signed until September 3, 2017, about a month before the regular season was to start.
He agreed to a one-year $1.2 million contract mainly to prove his worth as a player. He has done decently this current season with six goals and five assists in 20 games.
This season has been better
He has been a healthy scratch for eight games for some reason. He has been switched around on different lines to see if he can click with certain linemates.
He has even been reunited with his buddy Max Domi, but not on a regular basis. In that second successful season, he and Domi really were an offensive weapon. They combined for 38 goals, 58 assists and seemed to own teams like the Los Angeles Kings, the Anaheim Ducks.
Trade rumors
It seems like the trade rumors are continuing once again. According to FoxSports, the Philadelphia Flyers who are struggling scoring goals, or winning games of late, are very interested in Duclair.
The Flyers may need to give up a young defense prospect to put Duclair on their roster.
Now, it may be that they want to think about acquiring him before the trade deadline, but it's got to be frustrating for Duclair.
The young player (22-years-old) is a speedy sniper who had a hat-trick in that second season (against the Ducks) and has had one this season against the Ottawa Senators on November 18, 2017.
The problem with Duclair is his consistency... or lack thereof. The next four games he scored just one assist and has been a healthy scratch for two games after that.
His ice time was reduced to 9:42 minutes in his last game against the Vegas Golden Knights. His season average on ice time was at 13:37 until then. Either head coach Rick Tocchet is not pleased with his play, or he is being shopped for a trade.
The other factor could be his lack of defensive play. He was on the ice for one of the goals when Vegas struck hard and fast scoring three goals in the span of 1:42 to pretty much seal the game.
He was given 3:55 minutes out of his 9:42 on the power play unit, with no results... not even a shot on goal.
Conclusion
Duclair is an exciting, dynamic player, and it seems that perhaps his time in Arizona may be coming to an end like a desert sunset ending a long blistering hot day.
There is a ton of young forward talent on the Coyotes' team, and the way the current team is going management needs to evaluate their path to being relevant. With a 6-18-4 record and the worst goal differential in the NHL (-35), something needs to be addressed.
It would be a shame for the Arizona team to lose Duclair, but he has been given every opportunity to excel, and they did give up quite a bit to obtain him.
Trading him at this juncture may be the most sensible option for the Coyotes. They need to shake the cobwebs out of the grossly poor play they've displayed this season.
Trades usually wake up the entire team.
Will I be next?
Gee, I better start giving it my all if I want to stick around.
For Duclair he may be asking himself those very questions.