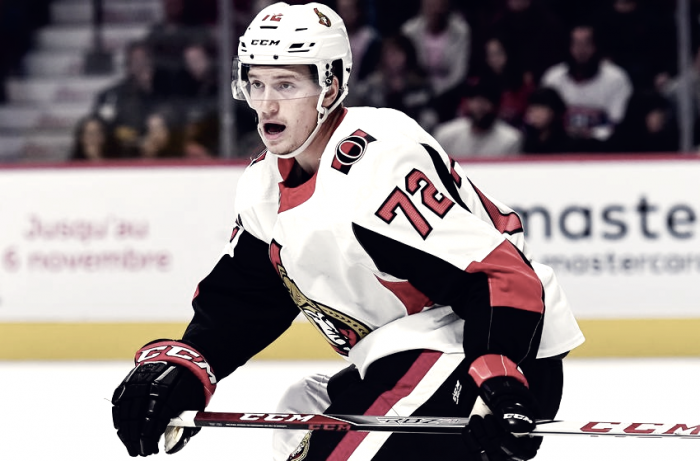 The Ottawa Senators' Facebook page has been flooded with requests to call 20-year-old defenceman Thomas Chabot back to the team. It seems that their requests have finally been answered as he plans to suit up for the Senators as they take on the New York Islanders tonight.
Chabot, originally drafted 18th overall in 2015 by Ottawa, has tallied two assists in three games with Ottawa. While playing for Belleville, he recorded two goals and five assists in 12 games.
According to head coach Guy Boucher, Chabot is playing because the Senators have been struggling to score, causing a seven-game losing streak.
"He's got some offence. Obviously, he needs to play some parts of the defensive game better, we know that. But he's good at transition, at moving the puck, and on the power play maybe (give us) that one goal," Boucher was quoted as saying in the Ottawa Sun. "We're certainly not looking at him to come in and save us, but looking at the big picture, we want to have his assets on the ice."
After being called up by the Senators on Nov. 21, he's been waiting for his chance to prove to everyone that their excitement is warranted. While preparing to catch a flight from Toronto to Charlotte, N.C. for a game with Belleville, he got word that he was needed on the NHL front.
The former Saint John Sea Dogs' star, who says that he's not going to get ahead of himself, said that he was learning how much of a virtue patience truly is.
"Some games, I would walk on the ice and try to make things happen, rather than wait to get a chance to jump into the rush or whatever," he said, according to the Ottawa Sun. "I needed to be a little more patient. I'm not perfect, yet. I don't know when it's going to be perfect. I wish I could tell you."
Despite Boucher's insistence that Chabot playing is simply because Mark Borowiecki is injured, Senators' fans are finally seeing a glimmer of hope. He could be the piece that the team has been missing, one that helped to prevent their losing streak from climbing to eight.
With his drive and ability to get the puck out of his own end with ease, Chabot should be a welcome addition to the lineup. Many fans are calling for him to be put on a line with captain Erik Karlsson.
The Senators had not won a game since Nov. 11 in Sweden against the Colorado Avalanche, before their 6-5 victory tonight to end a seven-game drought.
Chabot's two goals and one assist paced the Senators to victory.
After all the losses, they were starting to get their tires spinning, but they ended up getting stuck in a rut. Centre Nate Thompson said that this is just a phase and it won't last.
"There are going to be times like this in a season, everyone has been through this before," he said after the third game in their losing streak. "We have to keep our good habits. It's not like we're playing bad and laying eggs out there. It's just a few things we have to tweak and we will manage that."
Whatever the reason for the slump, fans (and Boucher) are hoping that Chabot will be the piece they need to get the Senators firing on all cylinders again.