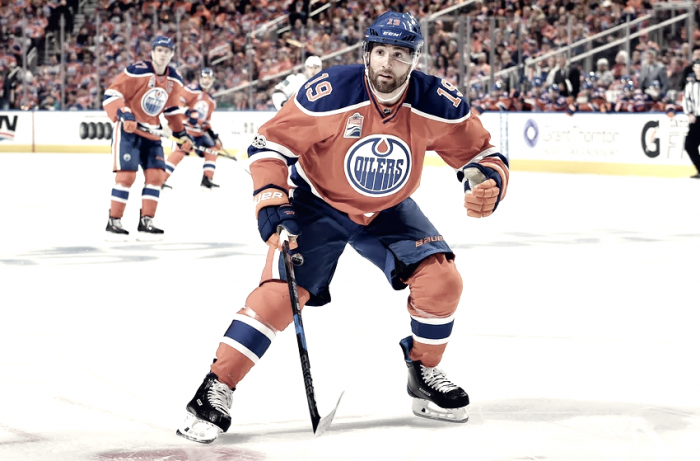 In a recent article published by Sportsnet's NHL analyst Elliotte Friedman, he shared his thoughts on the current situation with the Edmonton Oilers.
"Ryan Nugent-Hopkins is the sexy name, but Pat Maroon is the most likely Oiler to be traded if things continue this way. Wonder if hometown St. Louis would be an option. The Blues are looking for scoring depth, and Maroon can give you exactly that."
Although it is unclear if the St. Louis Blues are actively pursuing Patrick Maroon, Friedman does have a point.
Edmonton's struggles have been well documented this season, and if changes are to come, it probably makes the most sense for the club to move Patrick Maroon before Ryan Nugent-Hopkins.
Let's take a deeper look at the scenario.
Where does Patrick Maroon fit in with the Oilers long term?
Patrick Maroon is 29-years-old and is set to become an unrestricted free agent after this season.
After having a career-year in 2016/17, with 27 goals and 42 points, Maroon is on pace for another 20-goal, 45-point season in 2017/18.
This likely means he is due for a massive pay raise in the offseason. It is quite possible that Maroon will demand a contract similar to Matt Beleskey of the Boston Bruins during free agency, and some NHL team will be willing to oblige.
Meanwhile, the Edmonton Oilers have a handful of players who will need new contracts next season. This list includes Darnell Nurse, Drake Caggiula, Anton Slepyshev, Matt Benning, Ryan Strome, Mark Letestu, and Brandon Davidson.
Additionally, Connor McDavid's massive $12,500,000 cap-hit kicks in next season. As a result, Peter Chiarelli might have trouble keeping Ryan Nugent-Hopkins and his $6,000,000 million salary around.
Taking all that into consideration, re-signing Patrick Maroon may not be high on the Oilers' priority list. As much as they want to bring him back, given his age and his potential pay raise, Edmonton doesn't seem to have enough cap space to keep Maroon around long-term.
How things might go down
Obviously, Peter Chiarelli and his staff still have some time to decide what to do with Patrick Maroon. A lot of that is contingent on how the Oilers play in the next little while.
If they are still in playoff contention, then they will probably keep the left-winger around for another playoff run. But if things don't turn around soon, the Oilers might try to move him for assets instead of letting him walk away for nothing in the summer.
Maroon is a big body (6'3", 225lbs) who plays with grit, has decent hands and can bring a lot of energy into the lineup.
As Friedman mentioned, St. Louis might be a good fit as they are looking to add scoring depth.
Meanwhile, other teams like the Boston Bruins, Los Angeles Kings, and the New Jersey Devils may be interested in adding a player like Maroon as well.
What are your thoughts on Patrick Maroon and his future with the Edmonton Oilers? Let us know in the comment section below.