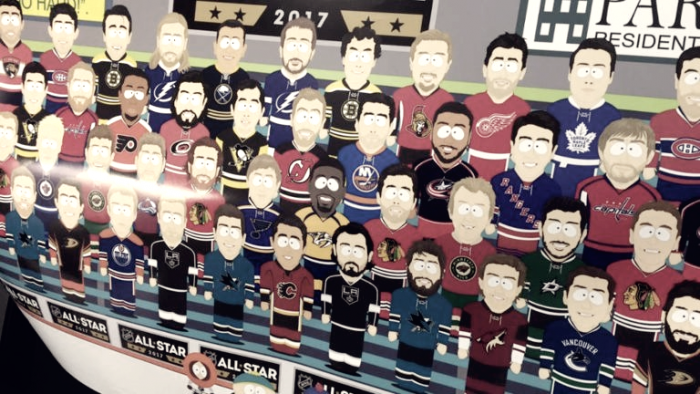 The new 2017/18 season began on Wednesday, October 4, 2017, and is now nine weeks old. Let's take a look at some photos and catch up with what happened this eighth week of NHL regular season action.
Here's NHL comic captions – Week 9 of the 2017/18 season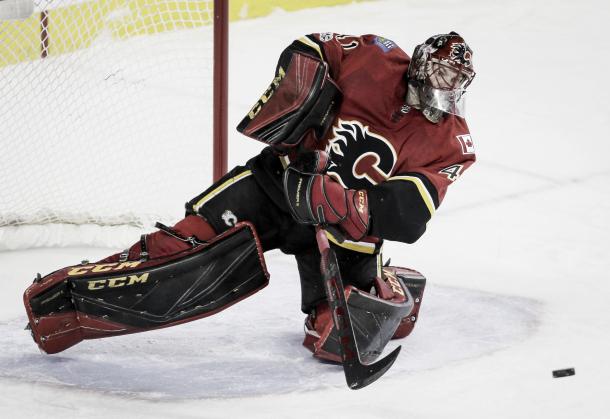 "Let's see if I can hit one of my streaking forwards with a pass to set up a goal... I mean now that I have some players that can actually score." Mike Smith, goalie - Calgary Flames
It was the first meeting of the Arizona Coyotes against the Calgary Flames this season. More importantly, it was also the first meeting the Yotes would have against their former starting goaltender Mike Smith.
Smith showed up and in a LARGE fashion. He shut out his ex-teammates 3-0 stopping all 28 shots headed his way.
The tensions had been building up since after Smith was traded to the Flames after he bad-mouthed his ex-team on a local radio show.
Former Arizona Coyotes goaltender Mike Smith is known for being outspoken at times and it didn't take him long to take a shot at his former team.
"I'm really looking forward to passing to some of these guys that can actually score," Smith said on SportsNet 960 The Fan, a Calgary radio station.
The remark did not sit well with some of his former teammates, but Smith is a competitor and speaks with an open mind.
He's a free spirit who takes chances playing the puck as if he were a third defenseman. It burns him at times, but his new teammates are happy to have him and impressed by his play.
---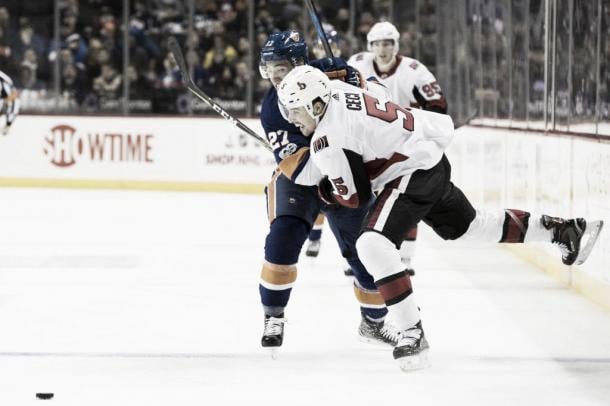 "Gee Anders, I think a punch to the mid-section is a bit much!" Cody Ceci, defenseman - Ottawa Senators
In this topsy-turvy game, the Ottawa Senators really needed a win after a seven-game losing streak... and got one.
Ryan Dzingel was the hero of this game as he scored the first goal of the game as well as the eventual game-winner at 1:38 of the final stanza.
The Senators lost the lead on three different occasions but had enough left in the tank to finish off the stubborn New York Islanders 6-5.
The Islanders' Anders Lee tallied two goals to bring his total to 15 for the season.
The Senators one-game win streak didn't last long as they started a new losing streak which stands at four as of this writing. They have now lost 11 of their last 12 games.
---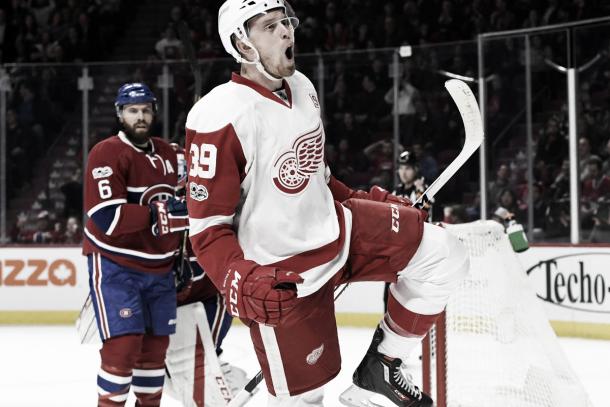 "Whoa... Anthony, what did you have for lunch dude? It doesn't look or smell good from my angle." Shea Weber, defenseman - Montreal Canadiens
Seeing that the Montreal Canadiens had a slow start to the 2017/18 season, this game where they embarrassed the Detroit Red Wings should have been a confidence builder.
It wasn't.
They have gone on another losing streak of three games after suffering through a seven-game streak, to go along with a five-game losing drought earlier this season.
Speaking of losing streaks, the Red Wings went down to their seventh straight loss in this devastating 10-1 loss.
It seems like both these teams need to refocus to get back on track.
---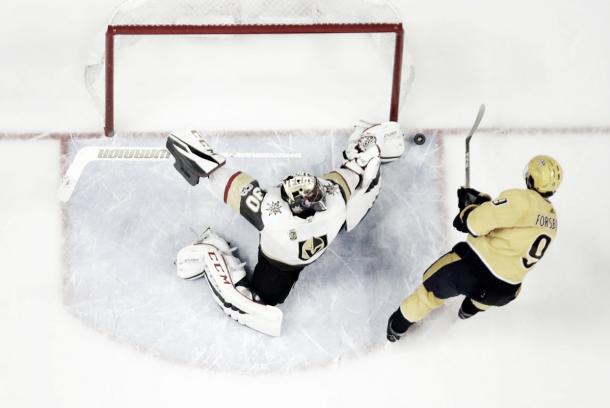 "I sure hope I didn't pull a groin muscle making this spectacular save." Malcolm Subban, goalie - Vegas Golden Knights
The ever-surprising Vegas Golden Knights faced a surging Nashville Predators' (winners of 13 of 17 games) team on December 8, 2017, and it went down to the sixth round before the Golden Knights were able to win in a shootout 4-3.
The game marked the first time that brothers Malcolm Subban (goalie) and P.K. Subban (defenseman) faced each other in NHL action. Malcolm won this time around.
Vegas jumped out to a two-goal lead, only to allow the Predators to score three straight goals to take a 3-2 lead at the 14:56 mark of the third period.
Vegas always a team able to bounce back, did it again by tying the score at three with a goal by Erik Haula with just 40 seconds left on the clock.
Then in overtime, no team broke the tie, so a shootout was played. It went on for six rounds before the Vegas club won it with a goal from Reilly Smith.
The way the upstart Vegas team is playing it looks more and more that they will be a playoff team... or close to it.
Even with numerous injuries to goalies, they have prevailed. It was announced today that Marc-Andre Fleury will be back off the injured list and ready to play.
That can make this Vegas team VERY SCARY!