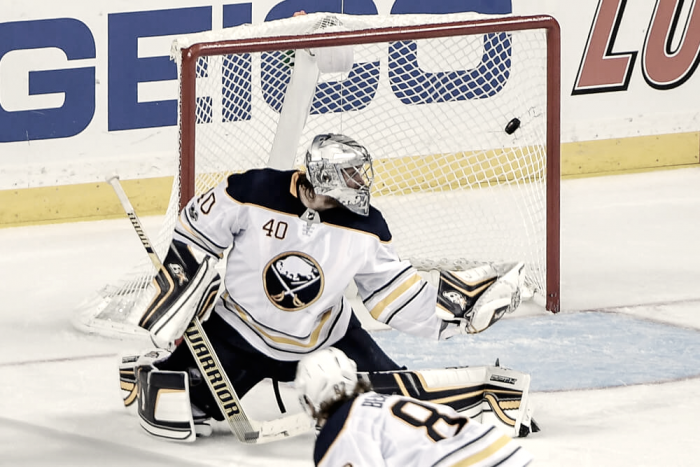 Through 30 games, the Buffalo Sabres are in second to last place in the NHL with 20 points through 30 games. They are 2-6-2 in their last 10 and just came out of a four-game road trip with four of a possible six points.
They are second in the NHL in goal differential with -38 and have looked completely terrible this season under new head coach Phil Housley's system.
Before the season began, many pundits, including myself, believed that there was a somewhat strong chance that the Buffalo Sabres would be a dark horse in the Eastern Conference and make the playoffs. So far, we have been proven pretty severely wrong. This team has left the media, fans, and players wondering... where do we go from here?
What happened?
This season was not supposed to go like this.
The completely revamped defense wasn't supposed to be among one of the worst blue lines in the National Hockey League. Jack Eichel was supposed to have his breakout season where he was projected to finish with near to 100 points.
Robin Lehner was supposed to prove why he was worth a first-round pick, and become a good, above average goalie.
The list goes on and on, but you get the idea; this season was not supposed to turn out this way. After Dan Bylsma and Tim Murray were fired, the Sabres were to enter a new era of prosperity with the hiring of Jason Botterill and Phil Housley.
They were going to be better... right?
But, the complete opposite happened. The team regressed, and are now competing for the top pick in the 2018 draft. Buffalo fans are pulling their hair out watching this team play, and "tank for Dahlin (the top prospect in the draft, Rasmus Dahlin)" has become a common phrase when speaking of the Sabres.
Dahlin is good. He is projected to be the next Erik Karlsson, and if those highlights are any indication, he will definitely be a star in the NHL. He currently has 11 points in 26 games and has been a force to be reckoned with.
But, that's enough draft talk.
Many people aren't entirely sure what has truly happened to this Sabres' team because on paper they should be better. They have good players on defense and offense, and should not be this bad.
They play with no identity, and you can never be sure what team is going to appear on any given night. They give up leads like nobody's business, and they fall behind on such a consistent basis that it's almost natural to watch the other team score first.
It's honestly difficult to even answer the question of "what happened" either because it has hit everyone like a truck. No one expected this, so where do we go from here?
Can the Buffalo Sabres be fixed?
The answer to that is obviously yes, but can it happen this season and quickly?
No, no it can't.
They have one too many problems that can't be fixed no matter how many draft picks they have. But, can they be fixed by next year? Most definitely.
Take a look at their AHL squad the Rochester Americans (Amerks.) They are tied for second place in the AHL with 34 points, have a 14-5-6 record, have points in their last nine games, and have attained at least one point in 16 of their last 17 games.
On a roll: The @AmerksHockey have points in their last 9 games and 16 of their last 17. #Amerks

— Buffalo Sabres (@BuffaloSabres) December 12, 2017
This is Botterill's plan, to build up the farm team then have the good players that are NHL-ready slot into the lineup when their time comes. This is what he did in Pittsburgh through excellent draft scouting and some pretty great free agency finds, and that is what he plans to do in Buffalo.
The reason why Buffalo won't be fixed this year is that Buffalo seems to not want to call any of those talented players up. If you look at the Buffalo Sabres roster, there are only two players who weren't on the opening day roster that have been called up.
If you look at the Rochester Americans roster, only five players have either been called up and sent back down or were on the opening day roster and were sent down. Botterill seems to be hard set on letting the younger players develop in Rochester while Buffalo crawls its away through this terrible season.
Buffalo's future is bright, and for the brief time that fans were given a taste of their younger players, they were witness to that. But, it's not understandable why these players can't be given a chance now.
This team can't score, they can't produce offense, they can't hold on to the puck for more than two seconds.
They are second to last in power play percentage and 16th on the penalty kill while the Amerks are seventh in power play percentage, 15th on the penalty kill .They have one player in the top-ten in points, and have had excellent goaltending and have been lighting the league up.
It racks own's brain every day why Botterill isn't trying to call these players up and slot them into the lineup. The Sabres need to try something new because whatever they are doing right now just isn't working.
Hopes for the future
Quite honestly if one were to hope the Buffalo Sabres just keep losing, it would demonstrate that Botterill and Housley remain ignorant to the fact that this isn't working.
They say that they are trying, but there are only so many times that you can reshuffle lines before it's obviously coaching or the players or both. With that said, the players have to start taking responsibility for this failure as well.
They are a disgrace on the ice, and this time they shouldn't be allowed to get away with the excuse of "we don't like the coach", or"the way we are being coached isn't working" like they did under Murray.
Botterill has to wake this team up!
Trade Evander Kane, trade Lehner, trade Sam Reinhart, do something to make them realize that they need to be better. If the deal is right, trade Eichel... just do something.
If there is one team though that needs the services of Rasmus Dahlin it's the Buffalo Sabres. Their complete ineptitude to have scoring defensemen or defensemen outside of Rasmus Ristolainen create offense is blatantly obvious.
A defenseman didn't score until December 5th, 2017, and it was Jake McCabe of all people who's never had more than 20 points in his entire career. He has six points on the season which ties him at second among defenseman only one whole point behind Ristolainen who has seven.
So, yeah, "tank for Dahlin" is rampant.
I just hope by next year that Buffalo can figure out this mess, and get Eichel the necessary scoring help that he deserves because Botterill may be put on the hot seat if he can't.
What do you feel will help the ailing Buffalo Sabres? Let us know in the comments section below.