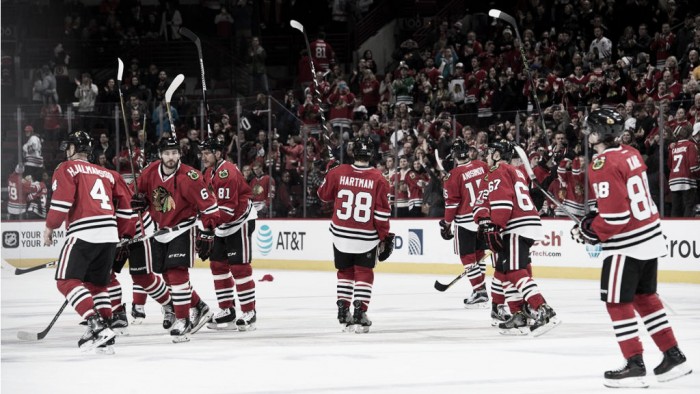 Last season the Chicago Blackhawks had a record of 18-8-4 good for 40 points after 30 games. This season, they are seven points behind that pace, and find themselves in need of improved, consistent play to make the playoffs.
Why 30-game mark is so important
According to sinbin.vegas, if an NHL team has 40 points or more at the 30-game mark they have made the playoffs 94.3% of the time since the 2010/11 season. They also have finished with at least 100 points 91.4% of the time.
The theory works fine for the Chicago team except for the 2015/16 season where the Hawks had 36 points, but finished the season 31-16-5 to grab a playoff berth.
Then going back to the 2010/11 season they has only 34 points at the 30-game point, but finished with a 28-17-7 record to obtain a playoff spot.
Another factor of course, is how many points are needed to make the cut-off for playoff competition. It varies each season.
With a reasonable total of about 97 points to squeeze into the post-season, the Blackhawks would need to gather 63 points in their remaining 52 games.
A cinch, right?
Trades may have hurt the team
Trading away players like Artemi Panarin and Niklas Hjalmarsson are not players easily replaced. Sure, the Hawks got Brandon Saad and Connor Murphy back in those trades, but thus far they may have received the short side of the trades.
Panarin has just seven goals, but 19 assists for 26 points in 30 games, while Sadd has only 10 goals, five assists in the same 30 games.
While Chicago got a younger defenseman in Connor Murphy for Hjalmarsson it's still unclear which team came out on top for that trade. Hjalmarsson has been hurt for 10 games.
Murphy has been a reliable blueliner and actually is fourth in hits and +/- on the team. It just shows that when a player goes from a low performing team to a playoff caliber team his statistics advance. Murphy was an average -12 while with the Arizona Coyotes.
Alex DeBrincat is the real thing
One real bright spot this season has been the development of young prospect Alex DeBrincat. He is performing above expectations, with 23 points in 31 games.
His physical stature is much like his teammate Patrick Kane. Standing just 5'7", 165lbs he is proving much like Kane and Clayton Keller that you don't need to be huge to perform well in the NHL.
Consistency and a strong finish is in order
The Blackhawks will more than likely be in the playoff hunt near the end of the season. They're a seasoned team, even with new players who know how to win and play with intensity.
This season has been a bit of a letdown for them, but rest assured... they will be in the thick of things come April.
Whether or not they are Cup contenders is another story. As the season progresses, more will be known as to their survival length in the playoffs... if they get that far.
They have gone through some drastic changes that even their head coach Joel Quenneville balked at concerning the trades which were made.
One constant remains the same.
They have Jonathan Towes, Patrick Kane, and Corey Crawford. And most teams can't say the same.
Watch the Blackhawks turn the volume up as the season progresses.
They're the real thing.
What is your take on the future success of the Chicago Blackhawks? Will they make the playoffs? Let us know in the comments section below.