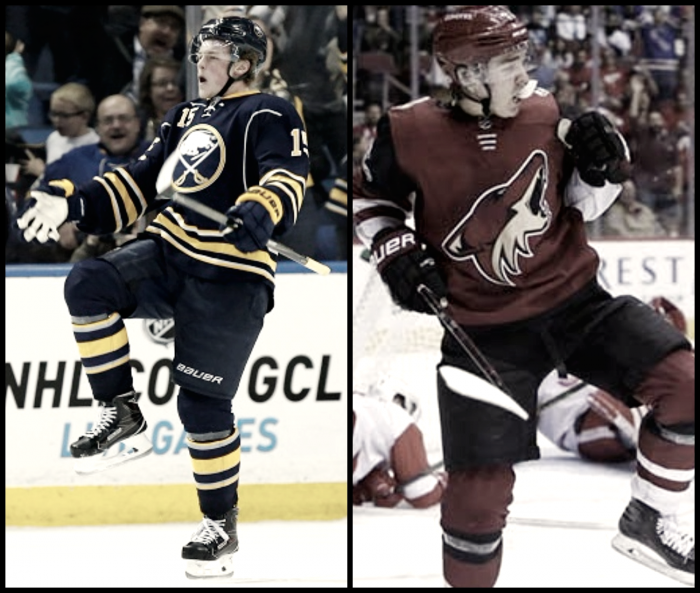 Through 36 games this season, the Buffalo Sabres are 9-20-8 for a mediocre 26 points. They are in second to last place in the NHL with a -43 goal differential and are 3-4-3 in their last ten games.
The Sabres are very bad this year and have been a rather large dumpster fire on the ice.
Through 39 games this season, the Arizona Coyotes are 8-26-5 for 21 points. They are in last place in the NHL, have a -49 goal differential, and are 2-8 in their last ten.
The Coyotes are absolutely horrendous this season and are almost as bad, if not worse, than the Buffalo Sabres.
With Arizona and Buffalo doing so badly, Bill Grigsby, who covers the Coyotes for Vavel and is chief editor of the NHL section, and I decided to ask each other five questions about our struggling franchises.
We asked each other five questions each starting with the Buffalo Sabres.
Questions on the Buffalo Sabres
Question 1: Will they trade Evander Kane?
I honestly don't know why they wouldn't, unless they make a deal that moves Sam Reinhart, Matt Moulson, Zach Bogosian, or Jake McCabe to free up cap space.
I don't see any of those players moving though, so the most likely candidate to get moved defaults to Kane.
Kane is having an outstanding year and is entering the last year of his contract, so it would be nuts for GM Jason Botterill to not move him. If Kane keeps up his hot pace, don't be surprised to see him moved by the trade deadline.
Question 2: Do you think GM Jason Botterill or HC Phil Housley will be fired?
I don't think that firing Housley or Botterill at this stage is smart. The team just experienced turnover with the firings of Dan Bylsma and Tim Murray, and it wouldn't be smart to just keep firing people until it works in its first year.
It's obviously not going to work in its first year, but both Housley and Botterill need more time.
Botterill has a plan for this team, and so does Housley. Firing them after one year would be detrimental to the team, and the process of bringing the playoffs to Buffalo.
Question 3: What is Buffalo's biggest weakness as a team?
Buffalo's biggest weakness for sure is that this team has no identity. It's Jack Eichel and Evander Kane, then everyone else. No one else has been able to step up to help Kane and Eichel, and when they do... something else bad happens.
No one knows what team is going to show up on any given night; will it be the team that plays with no sense of urgency, lets in three goals, and can't score, or is it going to be the high flying offense that Buffalo has shown at points this season where everything is clicking?
No one knows.
This team can't string together anything with any sense of consistency and have not been able to develop any sort of identity on the ice.
This ineptitude has led to the Buffalo Sabres being a complete and utter embarrassment as a team this season.
Question 4: If you were GM, what players would you go after in a trade?
I would go after any top four or elite goalie that Evander Kane and/or Sam Reinhart can get me. Buffalo needs help in those two categories, and if Kane or Reinhart can garner me a player in those categories then I'm all for it.
I know that Erik Karlsson of the Ottawa Senators would be number one on my list. It's improbable, but I would at least kick the tires on a possible trade.
I would go to Pittsburgh and see the availability of Olli Maatta and Matt Murray. I would see the availability of Dougie Hamilton of the Calgary Flames.
To prep for the future, I would look at Samuel Girard of the Colorado Avalanche, I would go to San Jose to check out Aaron Dell, and to Anaheim to see if Cam Fowler or Hampus Lindholm are available.
There are others that I would check out, but those are my top players.
Question 5: What do you think is a viable timeline for when Buffalo will next make the playoffs?
I feel like I say this every year that they don't make the playoffs, but I feel that Buffalo is two years out. Rochester is shattering expectations in the AHL to be in first place.
Rochester has players within the top ten in points, and Buffalo's prospects who are playing in the World Juniors that is being held in Buffalo, are playing ridiculously well.
If Buffalo is able to add Rasmus Dahlin to this prospect group then I see no reason why Buffalo can't make the playoffs in two years.
Questions on the Arizona Coyotes
All responses are from Bill Grigsby, and all questions are from me.
Question 1: What will it take for Arizona to get competitive again?
It will take them realizing that the game is 60 minutes and not 20, 40 or 59:45. They have had too many games where they have lost the lead, or have given up a late period goal.
The excuse that they are young is wearing thin.
The veterans need to step up and guide the young guys to play better. The loss of Shane Doan's leadership is very apparent, in that, the team always had him as their rock and now he's gone.
Question 2: What is the biggest problem with Arizona?
It is a combination of things; poor execution, less than acceptable defense, and just being too hesitant.
They have some really exceptional talent and for them to be in last place in the NHL is not only embarrassing, it's unacceptable.
For a franchise who wants a new arena, it will take some improvement on the ice to bring fans through the turnstiles.
Sure they aren't happy at Gila River Arena, and the City of Glendale has really forced them into looking for a new home, but they must start playing better, or the fans will not show up to games no matter where the arena is located.
Question 3: Who are trading options, who would you like to see traded, and what will they get in return?
They have plenty of players whose contracts will be expiring after this season. Players like Max Domi, Anthony Duclair, Tobias Rieder, Antti Raanta, Brad Richardson, Luke Schenn, and last but not least… Oliver Ekman-Larsson.
They should be coming out of their rebuild, and really don't want to blow up the roster again, so it will be interesting to see what GM John Chayka does to use duct tape and glue to remold this team.
Their defense is lousy, and their offense isn't much better. There are players who head coach Rick Tocchet has mentioned will be "weeded" out. Now, we just get to wait and see which players.
If that isn't calling out the players, then I'm not quite sure what else he can do.
Question 4: Will Arizona eventually be forced to move?
That is a very good question. There have been so many times where they almost were relocated that I've lost track.
They will be here for at least one more season since they signed another one-year lease with the City of Glendale to skate at Gila River Arena.
The new arena they've been so excited about seems to have been lost as a possibility as there has been literally no discussion from the team as to what the arena location or possible financing would entail.
There is a possibility of using tribal land to build an arena in the extreme East Valley, but there has been no solid information as to if that will happen or when.
The timing issue comes into play as it will take about two years, even with ideal weather conditions in the desert, to build a new facility.
They will need to start on something very soon to have it ready for the 2019/20 season.
If they don't get a new arena, then all bets may be off and they could be moved.
There is a fanbase here but nothing significant enough to prevent the team from losing $19 million as they did last season. After a while ownership just bales and says they're done. Can't really blame them.
So, for the time being, the team will remain here, and it does become a distraction and an issue when trying to recruit players to sign a long-term contract when where the team will be calling home is in question.
If the team is working on an arena solution they are sure to keep it as hush-hush as possible so as to not have egg on their face as what occurred when they announced they had a deal to partner with ASU for an arena.
When it fell through, with ASU backing out, it was a huge blow to the new arena plans. Like their play on the ice, they must now regroup and find a solution.
Question 5: What is Arizona's biggest strength on the roster?
Without a doubt, their strengths are speed and youth. They have a Calder Trophy candidate in Clayton Keller who is tearing it up as a rookie.
They also have a premier defenseman in Oliver Ekman-Larsson who should be resigned to a long-term contract before the next season starts. They have exciting talented players like Max Domi and Anthony Duclair.
They thought they filled some holes and added some veteran leadership in adding players like Niklas Hjalmarsson, Jason Demers, Derek Stepan, and Antti Raanta. So far these additions are not helping the team out of their doldrums.
They really need a high-scoring forward and another big-time defenseman to start building wins and being in the playoffs again.
Six seasons without a white-out is enough.
They have the salary cap space and instead of buying contracts of players who will never play again to get to the salary cap basement, they need to invest in using that cap space to acquire some players who know how to win.
Final thoughts
In the end, I hope that Coyotes' and Sabres' fans find solace in the fact that there are small glimmers of hope in an otherwise terrible season.
The seasons for Arizona and Buffalo weren't supposed to go like this, and the fact that they have is even more painful.
I hope that you, the reader, enjoyed this, and if you're a fan of either team we hope that you agree with us in our answers.
If you don't agree, tell us why in the comments below!