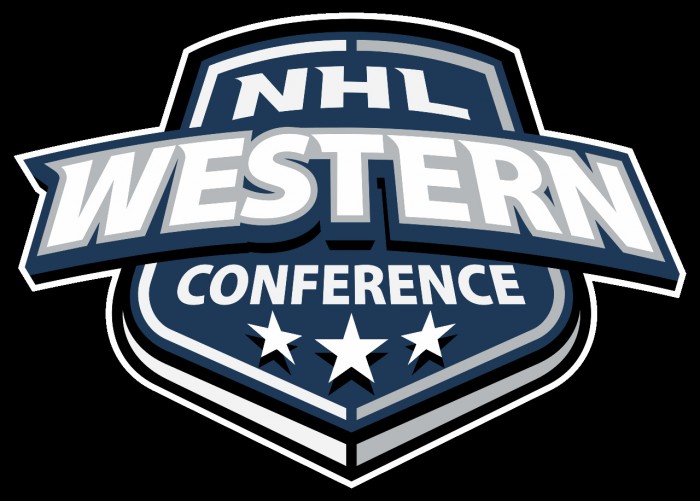 As we approach the halfway point of the 2017/18 season the always competitive Western Conference of the NHL has some surprises... to say the least.
Vegas Golden Knights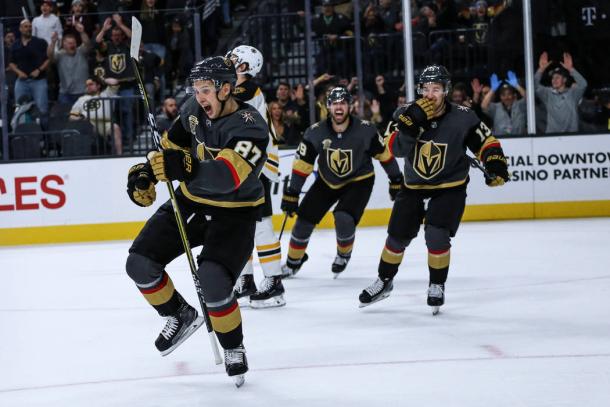 Who would have expected the upstart new expansion team from the glitter capital of the world to be even near a playoff spot let alone be leading the Pacific Division with 52 points as of December 30, 2017?
Yes, the Vegas Golden Knights are surprising every so-called hockey expert with their performance this their inaugural season in the NHL.
This group of players abandoned by their previous team when the expansion draft occurred, is showing their previous teams that they are indeed NHL quality players who can perform well enough to gather 52 points placing them in second place in the entire league!
In the Western Conference, they are in first place... totally a Hollywood script couldn't have described this phenomenal team's performance.
The main dissenter's comments were, "they won't be able to keep this pace up", or "the major goalie injuries hitting them in the mid-section will be their downfall"... yet, they still prevailed.
Hockeyreference.com predicts they will win the Pacific Division and finish two points ahead of the Nashville Predators to win the Western Conference. BUT... hold on there's more: they actually have an 8% chance of taking Lord Stanley's Cup home to the Vegas strip.
Would that be a party of all parties? Hold onto your seat, it could happen, especially the way they are playing this first half of the season.
---
Nashville Predators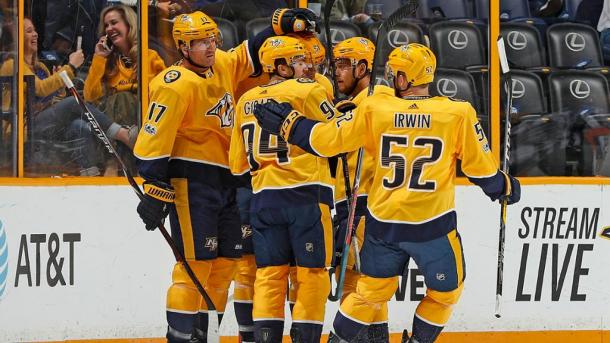 After an exciting, yet disappointing Stanley Cup run last season, the Smashville team had an uncharacteristic slow start making everyone wonder if they were a one Cup run and done type of team.
To the contrary, this team came out of the slow start of 5-5-2 to wake up and play like the team they were last season by going on to win nine of their next 10 games, showing everyone they're just fine.
Then, as most high-level teams do they pulled off a trade to acquire center Kyle Turris on November 5, 2017. This was a genius move even if the Preds had to give up on some young players like Sam Girard to make it happen.
The proof is in the statistics. Turris has 18 points including five goals in 22 games with his new team in Music City. It has really inspired the team's performance as since his arrival the Preds have gone 14-5-3.
The Preds are predicted to finish with about 106 points, fighting it out with the Vegas Golden Knights for the top spot in the Western Conference.
To say they will be in the Cup hunt is a no-brainer. They have the talent, including Pekka Rinne in net who is playing very well.
His stats include a 19-7-3 record, a .924 save percentage and a stellar 2.47 goals against average. He also has three shutouts.
It doesn't get much better than that. The Preds are an elite team and they intend to go for it all again this season.
Once an NHL player tastes the fruits of victory and falls just short, there's not much more motivation necessary.
---
Los Angeles Kings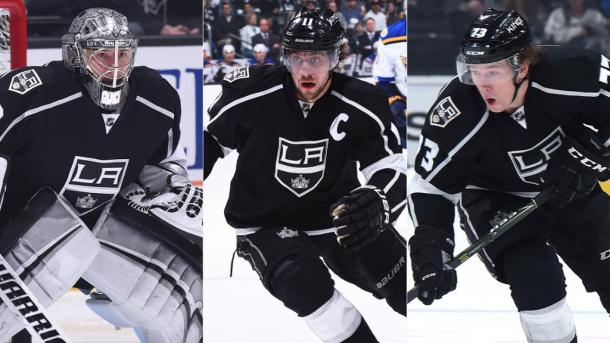 The Los Angeles Kings went into the 2017/18 season with an entirely new front office and new head coach in John Stevens after dismissing Darryl Sutter.
Stevens has proven he's a quality head coach in the NHL, and his team has shown resilience and fortitude to be right up near the Vegas team in the standings with 49 points as of this writing.
When you talk about the Kings' terrific trio you're referring to Jonathan Quick, captain Anze Kopitar, and Tyler Toffoli.
Kopitar leads the team in scoring with 17 goals, 23 assists in 38 games. Toffoli is not bad either with 16 goals, nine assists. Quick is an outstanding netminder, and he is displaying that again this season with a 17-11-2 record while compiling a .928 save percentage along with a 2.25 goals against average.
The Kings will be there in the end unless they sustain a major injury to a key player. The key this season has been Kopitar's complete turnaround from last season's disappointing injury-laden performance.
His 52 points last season certainly didn't help his team's fate. Since he already has 40 points in half as many games as his entire last season, it looks like Kopitar is back BIG TIME.
The same holds true for Quick who got injured in his first game last season and only participated in 17 games.
Toffoli is on a good pace as well with 25 points and should exceed expectations for the current season.
Their fate this season will be different as long as Quick stays healthy.
---
Winnipeg Jets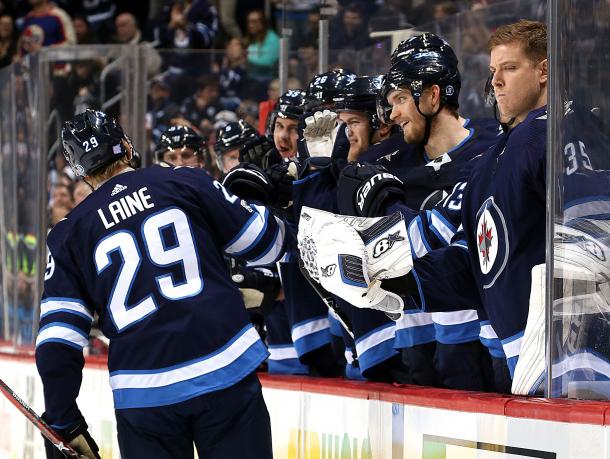 The Winnipeg Jets finished seven points short of a playoff berth last season, and are motivated to correct that this season.
So far, they are doing just that with 50 points after 39 games and are leading the St. Louis Blues (48 points) and Nashville Predators (49 points) for the Central Division lead.
Led by their captain Blake Wheeler, who has accumulated 44 points including 10 goals they are on a path to the playoffs if their play continues at this pace.
They're predicted to finish fourth with about 99 points in the Western Conference.
Of course, like any successful NHL team, they have the players that can light the lamp and score on a regular basis.
Behind Wheeler, there is Mark Scheifele who is showing more and more that he is an offensive threat in the league. His 32 goals, 50 assists last season were no fluke.
This season he already has 15 goals, 23 assists which places him right on pace to match his great season last year.
***
Then, as if that isn't enough firepower for the Winnipeg club, throw in a rookie sensation last season none other than Patrik Laine and you have a good chance of scoring goals on a regular basis.
That would be fourth best in the NHL with a 3.28 goals per game average.
Laine leads his team in goals with 18 and has added 13 assists to show he has no plans of a sophomore jinx or letdown.
The Jets will fly into a playoff spot without using all their firepower. They should have a smooth landing in making it to the playoffs.
Then, the fun starts.
---
St. Louis Blues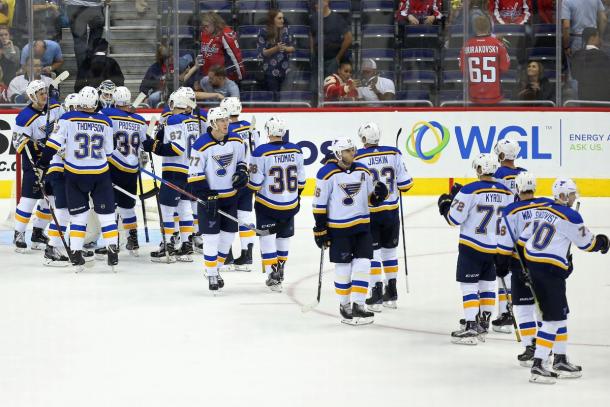 The St. Louis Blues are on a mission this season. That, like most every NHL team, would be to win a Cup.
They are off in the right direction thus far holding strong in the Central Division with 48 points good for third place and one point behind the second-place Predators.
Again, the trend to being an outstanding team in the NHL is to have a good trio of players leading the way.
For the Blues that has to include Braden Schenn (17-g, 23-a), Vladimir Tarasenko (16-g, 21-a), Jaden Schwartz (14-g, 21-a). Schwartz will be missing in action as he injured his right ankle on December 9, 2017, and will miss six-eight weeks recovering.
With Schwartz not playing the Blues have gone 4-7, and unless they can get other players to pick up the slack they may be in trouble.
Injuries are never easy to predict, but good teams get past them and find a way to win nonetheless.
The Blues are predicted to finish around fifth in the conference with about 97 points but had better hope Schwartz recovers quickly. Without his input, the Blues may be on the outside looking in... again.
---
Dallas Stars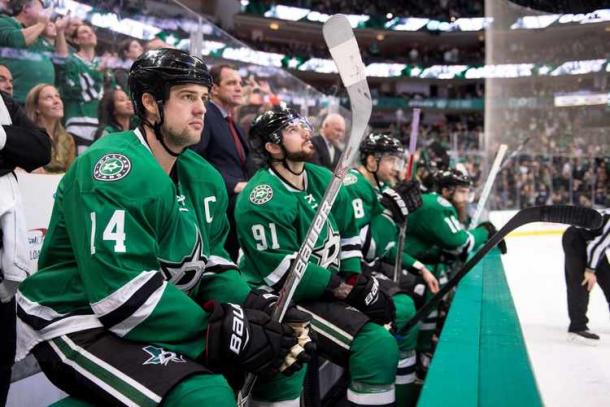 The Dallas Stars threw all their chips in the pot to go for the gold this season. (oops... forgot there will be no Olympics this year thanks to the NHL illustrious Commissioner)
First of all, they went after Alexander Radulov and landed him at a hefty price of $31.25 million for five years.
That was just a start.
They followed that up by gathering in a starting goalie in veteran Ben Bishop who was 18-15-5 with a .910 save percentage and 2.54 goal against average in 39 games played last season with the Kings and Tampa Bay Lightning.
The Stars weren't done spending money quite yet, and they opened their pocketbook again to convince oft-injured third-line center Martin Hanzal to move to Texas.
Of course, the three-year $14.25 million contract he was offered also had a lot to do with it.
So, how are these new additions doing so far this season?
Radulov has 14 tallies and 31points in 39 games, but he's also blessed to be on the top line of Tyler Seguin and Jamie Benn. The line has combined for 110 points and should guide the team to the playoffs.
Bishop was a strong addition seeing that this team can score but had goalie difficulties last season. This year he has a 16-10-2 record, and a 2.64 goals against average to go with a .912 save percentage.
Hanzal is well... a disappointment at best. His stats this season don't show that the Stars' got their money's worth as he has tallied just three goals, three assists in 26 games. He has missed 13 games due to injury... some things don't change.
All in all, the Stars have the ingredients to make the playoffs and should finish with about 92 points to end the 2017/18 campaign. That may squeeze them into a wildcard spot if everything falls into place and Hanzal can actually stay injury-free for a bit... don't count on it.
---
San Jose Sharks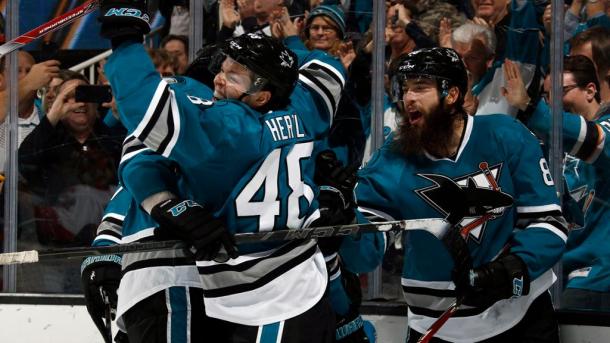 The San Jose Sharks are one of the five oldest teams in the NHL, averaging 27.97 years-old. They still have something in their tank and are hanging tough in the Pacific Division with 44 points, while playing only 35 games thus far this season.
There's still the players who have led them before on the current roster. Players like Logan Couture (15-g, 11-a), Joe Thornton (7-g, 19-a), Brent Burns (6-g, 19-a), and Joe Pavelski (8-g, 15-a) are continuing to make the Sharks relevant.
They are still waiting for Mikkel Boedker to get out of his funk and he still isn't producing near what he did on a worse team when he was with the Arizona Coyotes.
He had a decent 0.48 points per game in Arizona but has faltered to just 0.31 while in a Sharks' uniform. Strange.
The Sharks are definitely in a position to finish well enough to qualify for the postseason if even in a wildcard position. They should come in with about 95-97 points and be in the hunt again for the Cup.
It was just two years ago they were in the Cup Finals against the tough Pittsburgh Penguins, losing four games to two.
The only thing which may hold them up is their lack of youthful energy increasing the possibility that may get tired.
---
Chicago Blackhawks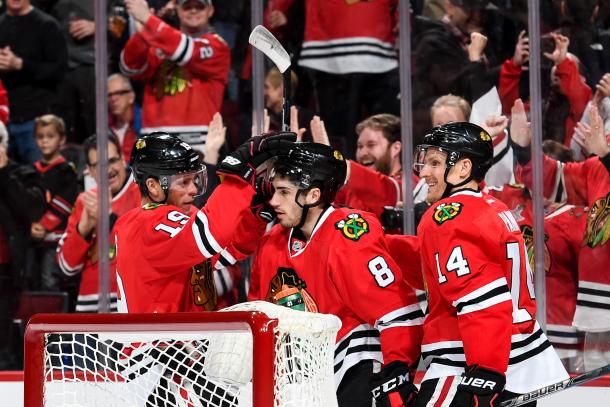 Many Chicago Blackhawks' fans are worried that the team will falter and miss the playoffs for the first time since the 2007/08 season when they finished with 88 points under head coach Dennis Savard.
So, there's no way they will NOT qualify this year, right?
Hold everything... Corey Crawford is hurt again, and without him, in between the Hawks' pipes, the team has a meager 2-5-3 record with backups Anton Forsberg or Jeff Glass in net.
Nothing to write home about and the team is hoping that Crawford will be able to recover quickly.
The reason?
Inconsistent play has plagued them this season. After going on a five-game losing streak recently, they surged back with a five-game winning streak... only lose their last two games.
With an 18-14-5 record, they are not impressing anyone who thinks they have a playoff spot wrapped up.
But... don't EVER count out the Blackhawks. With their dynamic duo of Patrick Kane and Jonathan Toews, they are always going to be in games.
The difference this season is they are not dominating as in previous seasons.
Perhaps trading away such players as Niklas Hjalmarsson, Artemi Pararin, and losing Marian Hossa to a rare skin disorder have started to show their effects.
Time will tell, but if the Blackhawks don't make the playoffs, heads will roll... you can put hard earned money on that.
---
Minnesota Wild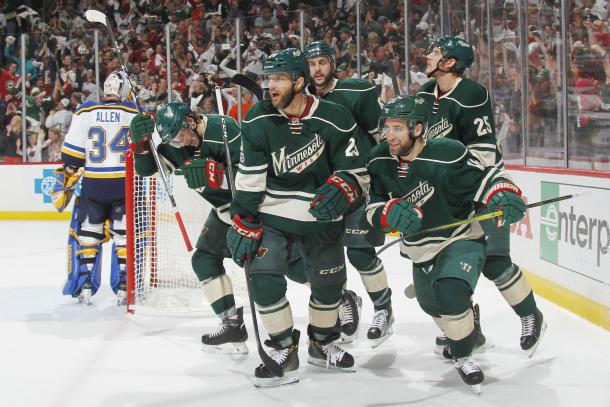 The Minnesota Wild would be a wild-card team at best but have had injuries and other issues preventing them from playing as well as last season when they had 106 points good enough to finish in second in the Central Division.
Losing a key player like Zach Parise all season has been a real blow to the Wild. He may be back soon, but the damage may have been already done... and so are the Wild. They have had to do without Devan Dubnyk for 14 games and that hasn't helped them at all.
They will fall out of playoff contention and will look forward to next season.
---
Anaheim Ducks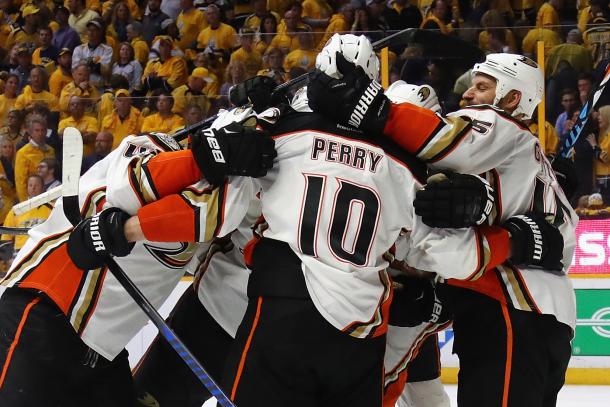 When the Anaheim Ducks lost BOTH Corey Perry and Ryan Getzlaf to injuries the bottom has started to fall out for the Ducks, and even the fantasy land at Disneyland couldn't help them out of this one.
They have just a 34.9% chance of being in the postseason competition and they won't know how to accept that.
Unfortunately, the Ducks are cooked for this season.
---
Calgary Flames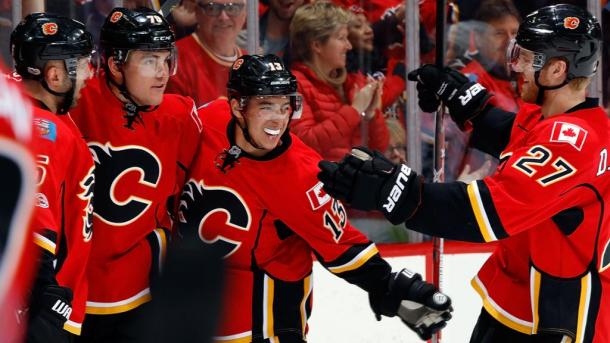 It seems that when you have a talented couple of players like Johnny Gaudreau, Sean Monahan, or even Matthew Tkachuk you have a shot at playing in the playoffs, right?
Not so with the Calgary Flames. They went after a washed up goalie in Mike Smith, and are now seeing that is not working out well. Smith has unimpressed with an average 14-13-3 record.
His other stats are not much better with a .920 save percentage and a 2.56 goals against average.
The Flames will be extinguished and miss the playoffs after making it in two of the last three seasons.
---
Colorado Avalanche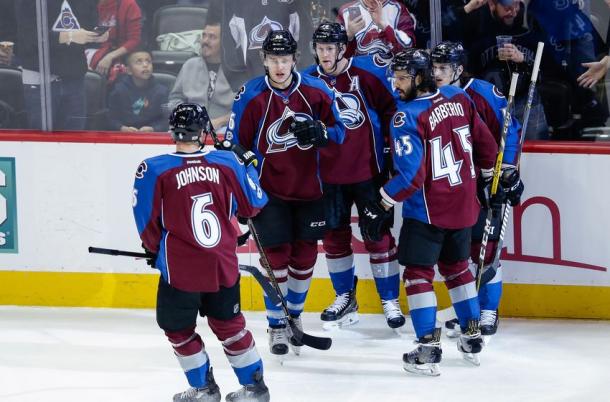 The Colorado Avalanche took forever to finally trade star center Matt Duchene to the Ottawa Senators, but it paid off when they got talented players like Sam Girard in return.
At least they aren't the worst team in the NHL this year, that fate belongs to the Arizona Coyotes, who are horrible this season.
The future may be bright for the Av's, but this season will end without them qualifying for a playoff spot again... the last time they made it was in the 2013/14 season when they lost in the first round.
---
Edmonton Oilers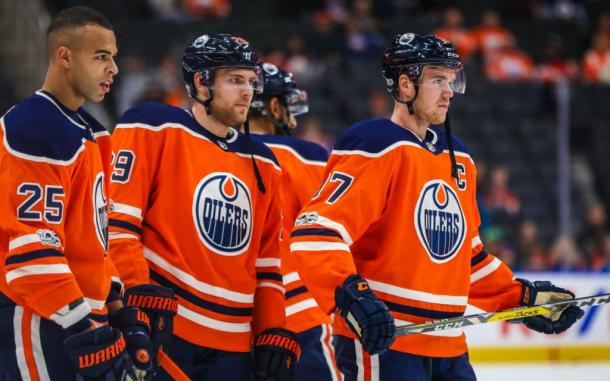 It just doesn't seem right.
Are the talented Edmonton Oilers missing the playoffs? Is this the same Oilers team with Connor McDavid, Leon Draisaitl, and Darnell Nurse?
Afraid so... they are just not playing at all very well this season, for whatever reason.
One factor may be that Cam Talbot has a 2.93 goals against average and a meager .906 goals against average.
Even with McDavid pouring in 45 points in 38 games, it's not enough to overcome their overall poor play. They did win four straight games recently, but is the hole they've dug themselves too deep to recover?
Probably. They have just a 13.7% chance of making the playoffs.
They will be watching in mid-April like all the others in this section wondering what happened.
---
Vancouver Canucks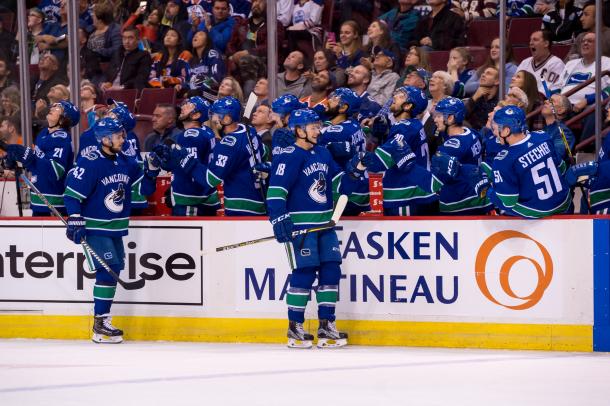 The Vancouver Canucks have had a less than a celebratory season so far, except for a promising young prospect by the name of Brock Boeser. He is the leading scorer on the Vancouver club with 21 goals, 17 assists in 35 games.
That's more than a point a game clip... not bad for a rookie. He played nine games last season with four goals, one assist.
The kid is the leading scorer amongst rookies and is ahead of Clayton Keller of the Arizona Coyotes by seven points. Keller has appeared in 40 games this season.
This will more than likely be the farewell season for the Sedin twins as age has caught up to them. Too bad Boeser doesn't have a twin, the Canucks could use him.
The Canucks are still rebuilding, but with a player of Boeser's talents, the future should be bright in Vancouver, however, this season will go down as a playoff miss for them.
---
Arizona Coyotes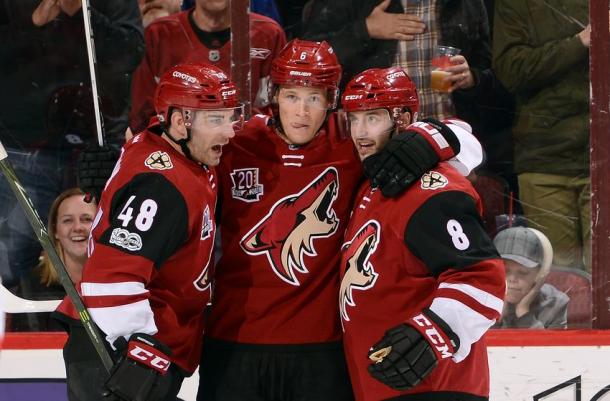 The Arizona Coyotes are having one of, if not the most disappointing seasons in their history.
Sporting a horrible 9-26-5 record in the Pacific Division this season gives them the undesirable position of being in last place for most of the entire season. They have a 0% chance of making the playoffs... pretty dismal.
They just aren't finishing games and are losing leads on a regular basis.
Their offense is invisible at times and their defense which was upgraded by adding Niklas Hjalmarsson and Jason Demers, hasn't seemed to help improve the way opponents are scoring on them at will.
Nothing they've tried to adjust the downward trend has been sustainable, and it seems like this season is a lost cause.
They can only hope that some changes they may make will get them better results next season.
And one of those changes may very well be trading Oliver Ekman-Larson. His play this season has taken a plunge from even last season when he had an injured hand and lost his beloved mother.
His turnovers have really bitten deep into the core of the team's potential. It may be time for him to move on somewhere else. With a team-leading -29 in the +/- statistic, he's on the ice a lot when the other team scores... of course he also averages 24:42 minutes of ice time a game.
Still... -29 ? OUCH!
Whatever is done the mediocrity of this season calls for corrective actions.
They're just really hard to watch this season.
That wraps up the Western Conference analysis at near the mid-point of the NHL season. Do you agree with who will make the playoffs and who won't? Let us know in the comments section below.