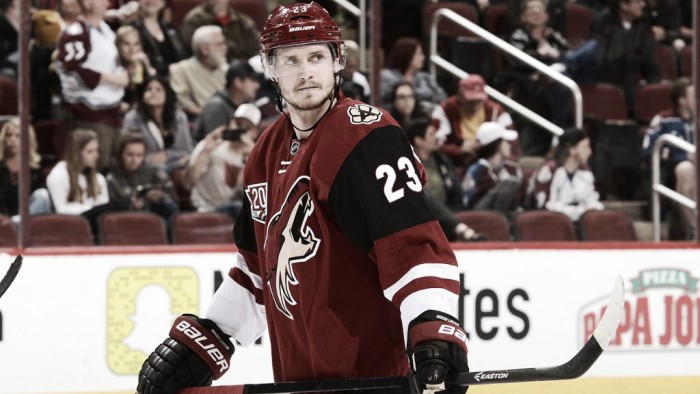 Even though the GM of the Coyotes' John Chayka insists that Oliver Ekman-Larsson is NOT on the trading block, the way the team has underperformed this season, it may be something he needs to at least evaluate further.
This season has been abysmal
Going into the second half of the 2017/18 season with a record of just 9-27-5, the Arizona Coyotes may need to cut their losses and trade their most valuable asset to get some players who can get this team out of their doldrums.
Everyone who follows OEL knew he was off last season due to a hand injury he tried to play through, and a tough personal family loss. So, what is his issue this season?
Partially it could be attributed to newly acquired stay-at-home defenseman Niklas Hjalmarsson being missing in action due to injuries for 24 games. That hurt the Sweedish combo defensive lineup on the blueline and may have depressed OEL into thinking he must do everything himself.
Now, "Hammer" may be back as soon as their first game of the new year on Thursday against the powerful Nashville Predators. It will take him time to get back into the swing of playing regularly again, and head coach Rick Tocchet is not guaranteeing that he will play quite yet.
He wants him to be 100%, so as to not be re-injured again. He did practice with the team on Tuesday and looked like he was ready to go.
Why trade OEL?
The team is at a turning point with either developing the team around OEL or letting him go to a club where he at least has a chance to win a Cup.
One of those teams looking for a defenseman of his stature is the Toronto Maple Leafs. Rumors have swirled recently that the Coyotes would be interested in William Nylander, but it is doubtful that the Maple Leafs would part with him.
A better option may be to go after the speedy center, Mitch Marner. The fourth overall pick of the 2015 draft was selected after the Coyotes chose Dylan Strome with the third selection. Strome has been a disappointment in that he cannot seem to adjust to NHL play and was sent back to his junior team, and then down to the AHL twice to refine his game.
Marner is the Leafs' second highest scorer this season with five goals, 24 assists in 40 games.
Toronto has a logjam at center ice
So why would the Leafs move Marner?
Numbers. They currently have count them... eight center icemen on their roster and with names like Auston Matthews, Nylander, Nazem Kadri, Zach Hyman to name just a handful.
Marner may be expendable. Now since OEL is making $6.5 million a year, some other contracts from the Toronto club would need to be added to the deal. He completes his entry-level contract after next season and would be getting a boost in pay.
Since the Arizona team would be losing a defenseman, they would need a replacement. A good candidate may be Morgan Reilly who is signed to $5 million contract until the 2022/23 season.
Salary-wise that may work, but will the Maple Leafs give up two valuable players to land OEL?
That's what makes general manager's hair gray. There's no doubt that the Leafs want to upgrade their defense for another Cup push this season after being eliminated in the initial round by the Washington Capitals.
And, the Coyotes desperately need to do something to get back to respectability. They coveted Marner at the draft, but like many teams considering him, his size was a drawback.
Not anymore.
His 0.77 points per game have shot down that theory. He would fit right in with the swift, young players who are currently on the forward lines of the Arizona roster. If Toronto nixed such a deal, the Coyotes could always throw in Strome or Anthony Duclair to sweeten the deal.
Marner brings instant scoring prowess and putting him out there with a Max Domi and Clayton Keller would be difficult for any team to defend against.
Conclusion
Any deal comes down to whether both clubs can benefit in some way in making the transaction happen.
For whatever reason OEL is playing very poor defense, but then most of the Coyotes' team is doing the same thing. Turnovers have plagued him and it may be time for his departure. He's an accomplished, well-liked player, but in the end, winning is the name of the game, and OEL is not doing that with his current team.
If something like a trade for OEL doesn't happen and the team continues to flounder, it will be time to fire those responsible.
Chayka and Tocchet need to evaluate how much they like their jobs. Andrew Barroway is an accomplished businessman. He will know when it's time to make a change.
And changes are on the way.
Yes, they are.
What do you think of the possibility of the Arizona Coyotes trading Oliver Ekman-Larsson? Let us know in the comments section below.