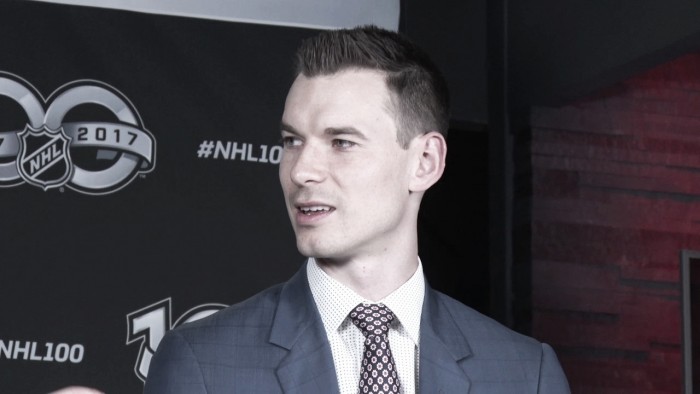 Being the youngest GM in NHL history may be groundbreaking, but does it give John Chayka the tools and experience necessary to get the job done?
Sporting a 40-69-15 record (.383 winning percentage) over the past two seasons doesn't exactly impress anyone thinking he's taking the team down the path of success.
This will be the sixth consecutive season the Arizona Coyotes will NOT be in the postseason playoffs and that is not progress.
Pleased with the direction of the team
Recently Chayka told Arizona Sports Craig Morgan that while he doesn't like the results he is satisfied with the direction of the team.
"I'm satisfied with the way we draft, the way we develop, the way we scout, the way we coach, the way we teach. A lot of the stuff we're doing off the ice is important and I think those things are all trending in the right direction, but it's like a battleship. It takes a battleship a little while to turn. Once we get things squared away and are moving in the right direction, it will move that way for a long time."
While the direction of any professional sports team is essential, winning is even more paramount.
There hasn't been much winning at all, and for Chayka to be satisfied with that direction is alarming... to say the least.
Whenever a team starts losing on a regular basis that usually signifies that changes are imminent. And everyone knows that management and the head coach are the first to get their walking papers.
Chayka defends his youth movement as the reason his team is still floundering.
His point is well taken in that over the past two years, the average age of Arizona's top-five scorers has dipped by 10 years from 33 to 23.
Does Chayka have the right head coach?
Many are questioning that newly hired head coach Rick Tocchet is the right choice to lead the team in the right direction. His 10-27-5 record this season leaves much to be debated on his merits as head coach.
Yet, Chayka stays loyal to his choice and takes some of the flak created from hiring Tocchet.
"There's a certain mindset and approach and mentality that goes into playing to win in this league and Rick is a guy who has done it at the highest level and done it for a number of years."
"In fairness to him as a manager, I think we can do a better job of getting him some more talent and putting them in the right positions to have success. Sometimes, when you look up and as a manager, you're evaluating it, there's not a right solution to the problem you see, so he tries different things. Some of them might work; some of them might not, but in terms of his philosophy for how to play the game, I think we're completely aligned. I do think he's playing to their strengths and that's something I want to see and do see. Once I get him some better players he'll continue to be a better coach."
So, has Chayka done his part in re-tooling team?
He thought so when he was very active last summer acquiring some good talented veterans in Derek Stepan, Niklas Hjalmarsson, Jason Demers, and Antti Raanta.
To say that has gone well is a definite overstatement.
Stepan was to be the first-line center but has his downside turning over the puck and not winning enough key faceoffs.
Hjalmarsson has missed so many games (25) to injuries that his worth has been missed most of the season.
Demers has been adequate but hasn't been exceptional.
Raanta too has had injuries (has only appeared in 21 games) which have really destabilized the goalie position, causing inconsistency and easy scores by the opposition. Some say he came to camp out of shape.
Chayka has made some other moves and has tried to give the talent down in his AHL affiliate in Tucson a chance to help out when needed.
He certainly had hoped that Dylan Strome who was selected as the third overall pick of the 2015 draft, had progressed more and been an important addition to the lineup every game... instead, he is still in the AHL trying to determine how to be an NHL player.
A couple of other additions recently have been minor, but a player like Josh Archibald could really help this team. He has the right attitude and wants to help his new team succeed.
This team needs to improve drastically
With the Coyotes seeking a new arena to attract more fans, they really must start to show some improvement soon. Whether that means making some trades or signing some free agents, they must get it done... the sooner the better.
Their first game of the new year and the second half of their schedule showed they intend to do just that.
Defeating a sound playoff contending Nashville Predators team 3-2 on Thursday night in overtime was a step in the right direction. They displayed some better discipline at times and hung in there to grab only their 10th win of the campaign.
Anthony Duclair, who came out to admit he has asked to be traded scored a key goal to help the team win. Christain Fischer also pitched in with the winning overtime goal, after it was reviewed not once, but twice.
These are the type of performances this team needs to get their second-half of the season going. They no doubt lack confidence due to giving away games in that disheartening first-half of the season.
Now if that's the direction that Chayka is referring to then he's on to something.
Maybe that battleship is finally turning in the right direction... there are still 40 games left to see how it all turns out.
Whether Chayka and Tocchet will both be around to witness it is still an unknown.
Do you agree that GM John Chayka has what it takes to improve the Arizona Coyotes? Let us know in the comments section below.