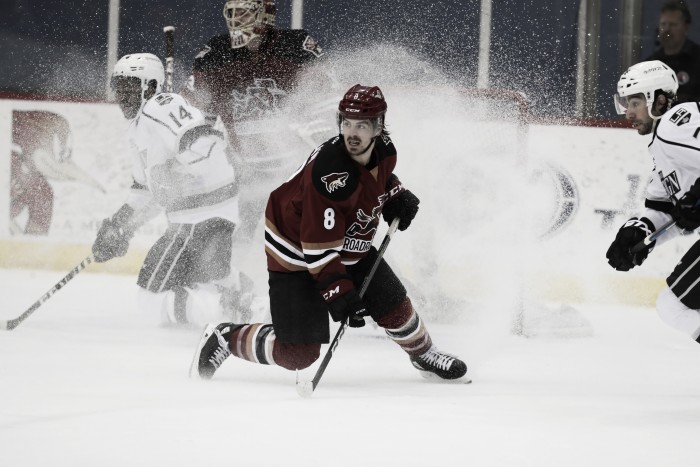 The Arizona Coyotes have had little to cheer about when it comes to their dismal first half of the 2017/18 season. Their AHL affiliate team the Tucson Roadrunners are one bright spot.
They own a respectable 17-10-2-1 record with a .617 winning percentage which determines the team's standing. They lead the Pacific Division and are second in the Western Conference.
Merkley, Strome leading the way
Right-wing/center Nick Merkley and center Dylan Strome are the two leading scorers on the Roadrunner's team. Through 26 games Merkley has 17 goals, 17 assists. Strome is right behind him with 13 goals, 20 assists while appearing in just 21 games.
Strome, the third overall selection of the Arizona Coyotes in the 2015 entry draft appeared in 11 games with the parent club, but fell short with just one goal to show for his efforts.
He's back dominating in the AHL, with the Coyotes still hoping he can play to his potential in the NHL.
Merkley was also called up by the Coyotes and appeared in one game before being sent back down to the AHL.
Both young players will represent the Roadrunners in the AHL All-Star game later this month.
Strong goaltending has helped
The Roadrunners have two talented young goaltenders on their roster. Adin Hill is in his second season with the Tucson team and sports a 7-7-1-2 record with a 2.40 goals against average and a 0.911 save percentage. He also has two shutouts to his credit. At 6'4", 203lbs he blocks a good portion of the net.
His counterpart Hunter Miska, in his first year in the AHL has a 9-3 record, with a 3.08 goals against average and a 0.897 save percentage. He played at the University of Minnesota-Deluth last season with an impressive 2.20 goals against average and a more impressive 0.920 save percentage while appearing in 39 games.
The Roadrunners play similar style as Coyotes
The Coyotes are brimming with youthful talent, and much of it is being developed in the Tucson organization. They also have an up and coming defenseman by the name of Kyle Wood, who stands a shot at making the Coyotes team very soon.
At 6'6", 235lbs he is built like an NHL defenseman and looks to bring some toughness and scoring ability to the right point of the Coyotes' blueline when his number is called.
In 93 AHL contests Wood has collected 16 goals, 38 assists. He is a right-hand shot, which is always an asset for an NHL team.
The Roadrunners are being molded in the same style of play as the Coyotes. Speed, and forechecking are emphasized.
It doesn't hurt that the AHL affiliate team is just a two-hour drive down Interstate 10 if and when the need arises for a player replacement in a timely fashion.
The Roadrunners are averaging 3,770 fans a game, and capturing additional fans everyday. With a hockey capacity of 6,791, they are filling most of the stands for every game.
The Tucson area is excited to have professional hockey, and the Arizona Coyotes have a place to develop their rising stars for NHL play.