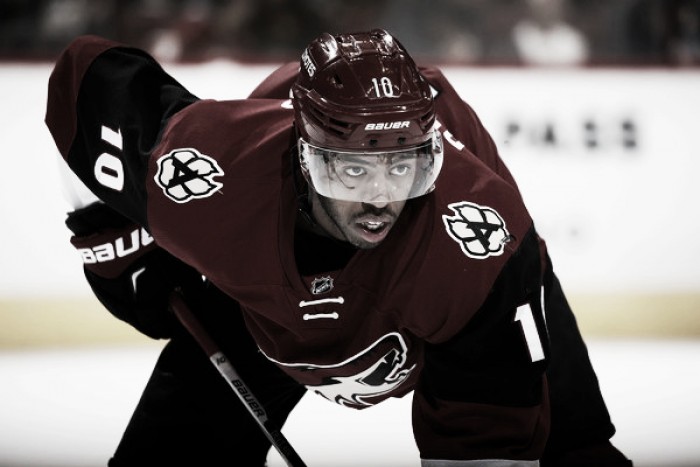 No more Max Domi to Duclair picture perfect goals. That ended today when Anthony Duclair got his wish and was traded to the Chicago Blackhawks for right winger Richard Panik.
Coming back to the Arizona Coyotes will be forward Laurent Dauphin who had been traded to Chicago in the Niklas Hjalmarsson for Connor Murphy deal over the summer.
The Coyotes also sent defenseman Adam Clendening to the Blackhawks after appearing in only five games for Arizona.
The deal seems equitable
The Blackhawks are willing to take a chance on Duclair, who has blazing speed and exceptional moves, but lacks defensive discipline.
According to Coyotes' GM John Chayka, "Richard Panik a big, skilled winger who is an excellent goal scorer. He's also a strong two-way forward with great speed and provides a veteran presence. He will be a nice addition to our forward group."
During the 2016/17 season Panik had 22 goals, 22 assists in 82 games, including five power play goals. If he can find his range again in the second half of the season, the Coyotes will have made a good trade.
Dauphin is only 22, and was an excellent penalty killer while on the Coyotes' team. It is unclear if he will report to the Coyotes' AHL affiliate in Tucson or to the Coyotes.
Duclair never seemed to get going the last two seasons
Last season was a rude-awakening for Duclair in that he was sent down to the AHL for 16 games to find his scoring touch again.
He never really found it.
This season he was a healthy scratch for 10 games and was feeling like the one-year contract he signed to prove his worth was not working out.
Then, he asked for a trade recently, and GM John Chayka was able to work a deal. It may not be the last deal he makes as the team is definitely going to be a seller before the trade deadline with many free agents to be signed or dealt.
The Coyotes will NOT be playing in the playoffs, and must now reassemble their team to get back on the winning track.
It just won't be with Duclair blazing down the wing and crashing towards the net anymore... those days are over.
Now we get to see what Richard Panik can do. The Desert Dogs now have two former Blackhawks on their roster and if they can help the struggling team, all is good.
One last time now.... D--U--U--U--K--E !!!
What is your take on this trade? Who got the better deal? Let us know in the comments section below.