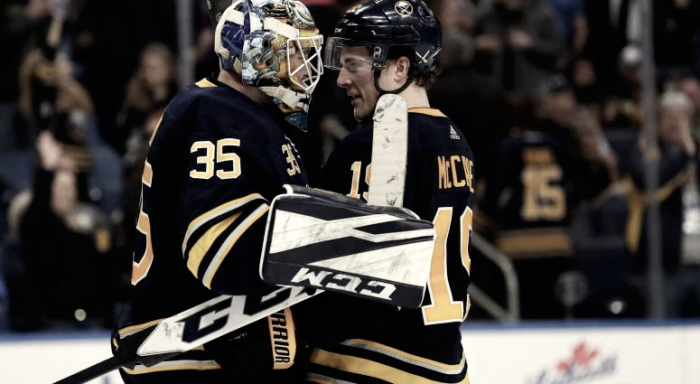 Welcome to the first post to recap this week in Buffalo Sabres hockey! I plan to talk about the rumors surrounding the team, give a quick recap of any games, I will give out grades on everything I talk about, and then I will give an overall grade for the how the week went for Buffalo.
Some weeks this may be a long post, but others it may not. I will try to cover everything while giving my analysis and keeping things interesting.
With that said, let's jump in!
January 5th: Hope in the midst of losing
Well, it was a Buffalo Sabres gameday while the entire city was focused on heading into the weekend to watch the Buffalo Bills play in their first playoff game in 17 seasons. With "RIP Drought" rampant throughout Buffalo, the Sabres faced the Winnipeg Jets in Winnipeg continuing their long road trip while the World Junior Championships were going on in Buffalo.
The Sabres put up a good fight but ended up losing to the Jets 4-3. Johan Larsson, Marco Scandella, and Scott Wilson all scored for Buffalo in the loss while Chad Johnson was in goal. Johnson continued his terrible year in the loss.
In Buffalo, the bronze and gold medal games were happening with USA playing the Czech Republic for the bronze and Canada playing Sweden for the gold. The Americans defeated the Czech Republic handily 9-3, and Canada defeated Sweden 3-1 to take home gold.
In a bright spot for Buffalo, Sabres prospect Casey Mittlestadt was named MVP of the entire tournament. He had 11 points in seven games, looked completely dominant at times, and looked like the best player on the ice. Mittlestadt gives Buffalo fans a lot of hope in what is a truly abysmal season.
Day grade: C+
January 7th: losses, losses, and more losses
Another Sabres gameday on the same day of the Bills first playoff game, so since no one was watching the Sabres fell apart even harder. After a scoreless first, Buffalo's Ryan O'Reilly scored first to make it 1-0, but then the Philadelphia Flyers scored four unanswered goals to win the game.
Another game where goalie Robin Lehner was fantastic, and he kept it 2-1 until he was pulled in the third when Philly made it 4-1 after scoring two straight empty net goals.
Lehner made 25 saves on 27 shots and had another great performance, but Buffalo couldn't support their goalie with any scoring whatsoever. Jack Eichel got another point so there's a silver lining I guess, but with that Lehner got hurt in the loss after robbing Robert Hagg of the Flyers of a goal.
Day grade: F
January 8th: Finally
The #Sabres have called up Brendan Guhle and Linus Ullmark from the Rochester #Amerks

— Brayton J. Wilson (@BJWilsonWGR) January 8, 2018
GM Jason Botterill finally takes it upon himself to call someone up this year. After calling up Justin Bailey and Nicolas Baptiste then sending them down almost immediately, Botterill looks to do it again.
Defenseman Brendan Guhle and Goalie Linus Ullmark were called up from Rochester after Lehner went down with an injury against the Flyers.
Day grade: B+
January 9th: *sigh* Gameday
Lehner seemed good enough to face the Jets, so head coach Phil Housley gave him the start in net. The Sabres were home for the first time since December 22nd, and they disappointed in a very big way.
After the first period ended with Winnipeg leading 2-1, Lehner got pulled after giving up another goal then from a 2-1 lead, Winnipeg scored three unanswered goals. Buffalo did fight back to make it 6-4 but couldn't close it out. Winnipeg beat them at home 7-4.
After the game, Housley apparently laid into the team for one of the rare times that actually happened in front of the media.
Day grade: F
January 10th: Tempers flare plus injuries
Justin Falk just yelled at Evander Kane, called him selfish and shoved him. Wow. #Sabres

— Bill Hoppe (@BillHoppeNHL) January 10, 2018
It was an off day for the Sabres that resulted in a fight at practice and an injury. All three goalies were practicing while Rasmus Ristolainen and Marco Scandella didn't practice.
After defenseman Zach Bogosian took Evander Kane down into the boards, he injured his ankle and had to be helped off the ice. Then tempers flared up at practice.
Defenseman Justin Falk and Kane got into an altercation after Falk called Kane selfish and shoved him down to the ice. They got into it, and apparently, Falk went into a tirade against Kane as well. They had to be separated by the coaches.
Day grade: A+
I'm going to explain this one. I gave them an A+ because it's nice to finally see someone on the Sabres, besides Eichel breaking his stick early in the season, actually do something and show emotion that this team is certainly lacking at times.
January 11th: Validation, confirmation, and wins
The NHL released their 2018 NHL All-Star rosters, and Eichel made his first All-Star game giving Sabres fans validation that Eichel is having a good year. Eichel was pumped to be selected, and it gives him validation on the type of season that he's having which is basically a point-per-game player.
With the confirmation of Bogosian being out with an injury for four-to-six weeks and Jacob Josefson out as well, Botterill had an extra roster spot to use so he activated Ullmark. Housley then confirmed that Ullmark would get the start for that night's game after being extremely critical of the terrible goaltending that Buffalo had received in the last couple of games.
Buffalo faced off at the KeyBank Center against the Columbus Blue Jackets before they go on their week off. With Ullmark in net, Buffalo hoped to get a win and actually look like they know how to play hockey.
And win they did. Linus Ullmark had the game of his life making 44 saves and letting in one goal. Buffalo played well defensively, scored first, and managed to score two goals. Buffalo beat Columbus 3-1 and head into their CBA-mandated time off with something positive for once.
Day grade: A+
Final weekly grade: B-
Tell me in the comments below what you think of this idea! What would you grade Buffalo's week? Talk to me in the comments below!