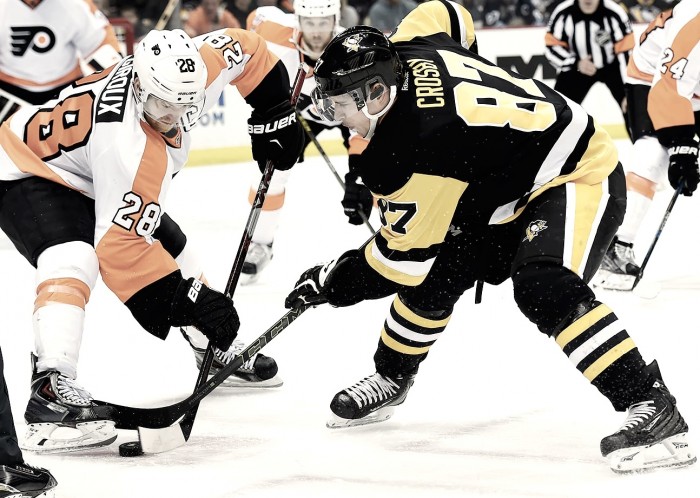 The tight race in the Metropolitan Division has been one of the more interesting storylines in the NHL this year. Teams change places in the standings on a nightly basis, and at this point, it looks like five teams from this division will make the playoffs in April.
Unfortunately, this means at least two very deserving teams from the Metropolitan will miss the playoffs this year. From here on out, every point matters, and a team can severely damage their playoff hopes with just one bad week of hockey.
With that said, let's take a look at the current state of all the teams in the Metropolitan Division and see how things might play out by the end of the year.
Carolina Hurricanes
Despite making impressive upgrades (Justin Williams, Marcus Kruger, Scott Darling, and Trevor van Riemsdyk) in the off-season, the Carolina Hurricanes had a very average start to the 2017/18 season.
A big reason for their early struggles is that their young defensive core (Justin Faulk, Noah Hanifin, Jaccob Slavin and Brett Pesce) hasn't played well enough to help them win games. At the same time, Scott Darling has had trouble transitioning into the full-time starting goalie role.
But over the past several weeks, the Hurricanes have seemed to be coming together. With Teuvo Teravainen and Sebastian Aho leading the way, they have made up some ground and are only two wins from being a top-three team in the division.
They could very well be the surprise team of 2018 that squeaks into the playoffs and surprises some people this year, so nobody should write them off just yet.
Columbus Blue Jackets
The Columbus Blue Jackets have done a decent job staying in the Metropolitan race. Sergei Bobrovsky, Artemi Panarin, and Seth Jones can only do so much before things start to break down in Columbus.
Overall, the Blue Jackets have been a very inconsistent team and many feel that they should have more wins than their record shows.
With so many teams playing their best hockey right now, the Blue Jackets could very well be one of the teams that fall behind in the next few months.
If they don't want to fall behind, it will be crucial for key players like Nick Foligno, Cam Atkinson, and Boone Jenner to step up soon, as they have been struggling to produce for much of 2017/18.
New York Islanders
Despite all distractions surrounding this team including the arena relocation and John Tavares' future with this team, the New York Islanders have shown promise that they can become a playoff team this year.
Aside from John Tavares being his usual self, Anders Lee and Josh Bailey are both having spectacular seasons. Meanwhile, the Islanders seem to have found secondary offense from the likes of Mathew Barzal, Jordan Eberle, and Andrew Ladd.
There is obviously a lot to like about this team but goaltending seems to be a major issue. In order for them to be successful down the stretch, Jaroslav Halak and Thomas Greiss need to be better in net. At the same time, the Islanders look like they could add another quality defender to improve their top-four defense.
New Jersey Devils
The New Jersey Devils continue to be one of the "surprise teams" of 2017/18. They have hovered around the top-three in the Metro for much of this season, and have even spent extended time in first place.
Playoffs are a realistic goal for New Jersey, as they should be able to use the momentum from their hot start to secure a postseason berth. With Taylor Hall and Cory Schneider leading the way, the Devils have also found nice contributions from rookies Jesper Bratt, Nico Hischier and Will Butcher.
General manager Ray Shero has done his due diligence in improving this team with the recent acquisition of Sami Vatanen. But don't expect the Devils to stay quiet at the trade deadline, as they might be in the market for one or two more players to make them a legit playoff team this spring.
New York Rangers
The New York Rangers have been in "win-now" mode for several years now and have done some major retooling over the summer to rebuild on the fly.
They have a younger and faster team from years past, and now with names like Mats Zuccarello, Mika Zibanejad and J.T. Miller at the forefront, it will be interesting to see if this group can help the Rangers go far in the playoffs this spring.
On paper, the Rangers look like a team that has enough depth to secure a playoff spot. Now the real question becomes whether their difference makers (Henrik Lundqvist, Kevin Shattenkirk) can give them the extra push to go on a deep run in the Stanley Cup Playoffs.
Pittsburgh Penguins
Despite being back-to-back Stanley Cup Champions, the Pittsburgh Penguins have underperformed for much of 2017/18. Inconsistency has been a major issue and they don't seem to have the right mix of players to surround their stars.
Surprisingly, the Penguins found themselves near the bottom of the Metropolitan Division standings at the start of Christmas break. This is very concerning for a team with Stanley Cup aspirations.
Needless to say, they still have one of the best center duos in the NHL in Sidney Crosby and Evgeni Malkin. All in all, general manager Jim Rutherford will likely try to bring in a few players to improve his team soon. Otherwise, their chances of a three-peat and extending their playoff streak to 12 years might be in great jeopardy.
Philadelphia Flyers
The Philadelphia Flyers find themselves in a better situation than a season ago. Key players Claude Giroux, and Jakub Voracek have resurged their NHL careers. Meanwhile, Sean Couturier, Ivan Provorov, and Shayne Gostisbehere are taking big steps forward this year.
Their blue-line has improved as well, as they are receiving nice contributions from players like Robert Hagg and Travis Sanheim.
It seems like the Flyers have enough depth and the right mix of veterans and youth to remain a top-five team by the end of the season. Optimistically speaking, fans in Philly should see their team return to the playoffs this year.
Washington Capitals
Despite having a very mediocre start to the 2017/18 season, the Washington Capitals have picked things up recently. They look like they will finish as a top-two team in the division this season.
Alexander Ovechkin is on pace for another 50-goal season, and he still has a good enough supporting cast (Evgeny Kuznetsov, Nicklas Backstrom, John Carlson, and T.J. Oshie) around him to make the Capitals one of the elite teams in the East.
Although the Capitals may not be as deep as years past, we should expect them to be back in the postseason once again. But whether they are able to get past the second round is another question.
Playoff Predictions:
Teams that will make the playoffs:
Carolina Hurricanes
New Jersey Devils
New York Rangers
Philadelphia Flyers
Washington Capitals
Missing the playoffs:
Columbus Blue Jackets
New York Islanders
Pittsburgh Penguins
What do you think of this analysis and playoff predictions? Who will come out on top? Let us know in the comment section below.