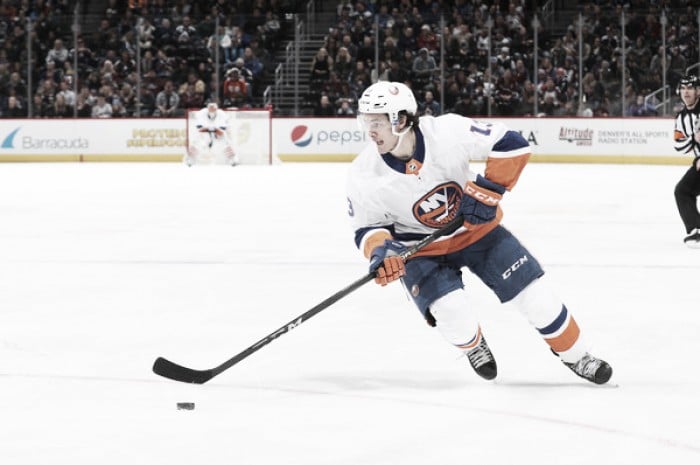 For as fun as it is to see a Connor McDavid, Auston Matthews, or John Tavares enter the league, knowing that the NHL is in safe hands for the next generation's worth of hockey, this season has been a breath of fresh air for not having one of them come through.
It has allowed a wider group of rookies to step up and make their own case for the Calder Trophy. While there were favorites heading into the season, there wasn't that clear-cut leader as in years where players like McDavid, Matthews or Nathan MacKinnon entered the league.
Clayton Keller took off out the gate quickly, establishing himself as the early favorite. Nico Hischier, the most recent first overall pick, would be one to watch for obvious reasons, and after a strong playoffs, Charlie McAvoy was another early season favorite.
After a two-game stint with the New York Islanders last season, Mathew Barzal was still looking to establish himself on a permanent basis for the team that drafted him 16th overall in the 2015 draft.
Halfway through his rookie season, Barzal has not only emerged as one of best first-year players but as one of the better playmakers in the entire league.
After his five-point effort against the New York Rangers, his second game in which he reached that mark... Barzal now leads all rookies in assists, and points, while sitting behind just Brock Boeser in goals.
A born playmaker
Creating for others has always been what has made Barzal so special, and one look at his career numbers in the Western Hockey League (WHL) will further prove it. In 202 career games, Barzal recorded 225 assists, 278 points overall.
Scouts have been raving about his playmaking ability for years now. Mike G. Morreale of NHL.com said of Barzal in a mock draft,
"A fantastic east/west skater with the capability of creating time and space for linemates… possesses great vision, pucks skills and is the ultimate playmaker."
The 2015 draft was heralded heading into it, mainly due to having McDavid and Jack Eichel in it, but the list of players already making an impact for their respective teams is truly impressive.
Zach Werenski, Mikko Rantanen, Boeser, Sebastian Aho, and fellow Islander Anthony Beauvillier are among fellow 2015 draft picks that are making noise alongside Barzal, McDavid, and Eichel.
Breakout campaign
The Islanders were going to need some secondary offensive help come from somewhere if they were going to compete. Barzal is turning out to be a primary option for New York, currently sitting fourth on the team in points.
After not scoring in the first five games of the season (and seven in his career), Barzal has exploded for 44 points (15 G, 29 A) over the next 39 games, nine of which were multi-point contests.
He recorded his first career hat trick in a game against the Winnipeg Jets and after recording his second five-point game made some history.
The only other Islander rookie to have multiple five-point games in the same season was Bryan Trottier.
Only SEVEN players in the entire history of the NHL have accomplished that feat.
Two of them were in the league's first year of existence, then there is Trottier and Barzal. The other three all have the last name, Stastny.
Going forward
The Islanders are stuck in the middle right now. They are having breakout seasons from Josh Bailey, and Anders Lee while Tavares may push the century mark in points in a contract season.
They also have a lot of young talent and are on the outside looking in when it comes to the playoff picture in a very tough division to dig themselves out of the hole.
Play from Barzal and Beauvillier should have the Islanders excited about their future, but without Tavares locked up they are right on the edge of potentially having to go through another complete rebuild.
No matter what the future holds, Barzal's play this season has put him near the top of the rest of the rookies and his natural talent could have him in possession of some hardware by year's end.
Tell us what you think of Matthew Barzal's NHL career thus far in the comments section below.