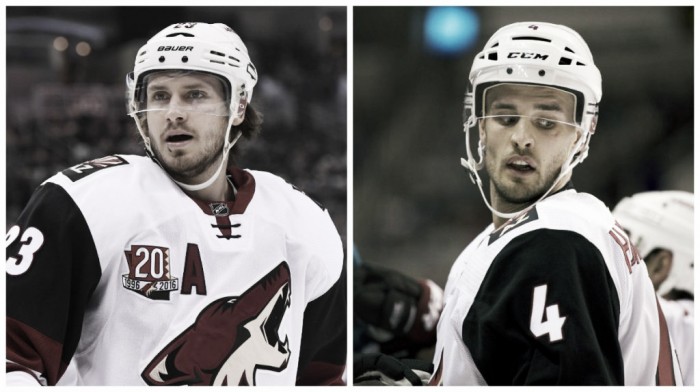 There's little doubt that the Arizona Coyotes will be sellers before the NHL trade deadline set for February 26, 2018, at 3 pm ET.
The question of who will be dealt and who won't is still very much undetermined.
Two good assets could be valuable as trade candidates
Many NHL teams would be crazy not to attempt to pry either All-Star defenseman Oliver Ekman-Larsson or newly acquired blueliner Niklas Hjalmarsson from Arizona.
Both players are signed through the 2018/19 season, with OEL owning a $6.5 million contract ($7 million next season) as opposed to Hjalmarsson's more affordable $4.1 million pact.
OEL is not having an exceptional season even though he was chosen to represent the Coyotes at the All-Star game this year. Every team must have at least one player on the team.
His -40 +/- statistic is the worst in the NHL. It has risen six points from -34 to -40 over the last two games he's played.
Granted, he does average 24:33 minutes of playing time, but the entire Coyotes' team has issues with goals allowed. They are 30th in the league in goals allowed with an average of 3.51 goals per game.
Waiting at the front of the line to grab OEL may be the Toronto Maple Leafs, Philadelphia Flyers, and the New Jersey Devils.
Hjalmarsson has been missing in action most of the season due to nagging injuries. He has only played 19 of the team's 45 games this season.
What was being billed as the "Swedish connection" blue line has never come to fruition.
What could the return be?
It's been made known that Coyotes' general manager/President of hockey operations John Chayka is not fond of the idea of trading a marquee player like Ekman-Larsson, but so far the rebuild has not worked to his satisfaction although he has commented that it will take time.
Time, John? Like how long is the fan base expected to wait for this team to turn things around and become a respectable, formidable NHL team?
One-three years? No guarantees, unfortunately.
According to Bruce Garrioch of the Ottawa Sun, Chayka seeks two top-flight roster players AND a first-round draft pick. That may be a huge asking price, and the demands may decrease as the deadline nears.
The strategy of trading OEL before the trade deadline is so the acquiring team can have his services for two playoff runs. It's something the Coyotes did before Chayka's reign when they dealt star defenseman Keith Yandle to the New York Rangers prior to the 2015 trade deadline.
Garrioch has also stated that the Coyotes are "shopping" defenseman Hjalmarsson. He has a 10-team no-trade clause in his contract, and there's word that he'd choose not to go to a Canadian team.
It's unknown who the team would want to receive in return for Hjalmarsson. They already have a wealth of prospects, what they need now are players with some experience who can play well enough to get them back in the playoff hunt.
Losing two top defensemen would be challenging
Or would it?
I mean with the way the team is playing now can their defense/goal-tending get much worse? They squander leads and give up goals late in a period or game to show there has got to be some changes made... and soon.
If they can get a veteran defenseman or two by being sellers, why not give it a try? Nothing else has worked so far.
And the theory that OEL is going to be the team's next captain didn't pan out at least for this season. Trying to replace Shane Doan's leadership is a tall task.
Ekman-Larsson just doesn't seem to have the personality required to be the captain of the team. Someone like Derek Stepan, or down the road even a Max Domi would fill that role much better.
In fact, many observers maintain that even with Doan's deteriorating skills on the ice, his leadership skills are missing terribly in the Coyotes' locker room.
In addition, if any replacement for Doan were mistreated with the way his departure was handled, why would another player want to step into that role?
Soon we'll see a whole new team
Chayka doesn't shy away from pulling the trigger on big deals. One only needs to look at the deals he pulled off this past summer. Of course, for the most part, the deals he's made have not upgraded the team's performance issues.
Is it coaching?
Is it really young players making really young player's miscues?
Or is it time to look at the veterans who have not done the job?
Let's face it, if the team continues to fail miserably, some heads will roll.
Will it be Chayka? Or Rick Tocchet, or BOTH?
Better yet, will we even recognize the team if trades go down?
The playoffs seem like a faraway desert mirage at this point, something's GOT TO CHANGE!