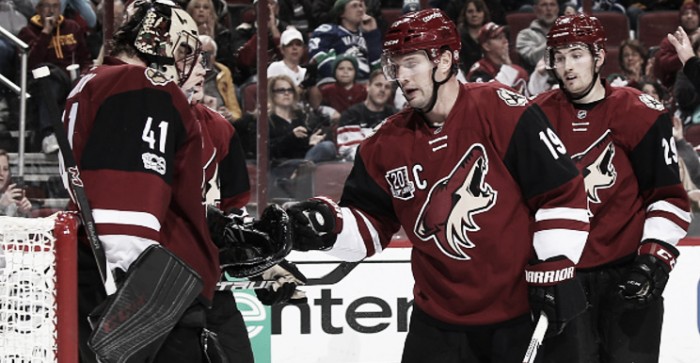 Whenever a team makes huge roster changes, it's expected that they will see positive results.
In the case of the Arizona Coyotes, not so much.
GM/President of hockey operations John Chayka went for it by trading away key players and neglecting their longtime captain Shane Doan by not signing him to a contract.
How has that worked out?
Chayka may have been aggressive in attempting to get some players on his roster who can help get his team back to the playoffs, but so far the results are not very attractive.
Holding the worst record in the NHL for most of the season 46 games in with a 10-28-8 record tells a tale of woe for the desert team.
Breaking it down
Let's start out in the net, where the Coyotes decided to trade Mike Smith to the Calgary Flames for practically nothing except for salary cap space which they have had an abundance of this and previous seasons.
Smith sports a 20-13-3 record with a GAA of 2.46, and a save percentage of .924. Not bad, right?
Then comparing the Coyotes' starting goalie Antti Raanta whom they traded for with the New York Rangers, the comparison is startling.
Granted, Raanta has been injured quite a bit of the season (appearing in just 24 games) but his record doesn't show that he is ready to be a starting goalie in the NHL.
He is 6-12-4 with a GAA of 2.68, and a save percentage of .915. It can be said that Smith plays for a much better team than Raanta, but overall the Coyotes' goaltending has been below expectations.
Moving to the defense, the Coyotes really thought the addition of a three-time Cup winner like Niklas Hjalmarsson was going to make their dwelling at the bottom of the standings a thing of the past.
Again, that hasn't happened.
Hjalmarsson has had nagging injuries limiting his play to just 20 games this season. Noted for his defensive prowess, having him miss that many games is a major factor in why the Arizona club is second in goals allowed in the league.
Don't forget the Coyotes gave up Connor Murphy to get Hjalmarsson, and so far that trade has been in Chicago's favor. While Murphy has just one goal, seven assists, he is a solid +8, with an impressive Fenwick for % of 55.0. It just shows that a player can switch to a better team and his statistics improve drastically.
Now, it seems that if rumors are true Hjalmarsson is being shopped around at the trade deadline to see what the team can get for him after they just acquired him.
Moving to signing free agent Jason Demers, he too was being predicted to add stability and veteran presence to the blueline. His stats are not terrible, but he just isn't physical enough for his position.
He has only 43 hits in 46 games and has collected three goals, 11 assists, with a -13 +/- total. He is second on the team in Fenwick for % with a 49.6. His play has improved of late.
Veteran leadership is missing
There must be a reason why head coach Rick Tocchet didn't give the captaincy to Oliver Ekman-Larsson this season. Whether he feels it is too much pressure to replace Coyote legend Shane Doan or that Ekman-Larsson just doesn't fit that role is difficult to determine.
In any case, since Doan was asked not to return (in an unprofessional manner) the team lacks real leadership. Now, we aren't in the locker room, but for the team to be without someone as talented as Doan was in getting his troops fired up, it's starting to show on the ice.
They seem to be like a ship lost at sea, they are meek and undecided with the puck. They NEED that veteran leadership role to be filled. Having alternate assistant captains just doesn't work.
Someone who may be able to fill that role would be a Derek Stepan or even Max Domi. They seem to be the two players who can handle the captaincy and get this team going. They have fire in their bellies.
Has Stepan been as expected?
He is a good veteran center but may not be a top-line center on another team. He has nine goals, 19 assists, but is also on the ice a lot when the other team scores with a disappointing -19, placing him fifth in this category on the team.
Seeing that the team gave up Anthony DeAngelo and the seventh overall pick to get Stepan and Raanta, the results are not that favorable. DeAngelo has seen limited playing time in New York appearing in just eight games.
Stepan has some definite upside to his play, and once the rest of the team (himself included) becomes more defensively responsible, his value will increase. Making him the captain will only re-enforce that notion.
Injuries must be factored in
Every NHL team suffers injuries and it can devastate a team's chances of winning.
Have the 2017/18 Arizona Coyotes been hit hard with the injury bug? Yes, but other factors are tearing this team down.
Losing close one-goal games has been their weakness all season long. No team can lose 14 one-goal games while just winning seven and expect to be headed to the playoffs.
Those close one-goal games are now coming back to haunt the team's possible playoff possibilities and show that the team must learn from their mistakes.
Taking and KEEPING the lead has been another downfall that this team has got to rid themselves of if they expect to improve.
Trade deadline deals may be on the horizon
When a team or any business (yes, this is a business) fails there are consequences. Some may get fired... even at the top of the food chain. In professional sports, the coaches and general managers usually take the fall.
To say that both head coach Rick Tocchet and GM John Chayka are headed out of the desert may be a bit abrupt, but still a possibility.
This team NEEDS to start winning and that just hasn't happened this season even after major adjustments to the coaching staff and players on the ice.
Something's got to give. Fans won't show up, or even watch the game on TV if their team is humiliated game after game.
The Coyotes are definite sellers here at the trade deadline in just five-plus weeks, and OEL trade rumors are floating all over the NHL.
To quote Oliver Ekman-Larsson's agent, Kevin Epp via @craigcustance "you have to start seeing things going in the right direction."
If the rebuild isn't over, then it's time to get a winning team on the ice!
At this point, when you can count the wins on both hands, it drives home the point that the Coyotes are in trouble, and to stop the bleeding some trades need to be made.
There's no time like the present to start to repair the damage.
Let's see what Chayka's got.
What is your assessment of this Arizona Coyotes' team this season? Is it time to start trading players? Let us know in the comments section below.