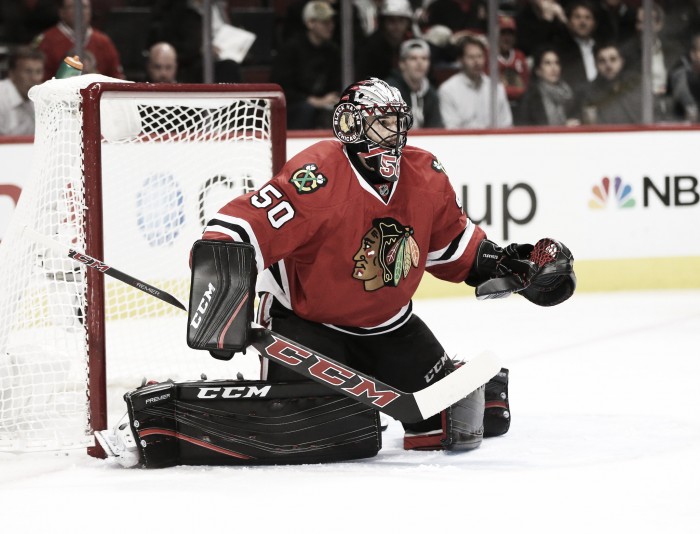 Just when Chicago Blackhawks goalie Corey Crawford was having an outstanding season, he was hit again by Post Concussion Syndrome sidelining him since December 23, 2017, when he last played against the New Jersey Devils and was yanked after giving up three goals.
Can the Blackhawks survive without Crawford?
It may be tough especially when you examine his statistics this season. He touted a 16-9-2 record with a GAA of 2.27, and an outstanding save percentage of .929.
It doesn't get much better than that. And for the two backup goalies, Anton Forsberg and Jeff Glass (who is 32 and not a long-term solution) to fill that role is a lot to expect.
The two combined have a 3.05 GAA with a .911 save percentage. They have only managed a combined 6-8-4 record. To say the rest of the team will need to buckle down and play better defense is an understatement.
Since Crawford went down, and with the two backup goalies in net, the Blackhawks have struggled with a below par 4-5-1 record. They won't have Crawford back there keeping them in games and protecting leads.
They currently reside in seventh place in the Central Division with 50 points. To make it to a wild card spot they will need to play much better hockey even if it means it is without 'Crow.'
It will be tough, and head coach Joel Quenneville is the first to admit that.
He told Mark Lazerus of the Chicago Sun-Times: ''Obviously, you're missing him,'' Quenneville said Sunday. ''He's been arguably our key player all year, and [with] the consistency he's given us in the net, we know how valuable the position is and what it means to your team.
''It's almost like, 'Oh, that's a tremendous hole.' As a team, you have to make an awareness that, hey, you have to contribute on the defensive side of things a little more.''
It can be the difference in making the playoffs or falling out of contention. Ask the Los Angeles Kings after they lost their starting goalie Jonathan Quick in the very first game of the season. By the time he returned the Kings were in a wild card fight but fell off the charts to miss the playoffs.
Missing the playoffs is not an option
This team has not missed the post-season since the 2007/08 season and they don't intend to start now. They have some terrific players like Patrick Kane and Jonathan Toews to fortify their efforts.
But... with the recent trades they made over the summer, did they deplete their team in an effort to get under the salary cap?
Maybe.
Whenever you must pay two of your star players 28% of your salary cap allocation you know you are going to have difficulties meeting the cap guidelines.
Recently, the Chicago Blackhawks hooked up with the Arizona Coyotes on a trade. The Blackhawks rid themselves of Richard Panik's $2.8 million salary by trading him to the Coyotes for troubled forward Anthony Duclair.
Chicago GM Stan Bowman always seems to work some salary cap magic when he's in need of it. At times it's a detriment to the team's ability to win with lower quality players.
Crawford's prognosis is not good
He could even be done playing hockey. The Blackhawks' team spokesman Scotty Bowman told Sportsnet 590 The Fan that Crawford may be out a while.
The after-effects of a concussion are very serious and can lead to other ailments such as headaches, dizziness, fatigue, irritability, impaired memory and concentration, insomnia, and lowered tolerance for noise or light.
Playing goal in the NHL may cause some of those conditions anyway, and adding to it would only deter any goalie's chance to survive very long in a game until recovered.
For now, the Blackhawks can only hope that they can play to a higher level to make up for the loss of their star goalie.
Still, saves like this could be just a memory if he isn't able to continue his career.