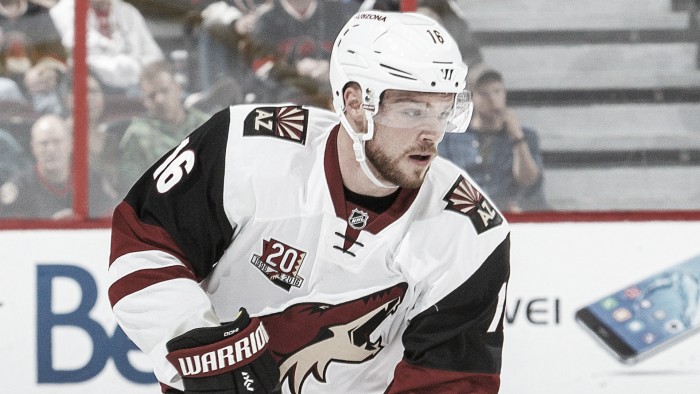 Max Domi has only scored 12 goals over the last two seasons while participating in 106 games for the Arizona Coyotes.
Contrast that to his first NHL season 2015/16 when he tallied 18 goals in 81 games.
Of course, many of the goals Domi scored in that initial NHL season took place while he was playing with his buddy, Anthony Duclair. They displayed some magical plays between them, and now that duo has been broken up with Duclair's trade to the Chicago Blackhawks.
Domi has been asked to play center and kill penalties
On December 16, 2017, head coach Rick Tocchet asked Domi if he could switch to the center position for the game against the Cup defending champs Pittsburgh Penguins, and he agreed to try it.
Domi has also pitched in to be on the penalty kill last season when then head coach Dave Tippett asked for his help.
"I just wanted to shake it up," Tocchet said. "Maybe loosen (Max) up. He's been struggling and (been) a little tight lately. I just wanted to try something different. It's unfair to him because he hasn't practiced there. He's played (center) in juniors, but that was a long time ago. I just sprung it on him this morning and he said, "Let's do it."
The theory here is that Domi has excellent stick handling skills and to play center or be on the PK, one needs those attributes to succeed.
It seemed to work right off the bat since Domi scored a goal with a sweet pass from Clayton Keller to tie the game in the second period at 2-2.
Tocchet has stated that Domi's defensive game since switching to center has improved tremendously. And Domi has stated that the center position was familiar since he played it in juniors and the OHL, but he's finding out that it carries a lot of responsibility... and he's up to the task.
"It's a whole different look at the game," Domi said. "You see so many different things and as a winger, you're always thinking 'offense, offense, offense.' … You don't have that much responsibility in your own zone. I find that it's amazing how much more there is to the game than just creating offense."
He is a total team player and is always there to take on a new responsibility to help his team. Those are important traits for any NHL player and it seems to come easily to Domi.
He doesn't allow his diabetes to slow him down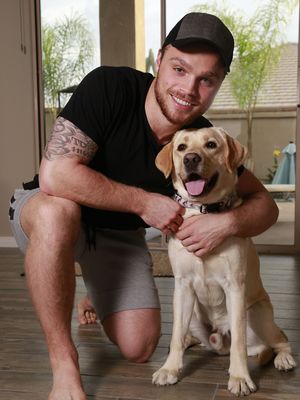 Since Domi was afflicted with junior diabetes he must check his sugar level up to 20 times on a game day.
He has help though. A 70lb Lab by the name or Orion assists Domi whenever his insulin level is too low. Orion was specially trained to smell Domi's saliva and alerts him when his insulin level is too low.
The thing with Domi as an NHL player is he won't allow this disease to slow him down or deter his dream of being an NHL hockey player.
He's a regular guest speaker at the American Diabetes Association's School Walk for Diabetes kickoff event Monday at Western Sky Middle School in Goodyear.
He encourages kids who want to be athletes that just because they have diabetes doesn't mean that they can't pursue their dream.
Max Domi is a special NHL player
Perhaps Domi will snap out of his scoring drought soon, and help the Coyotes get through this difficult season they are experiencing.
He's full of energy, and if you ever watch him skate, he's just a very exciting, young player whom the Coyotes hope to have around for years to come.
We should know about his playing future soon as he is a restricted free agent after this season ends. It is very likely that he will be signed to a new contract and be in a Coyotes' uniform helping his team, as he is accustomed to doing.
He also displays good leadership skills and since Shane Doan has departed as the captain of the team... who knows the next captain could be none other than Max Domi.
Orion would be proud.