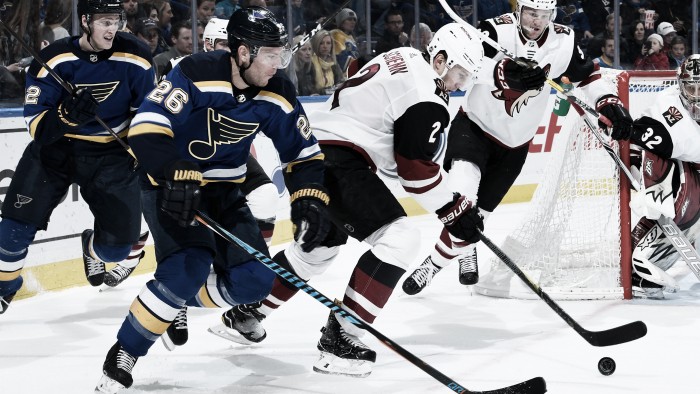 The Arizona Coyotes played their best all-around game all season by coming out like gangbusters in the first period to take a 4-0 lead over the stunned St. Louis Blues.
They were doing everything right... forechecking and putting shots on Carter Hutton in such a flurry that Coyotes' fans must have wondered who that team was on the ice.
After losing 12 straight regulation games dating back to April of 2012, the Coyotes finally got past the Blues and thrashed them solidly in the first period to show they can play a solid 60-minute game when they put their minds to it.
First-period dominance
The Coyotes were flying all over the Blues' zone and it showed in the shots on goal statistic where they outshot the Blues decidedly 23-7.
The first goal by Arizona was scored when Zac Rinaldo who was planted on the right post and had an easy tap-in off a rebound of a shot by Christian Fischer at the 1:53 mark of the period.
A good start to the period by Arizona. The Blues looked tired and uninterested in defending.
At 4:02 of the initial stanza Jason Demers launched a shot towards the net and Christian Dvorak was able to deflect the shot downward bouncing it in front of Hutton and past him to make it 2-0.
Dvorak wasn't done yet. Just over three minutes later he got a beautiful pass from Tobias Rieder and flipped the puck up and over Hutton, who was yanked after giving up three quick goals in just over seven minutes of play. Jake Allen replaced him in the Blues' net.
Hutton was visibly upset with his play as he headed to the locker room and banged his goalie stick down in disgust.
The Coyotes onslaught of scoring continued as Brendan Perlini continued his hot hand by scoring his 12th goal of the year on a shot from the left circle which Allen misplayed.
4-0 Coyotes. Is this a dream? Can this be real? A FOUR goal lead on a Western Conference team who was in fourth place and had beaten the Coyotes constantly for over five years?
Do you believe in miracles?
Second-period action
The Coyotes surged on in a game they had in hand but knew that a good team like St. Louis would come storming back if they allowed it. They needed to show that they can hold a good lead and grab two important points on the road.
Christain Fischer who has been playing well lately had just that in mind when he inflated the Coyotes' lead to 5-0 with a deflection of a Jakob Chychrun shot from the left point. The power-play goal was originally awarded to Chychrun but was changed when reviewed and Fischer had his 13th goal of the year.
The Blues finally awoke when they tallied a power-play goal at 9:27 scored by Brayden Schenn, his 19th of the season. Brayden is Luke Schenn's brother on the Coyotes.
End of two with the Coyotes leading 5-1.
Third-period results
The Blues scored another power-play goal at 9:44 and the rest of the game was merely to play the clock out for the Coyotes. It hasn't been often this season that the Yotes can get into that mode of protecting a three-goal lead, but they certainly deserved some praise after this game.
Another noted performance which deserves some recognition was the play of Max Domi. He like Clayton Keller collected two assists in the game. Now if he can find the net, his scoring dry spell may be over.
Conclusion
Since the Coyotes now have eight points in their last seven games things could be looking up for the Desert Dogs. The key to this game was their excellent fore-checking, especially in the first period.
St. Louis didn't know how to react, and it showed. Antti Raanta played an outstanding game in net, and it helps when he gets some offensive support from his teammates, but the defense was over the top in this game.
Whenever the Blues started attacking the Coyotes' zone they were met with defensive pressure, and that was another key to this win for the Arizona club.
If one had observed the last seven games it can be determined that perhaps this team is turning the corner. They are finally starting to understand that teamwork, passing, defense and scoring are key elements to winning.
But... moreover, they learned that when you get a team down, you must KEEP them down to preserve a win and two points.
With this win and a loss by the Buffalo Sabres, the Coyotes now move into a tie for 30th in the NHL.
It may not sound like much, but fans of this team have been waiting patiently and enduring some heartbreaking losses and now can see that this team may be starting to gel... it's never too late.