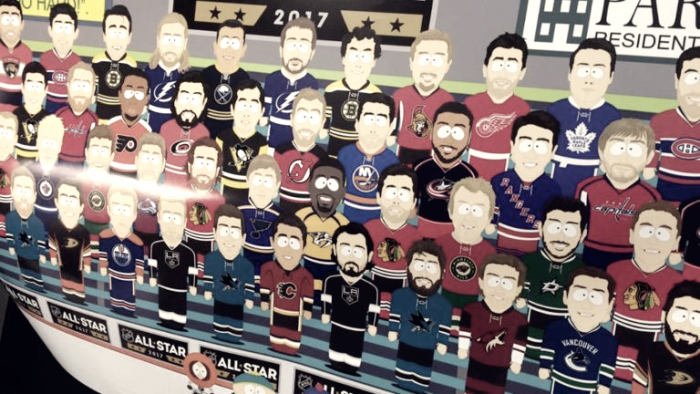 Here's NHL comic captions – Week 15 of the 2017/18 season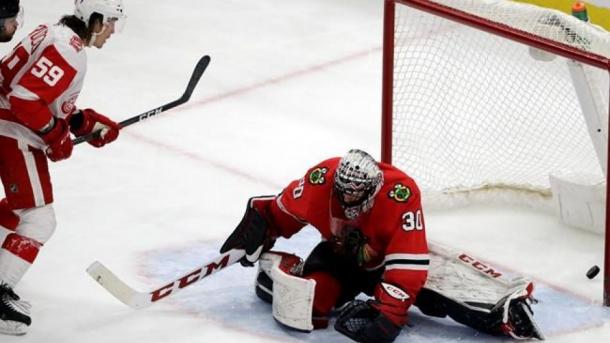 "Geez... giving up a goal to Tyler Bertuzzi has got to be depressing... yep I'm now depressed." Jeff Glass, goalie - Chicago Blackhawks
The way the fading Chicago Blackhawks are playing of late, it looks like not having star goalie Corey Crawford will hurt more than anticipated.
In this game, the Detroit Red Wings dominated the Hawks at United Center in Chicago in front of a typical sellout crowd of 21,830 fans.
The Red Wings got goals from Dylan Larkin and Mike Green in the first period and then Anthony Mantha and Tyler Bertuzzi in the final period.
Yep... Tyler Bertuzzi scored his first NHL goal, and the Blackhawks were the victims.
As if giving up a goal to Bertuzzi wasn't enough, the Windy City club made Petr Mrazek look like a finalist for the Vezina Trophy by not getting a single goal by him.
His record after this game was 4-5-1 with a 3.43 GAA and less than stunning .894 save percentage.
Go figure.
The Blackhawks are starting to fade quickly. They've lost three of four on their current six-game homestand, and it won't get any easier.
After being embarrassed 7-3 by the New York Islanders last night, they have the powerful Tampa Bay Lightning and Toronto Maple Leafs scheduled to visit on Monday and Wednesday nights.
Since Glass and Anton Forsberg are just not doing the job, GM Stan Bowman is already starting to consider his next move to provide his team with better goaltending options.
He may even consider Mrazek who hasn't played much this season, and Detroit may be interested in moving him before the trade deadline.
Other options could be Robin Lehner, Aaron Dell, Philipp Grubauer or even Antti Raanta.
The Hawks are currently residing in an unfamiliar position of being seventh (last) in the Central Division, five points back of the surging Colorado Avalanche who have won nine (not a misprint) games in a row.
I reiterate... GO FIGURE!
---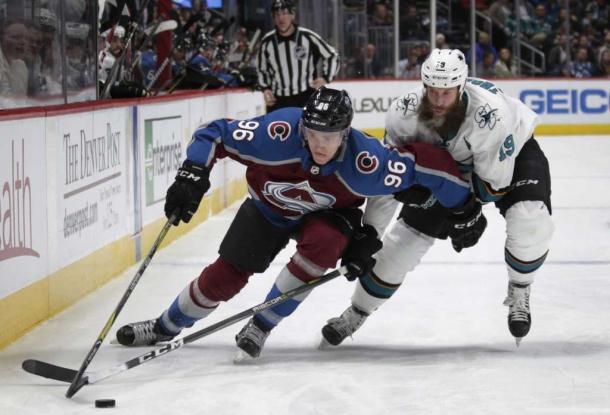 "Listen Jumbo Joe, I got this loose puck, don't make me yank your two-foot long beard... cause I will!" Mikko Rantanen, right-wing - Colorado Avalanche
What a difference a year makes for the upstart, surging Colorado Avalanche. After trading away star center Matt Duchene for a boatload of return players they are 18-11-3, with a current nine-game winning streak to their credit.
Yes, this is the same team that was the worst team in the NHL last season finishing 22-56-4 for a mere 48 points.
It just goes to show that it's not a bad idea to blow up a team by trading one of your star players if it means progress and winning games. Afterall, winning is the name of the game in the NHL, right?
In this January 18, 2018, game the Av's took a 3-0 lead off of two goals by Nathan MacKinnon, who now has 23 goals and 59 points this season. He trails Nikita Kucherov by two points with a game in hand.
He is certainly leading the way for his team to excel during their winning streak. In just his last five games the center has had six goals, four assists to show his dominance.
To the San Jose Sharks credit, they did race back from a four-goal deficit to cut the lead to 4-3, only to lose 5-3. MacKinnon's three points (2-G, 1-A) was matched by Mikko Rantanen's three points (1-G, 2-A) to lead the Av's to victory.
The way the Av's are playing now it may be difficult to slow them down... their wins are gathering force much like... well an avalanche.
---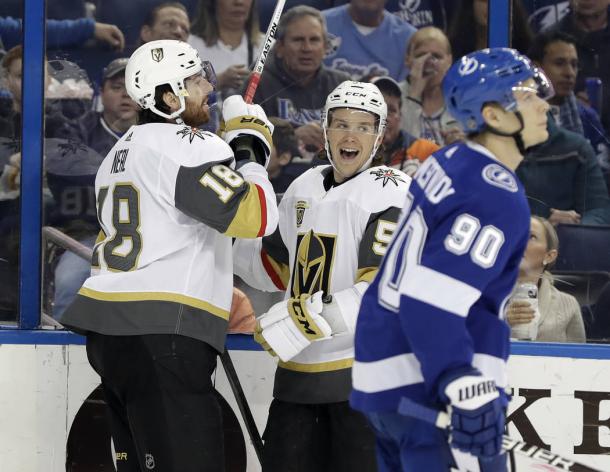 "So, I guess this Vegas team is for real. They're just one point behind us in the standings. Who predicted that?" Nikita Kucherov, right-wing - Tampa Bay Lightning
Two teams vying to be the best in the NHL battled it our on January 18, 2018, with the Vegas Golden Knights' team coming out on top. They now trail the Tampa Bay Lightning by a single point to have the honor of the best record in the NHL.
With the future of Seattle being another expansion team, it's a mystery if that team will have as much success as the Golden Knights have experienced. The expansion draft had a lot to do with the Vegas team coming away with some talented players.
Players like Marc-Andre Fleury, who in this game was the difference between a win and a loss. He made 28 saves and increased his already impressive record to 10-3-2 with a stellar 1.72 GAA and a .945 save percentage.
Can you imagine how successful this team could have been if he hadn't been injured for25 games? Pretty scary, huh?
In this game, the Golden Knights' excellent forward James Neal scored in just 56 seconds to give his team an early lead. Nate Schmidt tallied another goal with about four minutes remaining in the period to give the Vegas visitors a 2-0 margin.
The two teams traded second-period goals, and in the third period, the Golden Knights scored early again when William Karlsson (another good pickup by this expansion team) scored his 24th of the season to ice the game for the desert club.
Final was 4-1.
Vegas is for real, and almost everyone knows it. Can they maintain this pace? It seems so... especially with a healthy Marc-Andre Fleury.
I wouldn't bet against them.