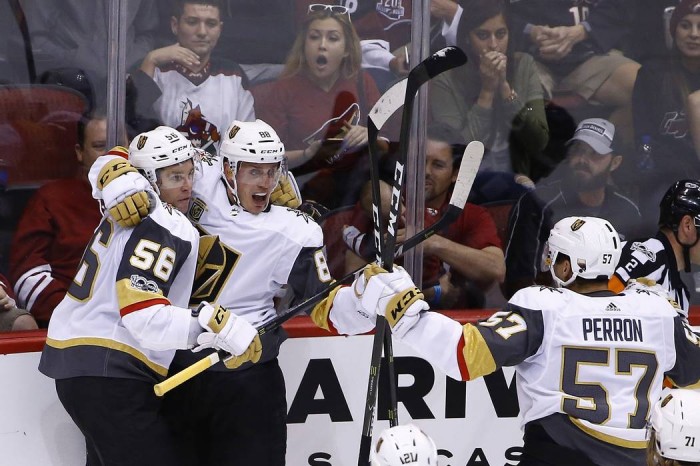 Looking at the list of players selected by general manager George McPhee and his team on that fateful night in June was overwhelming. There was no way to truly take in the impact these players would have on the team or the impact that losing these players would have on the team that exposed them.
Now, however, we can see these selections more clearly.
Some of the selections still make teams feel uneasy, while some have provided opportunities, while others have just been okay. Some of the players have moved on to other teams, and some of the most impactful players on this Vegas roster were acquired through trades.
Overall, this expansion draft was crafted through genius, a little bit of luck, and unprecedented scouting.
Taking a look back might turn some heads or cause the odd "oh yeah, I forgot he was taken", but overall the Vegas Golden Knights were crafted on June 21st, 2017, but where they are now might be the real story.
Here are the 30 players selected during the expansion draft:
1. Colorado Avalanche: Calvin Pickard, Goaltender
Calvin Pickard was selected in the draft and was expected to be the backup goalie. On October 5, 2017, he was placed on waivers after the acquisition of Malcolm Subban from the Boston Bruins.
This season he has spent all but one game in the minors with the Toronto Marlies posting a 2.06 GAA and a .926 SVP in 17 games played.
2. Vancouver Canucks: Luca Sbisa, Defenseman
Luca Sbisa, a veteran of 489 NHL games with the Philadelphia Flyers, Anaheim Ducks and Vancouver Canucks has played in 24 games for Vegas and was recently placed on the injured reserve after successful wrist surgery.
He was experiencing a career year in points, registering 10 in 24 games before his injury. His previous high was 24 points in 80 games back in 2011. He is expected to be back on the ice in 4-6 weeks.
3. Arizona Coyotes: Teemu Pulkkinen, Forward
The 26-year-old Teemu Pulkkinen has spent the whole season in the minors with the Chicago Wolves of the American Hockey League recording 30 points in 42 games.
It would not be a surprise if Pulkkinen was a called up to the Golden Knights if injuries become a problem for the big club.
4. New Jersey Devils: Jonathan Merrill, Defenseman
Jonathan Merrill has quietly made played himself into a more consistent spot on the blue line in the past 20 games. In Vegas, he is consistently averaging over 16 minutes a game, more than he did in New Jersey.
Although on the IR right now, he was recently signed to a two-year contract extension and if his development continues he could very well be a part of the D-core in Vegas for the next few seasons.
5. Buffalo Sabres: William Carrier, Forward
The 22-year-old, 6' 2", 212lb forward has played 22 games this season for Vegas, compiling only two points, but has been a part of a successful and reliable fourth line.
William Carrier doesn't kill penalties nor is he on the power play but for a fourth line guy, he averages a healthy 8:36 of ice time when he is in the lineup. Last season in Buffalo he averaged 9:00 minutes a game.
Essentially his play has stayed at the same level, although his energy and big body is a welcomed addition to the Golden Knights' lineup.
6. Detroit Red Wings: Tomas Nosek, Forward
He, much like Merrill has been a very pleasant and quiet surprise for the Golden Knights. Tomas Nosek is the answer to the trivia question that asks who the first Golden Knight to score a goal on home ice?
This is his first full season in the NHL, he and currently has eight points, in his previous 14 games with Detroit, he had one point. He is averaging around 45 seconds more per game of ice time and unlike his time in Detroit, he is a key contributor to Vegas strong penalty kill.
7. Dallas Stars: Cody Eakin, Forward
The veteran of 421 games, currently has 18 points in 42 games and has been consistently on the team's 3rd line. Cody Eakin is one of the only Golden Knights to be averaging less ice time per game than last season. Like last season, he is a prominent penalty killer for Vegas.
8. Florida Panthers: Jonathan Marchessault, Forward
A star forward for the Golden Knights and a mainstay on the top line, as well as the owner of a brand new $30 million, six-year contract extension, Jonathan Marchessault, needs no introduction or explanation. 41 points in 40 games make him a no-brainer to be a fan favorite.
Florida will be scratching their heads on this one for years to come.
9. Los Angeles Kings: Brayden McNabb, Defenseman
Brayden McNabb has been one of the biggest beneficiaries of a new opportunity in Vegas. His ice time has jumped from averaging 15:04 a night to over 20 minutes a night.
He has already doubled his point production from last season and has been given the opportunity to kill penalties in Vegas, something he has excelled at, eating up more than 2:30 of shorthanded time a night on average.
McNabb is also the recipient of a brand new 4-year, $10 million dollar contract.
10. Carolina Hurricanes: Connor Brickley, Forward
Meet the first player from the draft that Vegas fans will look at the name and say, huh? Yes, Connor Brickley.
The now Florida Panther was selected by Vegas and let go as a free agent and resigned with the team that drafted him, the Panthers. This season he has played 33 games in the NHL and accumulated 12 points.
Essentially he has spent the entirety of his career with the Florida Panthers.
11. Winnipeg Jets: Chris Thorburn, Forward
The now St. Louis Blue is another member of the "I didn't know he was selected" club. He is a veteran of 775 games. Before being selected by Vegas, he had spent the past 10 seasons with the Winnipeg/Atlanta franchise.
Chris Thorburn was selected in the expansion draft and then left to walk as a free agent, where he signed a two-year deal with the Blues.
This season he has played 25 games.
12. Philadelphia Flyers: Pierre-Edouard Bellemare, Forward
Pierre-Edouard Bellemare ("Belly" as his teammates call him) has been one of the most impactful and welcomed Golden Knights. Noted as a tremendous dressing room presence and penalty kill specialist, he has lived up to expectations.
The 32-year-old forward is on pace to have a career year in nearly every stat recorded and has become a mainstay on Vegas's energetic fourth line.
13. Tampa Bay Lightning: Jason Garrison, Defenseman
Jason Garrison has been quite the solider on this team already. He was one of few players to be on hand on draft night. He was a part of the emotional home opener, was playing well but got caught up in the numbers game and was sent down to the minors on October 30, 2017.
In the minors, he accumulated 18 points in 31 games played.
The veteran of 534 NHL games will most likely be a continual call up as the playoffs get closer and closer.
14. New York Islanders: Jean-Francois Berube, Goaltender
The goaltender from the New York Islanders Jean-Francois Berube was left to walk into free agency as he was a part of a bigger deal that kept Vegas from taking a star player from the Islanders. On July 1, 2017, he signed a two-year deal with the Chicago Blackhawks and is currently playing with their AHL affiliate.
His selection also brought with it a first-round pick in 2017, a second-round pick in 2019, prospect Jake Bischoff and the contract of long-term injured player, Mikhail Grabovski.
15. Nashville Predators: James Neal, Forward
One doesn't need to say much about James Neal. He is the real deal. With 18 goals in 43 games and a flair for the dramatic, the only question that surrounds Neal is whether or not he will get a contract extension.
He is going to get paid, the question is, by whom?
16. Calgary Flames: Deryk Engelland, Defenseman
Deryk Engelland, 35, who could have become an unrestricted free agent on July 1, has scored four goals and 16 points in 81 games this season.
Here lies the feel good story of the Vegas Golden Knights. At the end of his career and on an expiring contract the Edmonton, Alberta native who calls Las Vegas home was selected and signed to a one-year, $1 million contract.
He is on pace for a career year, the full fledged leader of this team, and maybe the proudest Las Vegas resident on the team. There is nothing bad to say about this man, if James Neal is the real deal, Engelland is simply the best.
He also just signed a one-year contract extension with Vegas.
17. Toronto Maple Leafs: Brendan Leipsic, Forward
In his departure from Toronto, the hope for Brendan Leipsic would be that he would get the chance to solidify himself. To have a consistent spot on an NHL roster, because he deserved it.
He has gotten that.
Last year he played in six games for Toronto, this year he has already played in 34 games. His point production doesn't show it, but his energy has brought a lot to Vegas and he has worked his way into a regular spot in the lineup.
18. Boston Bruins: Colin Miller, Defenseman
Colin Miller is a player that Boston would like to have back. The young defensemen who has truly settled in, will very quickly become a reliable top-four defenseman. He averages nearly 19 minutes a game, a jump from his near 16 in Boston.
In 43 games he has more points then he did last year in 61 games. He averages a healthy 2.2 shots a game for a defenseman.
Give it a few years and Miller could be one of the best Vegas steals of the draft.
19. Ottawa Senators: Marc Methot, Defenseman
After being a part of one of the best d-pairings of the 2016-17 season with Erik Karlsson and himself, Ottawa was unable to strike a deal with Vegas to keep them from taking him in the draft.
He was traded from Vegas on June 26, 2017, to the Dallas Stars. This season he has played in 16 games but has had an injury plagued season.
Note: the trade from to Dallas, sent Goalie Dylan Ferguson as a part of the trade back to Vegas. Ferguson was the fifth goalie to see NHL time during their goaltending injury marathon.
20. San Jose Sharks: David Schlemko, Defenseman
David Schlemko was taken in the draft and quickly traded to the Montreal Canadiens for a fifth round draft pick.
This season he has played in 18 games for the Habs, as he has had injuries throughout the season. He has also spent time with the Montreal AHL affiliate.
21. St. Louis Blues: David Perron, Forward
David Perron is one of Vegas's most well-known players, a successful and skilled journeyman in the NHL. The veteran of 689 games, he is averaging around a point a game in Vegas.
A steady and solid player that Vegas was very lucky to select.
22. New York Rangers: Oscar Lindberg, Forward
Oscar Lindberg has had a solid season in Vegas, averaging more ice time and more penalty killing time. He has played in 39 games for Vegas and is a solid mainstay in the lineup. He is also a 50% win rartio in the faceoff circle.
23. Edmonton Oilers: Griffin Reinhart, Defenseman
Griffin Reinhart needed a change of scenery when he was selected from Edmonton. Although he hasn't shown as much as many had hoped in his first training camp in Vegas he has had a solid season in the AHL playing with Chicago this season.
Do not be surprised if Vegas gives him a chance in the big leagues at some point. If that fails, Reinhart may very well find himself in the AHL to stay.
24. Montreal Canadiens: Alexei Emelin, Defenseman
The current Nashville Predators defenseman was traded from Vegas after being acquired in the draft.
He is logging nearly 19 minutes of ice time and is a key contributor on the penalty kill. Overall Alexei Emelin has fit in well with the star- studded Nashville D.
25. Anaheim Ducks: Clayton Stoner, Defenseman
Clayton Stoner, a stay-at-home defenseman has yet to play a game in Vegas due to a long term abdominal injury. However, he remains on the payroll and is officially a member of the Golden Knights.
26. Minnesota Wild: Erik Haula, Forward
Erik Haula is enjoying a more prominent role in Vegas and is having a career year as a mainstay on the third line. With 28 points in 39 games, Haula has quickly become Vegas's most reliable and productive player.
Averaging nearly four more minutes of ice time a night than last year and he has seen a solid amount of power play time throughout the season.
27. Columbus Blue Jackets: William Karlsson, Forward
The steal of the draft. No questions asked.
Karlsson's 25 goals have made him a Vegas legend.
In previous seasons, William Karlsson has never reached the 30-point mark, yet has surpassed that mark mid-way through the season. More ice time, confidence, and opportunities to develop and take chances at the NHL level have all contributed to his coming out party.
He is the most productive offensive player on the Golden Knights and will go down as the steal of the draft. Wild Bill is here to stay and if Vegas has anything to do with it, he will be in a Vegas uniform for a very long time.
28. Chicago Blackhawks: Trevor van Riemsdyk, Defenseman
Trevor Van Riemsdyk spent a grand total of about 20 hours on the Vegas roster before being traded to Carolina for a second round pick.
He has had an okay season with Carolina, who is still in the playoff hunt with an increased penalty killing roll. Not to mention he was one of two players taken in the draft who has won the Stanley Cup.
29. Pittsburgh Penguins: Marc-Andre Fleury, Goaltender
Nothing needs to be said about Marc-Andre Fleury. The Flower has delivered, he is the star of the show, he is having a career year numbers wise and without a doubt is the heartbeat of the team.
The three time Stanley Cup Champion missed 25 games due to a concussion, but when he has been in the lineup he has been the best goalie in the league.
If his play continues, don't be surprised if he is in the Vegas crease for the remainder of his career.
30. Washington Capitals: Nate Schmidt, Defenseman
The biggest personality on the team and a guy who has benefited ten-fold to being given a more prominent role, Nate Schmidt has played on average more than eight minutes more than he did last year. He has 19 points, more than he had all season last year and is in the top d-pairing. Another man who is due for a big contract.
Conclusion
There you have it.
Those were the 30 Golden Knights taken in the draft. 19 of them were on the opening night roster. Other Vegas regulars, Shea Theodore, Alex Tuch, and Reilly Smith were acquired in trades and deals at the draft.
Malcolm Subban and Ryan Carpenter were acquired through waivers. Brad Hunt, Oscar Dansk, and Maxime Legace were signed through free agency.
Yes, this draft was better than any other draft was supposed to be. However, look at the names on that roster in June and the average fan would know three, maybe four of the names on the list. This team deserves all the credit they get and will get.
It is a story of the year, take it in, it won't last forever. Until then, keep enjoying excitement like this...
What do you think of the Expansion Draft, was it too favorable? Or is this team simply an example of a group coming together and defying the odds?