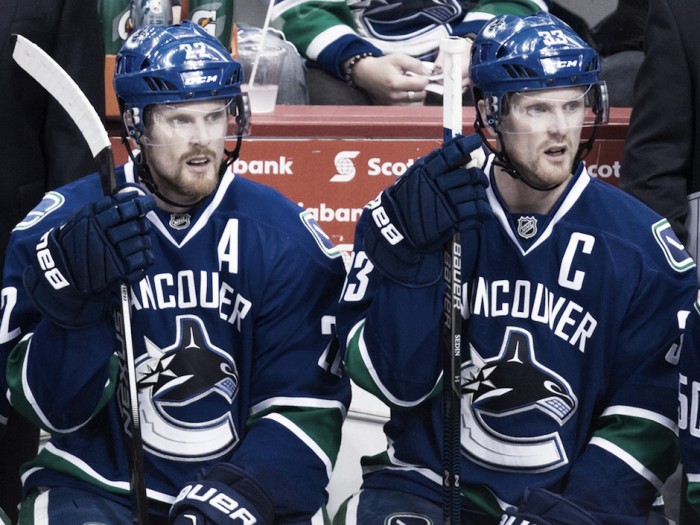 Henrik Sedin and his twin brother Daniel Sedin have been with the Vancouver Canucks for 17 seasons and are at a point where they need to decide their future with the team. They are both scheduled to be unrestricted free agents at season's end and something's got to give.
If they stay what salary would they demand?
According to TSN1040 (starting at the 6:00 mark of audio), the discussion on salary would put them in the $5-6 million range. They are both 37-years-old and if they sign with the Canucks it will probably be a short-term contract... one-to-two years tops.
The twins have been playing good hockey this season, on a pace to score about 55 points each. What would this Canucks' team be without them?
As indicated in the audio above... they'd be the Arizona Coyotes. That's a stark comparison that will be discussed by hockey fans in the desert as well as the Pacific Northwest.
Why the urgency to get a decision out of the twins?
It seems like most good general managers Jim Benning is attempting to get an idea what the Sedins are going to do so he can make a decision on how to move forward with or without them on the roster.
Seems reasonable... except if you look at it from the Sedin's viewpoint.
It could just be the start of salary negotiations on both sides to see what their market value would be to stay with the team. Or, in a trade scenario... what the team can get for them in return.
So, with a month till the trade deadline the Sedins (who want to be a package deal) are being pressured as to what their future intentions are about continuing to play in Vancouver.
Back in September Benning made this comment to nhl.com:
"We're not moving the Sedins unless they come to me at some point and they say, 'Well, we want to move on," Benning told Sportsnet 650 in Vancouver. "When we've talked to them, we're not going to go to them and ask them to waive their no-trade. We're not going to approach them for them to move on to another team."
Another point to consider is if they are traded it may not be conceivable or even a consideration by the team receiving their services, that they will want to stay on the same team. The fact that two brothers as talented as they are wound up on the same team and have stayed so long is an anomaly.
The waiting game
Henrik, who spoke for himself and his brother told TSN1040:
"(The Canucks) want to do what's best for them and we want to try to help as much as we can too," he said, per TSN 1040 in Vancouver. "If we can give an answer, we'll give them something. If we're still undecided or not sure, they've told us they're fine with us telling them when we know."
As the trade deadline approaches things may change, but for now, it seems the Sedins will stay in Vancouver if they decide NOT to retire. The chance of them playing together somewhere else is remote, at best.
And, if they are contributing and not being injured constantly it would seem that Benning needs them to stay.
Replacing their 100-point contribution would be cumbersome.
Now the difficult part begins for Benning. Show them how much you want them to stay. Would it be in the team's best interests to pay $10-12 million for the pair for a short period of time?
That's why GM's grow old early, carry around stomach medication, and have a very pressured job.
It's the NHL... get used to it.
What is your take on the future of the Sedin twins? Will they stay in Vancouver, retire or be traded? Let us know in the comments section below.