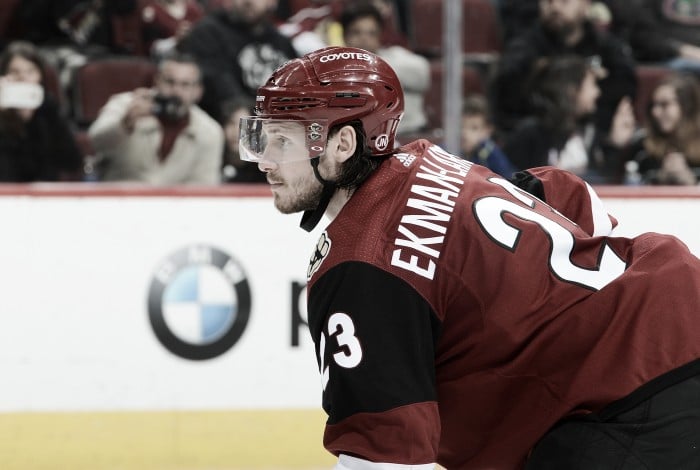 In professional golf, the "Green Jacket" is a prestigious award presented to the winner of the Masters Tournament. Essentially, the lower the golfer finishes under par the better. For example, Sergio García won the Masters in 2017 with an impressive nine under par.
However, in hockey terms having a negative plus-minus rating is a bad thing. It simply means that the player is on the ice for more "goals against" than "goals for".
Obviously, this is not an official NHL award and a player's rating is sometimes out of his control. It may be due to back luck, being on the ice at the wrong time, or simply playing on a bad defensive team.
No matter the reason, somebody will have to finish the worst plus/minus rating in the NHL every year. As we pass the halfway point of 2017/18, let's take a look five NHL players in the "Green Jacket" conversation so far.
Oliver Ekman-Larsson, Arizona Coyotes
The Arizona Coyotes have been one of the worst defensive teams this season. They have allowed the second most goals against in the NHL, only behind the New York Islanders.
As a result, Oliver Ekman-Larsson currently has the worst plus-minus rating in the NHL, with a -36 through 48 games.
The negative rating is a byproduct of several things. For one, Ekman-Larsson is the team's number one defenseman and leads the Coyotes in ice-time averaging over 24 minutes a night. He is put in all situations and sees a lot of penalty killing time as well.
In addition to that, Arizona has had problems between the pipes. As Antti Raanta looks like he is still trying to become a legit number one goalie in the NHL.
On the bright side, the Coyotes seem to have turn things around recently have been playing good hockey over the past few weeks. Ekman-Larsson has also been the subject of a few trade rumors and might get traded to a better team.
Both of these things should help his cause and can possibly get his plus-minus rating out of the gutter before the season ends.
Jeff Petry, Montreal Canadiens
The Montreal Canadiens are another team having a season they would like to forget. They have struggled to keep pace with the rest of the teams in the Eastern Conference all year and injuries have played a huge role.
With big names like Shea Weber and Carey Price out of the lineup for an extended period of time, the Canadians had no choice but to give players like Jeff Petry a bigger role in the lineup. Unfortunately, things haven't worked out too well so far this season.
Petry is currently sporting a -23 through 48 games. But to his defense, he is averaging over 23 minutes a night and has been used as the Canadiens' number one option on the right-side.
It's fair to say that Petry has been playing well out of his comfort zone this season.
On the other hand, Carey Price has been back in the lineup and Shea Weber might return before the season ends. So there is hope that Petry's plus-minus rating can jump back up from the all-star break and beyond.
Erik Karlsson, Ottawa Senators
It's surprising to see Erik Karlsson's name on this list but the Sens' captain is currently a -23 this season. The Ottawa Senators have been free falling for the past several months, especially after acquiring Matt Duchene in a blockbuster trade.
Karlsson has also been the subject of headline news, due to his future with the team and if the Senators should trade him before he becomes a free agent in 2019. Perhaps these off-ice distractions have affected his game on the ice.
At the same time, people forget that Karlsson is coming off a major surgery and missed the beginning of this season so maybe he is still not at 100% yet.
Given that he is the Senators most important player, he is also seeing all the minutes he can handle on a nightly basis. All of these may have negatively affected Karlsson's overall play so far this season.
In contrary, we all know that Karlsson is capable of putting up big points in a hurry. So if the Senators are able to regroup and find their game after the all-star break, he can easily work his way out of the "Green Jacket" conversation in no time.
Nick Leddy, New York Islanders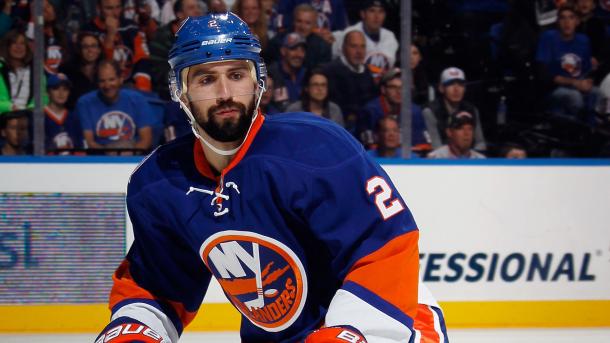 The New York Islanders are at the bottom of the league in terms of total goals allowed. Consequently, a player like Nick Leddy has struggled mightily with a -22 rating.
In reality, the Islanders look like they miss Travis Hamonic a lot more than they anticipated. Injuries to Johnny Boychuk and Calvin de Haan have been a big reason why their defense has underperformed this year.
Furthermore, goaltending has been an issue, as Jaroslav Halak and Thomas Greiss haven't been good enough for the team this year.
Optimistically speaking Leddy's rating can very well improve in the next few months as their GM Garth Snow will likely look for ways to upgrade this team, in hopes of convincing John Tavares to sign long-term.
We should expect the Islanders make a few key acquisitions to equip themselves for a deep playoff run.
This gives us good reason to believe that Nick Leddy's rating will improve in the next few months.
Alex Galchenyuk, Montreal Canadiens
Like his teammate Jeff Petry, Alexander Galchenyuk is struggling this season. Traditionally he is not known to be an elite two-way player, and that has been more evident this year.
He currently has a -21 rating, which is a career-worst for him and with key players (Shea Weber, Carey Price) out of their lineup, the Canadiens have collectively struggled as a group defensively.
But unlike others on this list, Galchenyuk has scored 30 goals in NHL. With the return of Price and Weber, Galchenyuk has potential to find his offensive game again and bounce back in the second half of the season.
What are your thoughts on these player's play so far? Who do you think will finish with the worst plus-minus rating by the end of the season? Let us know in the comment section below.