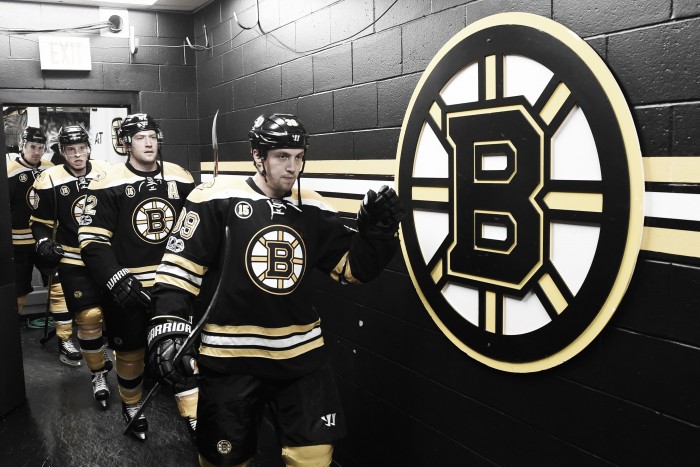 Things are fine in Beantown these days as the streaking Boston Bruins are getting some attention with their exceptional play of late.
Try an 18-game point streak where the team has moved to within five points of the Eastern Conference-leading Tampa Bay Lightning... and they have two games in hand. If they win those three games they will surpass the Lightning. The Bruins record has been 14-0-4 over the streak.
So, what has caused this surge by the Bruins?
Starting on December 18, 2017, the Bruins have been on a tear. On that day they thumped the tough Columbus Blue Jackets 7-2. They were led by unlikely heroes with Jake DeBrusk and Danton Heinen each gathering three points.
Five other Bruins had two-point nights to show their domination.
Tuukka Rask had an easy night having to only make 16 saves on a paltry 18 shots on goal by the Blue Jackets.
Brad Marchand has had a lot to do with the Bruins maintaining their streak until he was suspended five games recently for an elbow to the face of New Jersey Devils' Marcus Johansson.
Did it stop the runaway train known as the Boston Bruins in their next game against the Ottawa Senators?
That would be NO.
They went on to a 3-2 victory against the hapless Sens. Heinen and DeBrusk again scored goals to pace the Bruins. During this streak, the Bruins have dispatched the Sens three games. Wonder how much longer it will be that Erik Karlsson will be traded?
Keep in mind that the Bruins are without their star rookie defenseman Charlie McAvoy who is sidelined with an irregular heartbeat. His five goals, 25 assists and will be missed.
All of this should perhaps slow down any team, but it seems to not phase the Boston bunch.
Trio of scorers has led the way
The Bruins have three players leading in scoring for the team. Marchand has 21 goals, 29 assists in 38 games. David Pastrnak has 20 goals, 26 assists, and Patrice Burgeon has 20 goals, 22 assists.
Lots of firepower to fuel the offensive attack.
Goaltending has been strong
Tuukka Rask has been phenomenal during the streak. Appearing in all but four of the games during the 18-game span he now has a 19-8-4 record. During his last 16 appearances, he has just two overtime losses and hasn't lost a game since December 4, 2017, against the Nashville Predators.
Anton Khudobin has been outstanding as well with a 10-2-4 record, a .924 save percentage and a 2.38 GAA. Together with Rask, they make a one-two combo in the net which has been unstoppable.
Can the Bruins continue at this pace?
They may falter a bit with both Marchand and McAvoy out for more games. They have three straight home games after the All-Star break. They play the Anaheim Ducks, St. Louis Blues, and Auston Matthews' Toronto Maple Leafs.
Tough games... and especially shorthanded. If the surprising Bruins can keep up the streak, there is no limit to their success this season.
They are in the hunt, and many teams are not.
What is your reaction to the way the Boston Bruins are playing this season, and especially during this streak? Let us know in the comments section below.