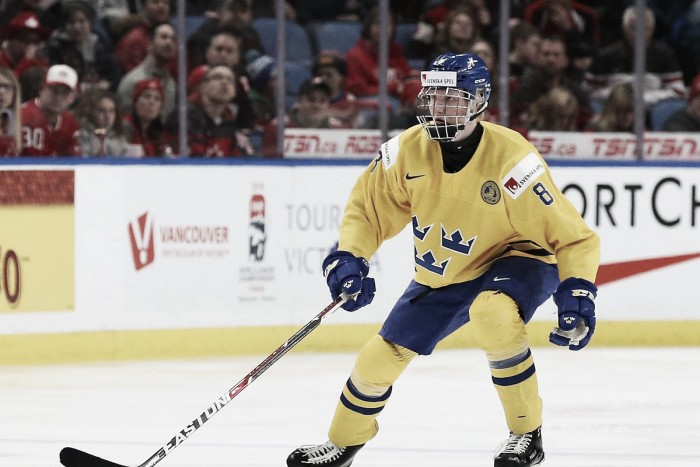 One of the perks of being a bad team in the NHL is you get a shot at drafting a player who could change your franchise.
Since the Arizona Coyotes have the worst record in the NHL going into the last half of the season, their chances are good to land a premier player like Rasmus Dahlin of Sweden.
If they finish last in the league they are guaranteed to have a top-four pick, and if their lottery luck improves they could pick first.
According to ISS Hockey, and most other reputable sources Dahlin WILL be the first overall pick in the 2018 NHL Entry draft... it's not even close.
How Dahlin could help the Coyotes
It's no surprise that the Coyotes need help on the blueline being the team in the NHL with the second worst goals against.
Of course, Dahlin would be more of a defenseman with offensive tendencies similar to Oliver Ekman-Larsson or Erik Karlsson.
With the uncertainties of Ekman-Larsson's future with the Coyotes, it would be great to have Dahlin in your team's future. He would more than likely be ready to step up to the NHL in a short period of time.
And with moves like this, he will be a definite star player soon.
Brady Tkachuk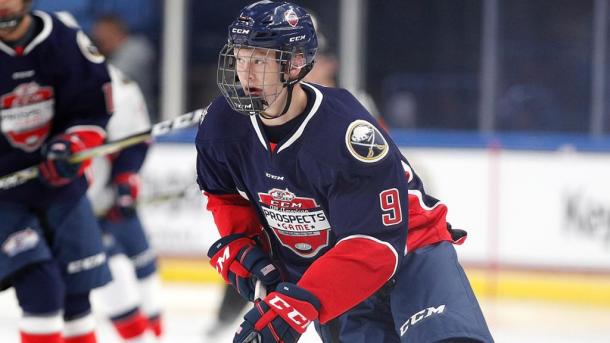 According to ISS Hockey, the player ranked second in the draft is former Coyotes' star player Keith Tkachuk's son and Matthew Tkachuk's brother, Brady Tkachuk. He recently moved from being ranked third and is now moved up a slot in the draft prediction.
He played 25 games with Boston University tallying seven goals and 13 assists. He is a tough player in the mold of his father and brother and isn't afraid to mix it up. He had 22 PIM in 25 games, so he is a physical player.
He would add an element of toughness along with scoring ability to the Coyotes' roster, should he be selected by them. He plays center.
At 6'3", 196lbs and 18-years-old, he is an excellent prospect who already has an NHL size body and knows how to use it in the corners.
Andrei Svechnikov
According to winningitinmotown.com:
Svechnikov is blessed with a very enticing combination of elite-level skill and excellent size. Standing at 6'2" and 187lbs, he is a powerful skater with great foot speed, and is surprisingly shifty for his stature, able to burn laterally juke, and fake defenders to create open ice for himself like a much smaller player.
He is very strong on the puck, able to protect it while in full flight through traffic and along the boards. He is a beast along the boards and is able to use his size to his advantage to get better real estate in the offensive zone in the dirty areas of the ice.
He can beat defenders in any number of ways, be it with his finesse and stick-handling abilities, or with his sheer power. He possesses electrifying skills with the puck, and his one-on-one moves make him lethal in close when it's just him with the goalie.
Those are traits that any team would want on their team, and the Coyotes are no different. The right-winger can add some offense to a team which needs goals scored. The Arizona club ranks 30th with just 2.34 goals a game. Svechnikov could change all that.
Filip Zadina
Zahina will more than likely be the fourth selection, but that could all change in the next five months before the draft is held.
"As far as his strengths, he's an excellent shooter," Mooseheads general manager Cam Russell said. "Great skater. He's an extremely good play-maker. But his No. 1 quality would be his shot."
"Good hockey sense. Good skating. Good shooting," is how the 6-foot, 190-pound Zadina describes himself. "He's strong on the puck. He's a technical player," added Czech line-mate Martin Necas.
It sounds like he too would be a good addition to most any team. For some reason it seems that the Coyotes always miss out on the first overall selection when the lottery takes place.
If Zahina goes fourth, it's assured that the Coyotes wouldn't be too upset.
Final analysis
The Arizona Coyotes look to have an excellent opportunity to land a player who can help them sooner rather than later. To add any of the top-four prospects would upgrade their team and give them a chance at making the playoffs.
Since that hasn't happened for six seasons, the fans and management of the Coyotes can expect to see some improvement in the standings, and get this team to playing better hockey.