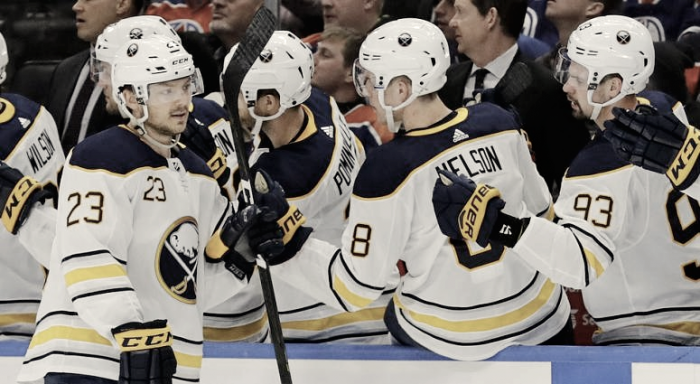 After taking a week off, we are back! Welcome to the second article to recap the week that was for the Buffalo Sabres. As before, I will go through each day giving a quick recap and grading Buffalo on how that day went. Then I will give an overall grade for the week.
The Sabres came out of their week off feeling refreshed, and ready to enter the All-Star break on a good note. Buffalo played in four games, called someone up, and had one of their best weeks all season (spoiler alert.)
With that said, let's begin!
January 19th: Bapper got the call
GM Jason Botterill pulled the trigger on another Rochester call-up as a back-up in case winger Kyle Okposo couldn't play on Saturday. Nicolas Baptiste was the man to get the call and was hoped to prove himself after his first call-up did not go well.
Nick Baptiste is up from Rochester

— Paul Hamilton (@pham1717) January 19, 2018
Baptiste was only up for four games previously and he did not play well at all. He had no points and looked completely out of place. Baptiste did practice with the team on the 19th, and it was revealed that Okposo took a maintenance day and that he would be ready for the Sabres game against the Dallas Stars.
Day Grade: B+
January 20th: Terrible
Buffalo took on Dallas on kids day at Key Bank Center looking to turn it around after their loss to the New York Rangers coming off of their bye week. Goalie Robin Lehner got the start in net for Buffalo.
Dallas scored first off a bad bounce off of Jake McCabe. Dallas then scored again on their power play, and Buffalo entered the second period down 2-0. After one, the shots were 13-10 Dallas, and Buffalo looked to get back on track in the second, but that's when the floodgates opened.
Dallas scored again on a goal that Lehner should have stopped. Buffalo finally got on the board to make it 3-1 after Sam Reinhart grabbed Jack Eichel's rebound and put it home.
But, less than a minute later Dallas answered right back to make it 4-1, and that's when Lehner's night was over. With Chad Johnson now in net, Buffalo was hoping that would spark some life into them, but that would not be the case.
Dallas went on to score three more goals to beat Buffalo 7-1 in a game where Buffalo had no chance from the get-go. Buffalo looked completely terrible and they truly played an absolutely horrendous game.
Day grade: F----------------
January 22nd: Chad Johnson's return
Two days after a truly horrendous game against the Dallas Stars, the Buffalo Sabres went on the road to face the Calgary Flames. This was Chad Johnson's first game against his former team, so no one was better to get the start.
Baptiste was slotted into the lineup, and Josh Gorges was out ill for this game. Buffalo was hoping that they could get off to a good start on their western road trip, but it looked bleak after Calgary jumped out to the early 1-0 lead with 12 minutes left in the first.
Just 24 seconds later Scott Wilson answered Calgary's goal with his first goal as a Sabre to tie it up at one.
Both the second and third periods passed with no notches on the score sheet so we headed into overtime. Buffalo entered OT with time left on a powerplay that Calgary got near the end of the third, and with one second left on the power play, Jack Eichel unleashed a laser of a shot to seal Calgary's fate and get Buffalo their 11th win of the season.
With Eichel's goal, he continues his point streak for six straight games which was eight points (4 G, 4 A) in six games. Eichel also has, at this point, 21 points (11 G, 10 A) in 15 games.
Buffalo lost defenseman Nate Beaulieu due to a concussion.
Day grade: A-
January 23rd: Eichel vs McDavid
A back-to-back for the Sabres as they traveled to Edmonton to face the Edmonton Oilers after downing the Flames in overtime. Lehner got the start in net for Buffalo, and they called up Matt Tennyson to replace Beaulieu in the lineup who was still in the concussion protocol.
Buffalo started the game out flying and they jumped all over the Oilers for the early 1-0 lead on the power play and giving Eichel a point in seven straight games. Buffalo ended the first period up 1-0 with the hope that they would be able to continue their hot start.
Jack Eichel tonight joined Gilbert Perreault, Rick Martin & Thomas Vanek as the only players in @BuffaloSabres history to start their career with 3 consecutive 20-goal seasons

— StatsCentre (@StatsCentre) January 24, 2018
And that they did. Just 17 seconds into the second period Ryan O'Reilly made it 2-0 off a two-on-one. Zemgus Girgensons fired it home to make it 3-0. Later on in the second, Eichel scored to make 4-0 and give him three points for the game. Then as the period expired, O'Reilly scores again to make 5-0 and with the assist on the goal, that gave Eichel four points for the game.
Connor McDavid was held scoreless, as was his team.
The third period came and went with no goals on either side, and Lehner earned his second shutout of the season. Eichel also continued his point streak, and Buffalo had their largest margin of victory since 2012 against the Boston Bruins.
Day grade: A+
January 25th: Three straight wins?
Buffalo ended their western road trip against the Vancouver Canucks looking to go for three straight wins after a 5-0 domination of the Oilers two nights before. After his shutout, Lehner got the start again in net.
Buffalo struck first at 4:27 of the first period when hometown kid Sam Reinhart scored after he got the rebound from Wilson to put it past Jacob Markstrom for the 1-0 lead. Reinhart now has seven points (3 G, 4 A) in his last five games. Buffalo ended the first up 1-0 and looked to continue it into the second.
Baptiste is a bad, bad man. He sped right by everyone and made it 2-0 for Buffalo. Baptiste gets his first of the season off a beautiful feed from Benoit Pouliot.
Buffalo ended the second up 2-0 and has now outscored their opponents 7-0 in the last five periods they had played to that point.
The Sabres sweep Calgary, Edmonton and Vancouver for the first time since 1998

— Paul Hamilton (@pham1717) January 26, 2018
Okposo decided to pitch into the scoring to make 3-0 and Johan Larsson added an empty netter to make it 4-0. Buffalo ended up giving up one goal the entire road trip stopping 95 of 96 shots. Eichel lost his point streak, but Buffalo ended the road trip with three straight wins and back-to-back shutouts for Robin Lehner which was the first time that Buffalo has posted back-to-back shutouts since 2012 when Ryan Miller accomplished that feat.
Buffalo outscored their opponents 11-1 on their three-game road trip to give them three straight wins. Lehner also got back-to-back shutouts for the first time in his career.
Don't look now, but the Sabres are just two points out of the Atlantic Division cellar trailing the sinking Ottawa Senators.
Day grade: A+
Final Weekly grade: A-
What did you think of the Sabres week? What would be the grade you gave them? Tell me in the comments below!