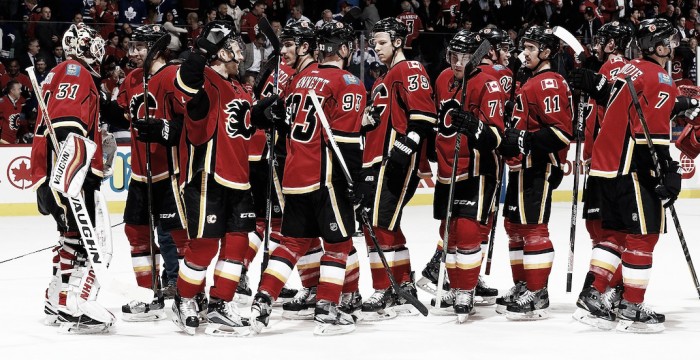 The Calgary Flames are certainly talented enough to be a playoff team, but if they continue to be inconsistent they risk the chance of being out of the playoffs.
Losing/winning streaks are prevalent
Taking a look at the Flames last 21 games, which is over one-quarter of the season... the team has five winning/losing streaks indicating their lack of consistency.
They have a two-game winning streak, along with a seven-game winning streak.
Their losing streaks include two three-game streaks, as well as the current six-game streak.
Over this 21-game period, they have had four shootout losses and own a 3-2 record in overtime games.
While that is a decent .666 point percentage, they need to eliminate their streaky play if they want to be playing in the playoffs in April.
Will Mike Smith be able to take them to the playoffs?
Mike Smith was acquired by the Flames over the summer last year, and has played reasonably well, but could be showing signs of slowing down. He will turn 36 on March 22, 2018, and has his moments of poor play.
In his last appearance, he was thrashed for six goals before being yanked in an embarrassing loss to the Tampa Bay Lightning 7-4.
While he was with the Arizona Coyotes he seemed to make the easy saves look difficult, and exceptional saves look simple. His biggest flaw is his bad habit of roaming from his crease. It has burned him more times than he cares to remember.
He, like his team this season is an inconsistent performer. When he was traded there was a conversation about him being a backup, but he has played in 41 of the Flames' 51 games.
It seems that if Smith stays healthy he could get them to the postseason, but his history of injuries and his age may factor into that.
He does possess a 20-15-6 record with a .922 save percentage and a 2.50 GAA. He also has two shutouts, one against his former team in Arizona.
What lies ahead
With 31 games remaining and the wild card race heating up, the Flames need to start heating up in a consistent manner in order to be one of the 16 teams in the playoffs.
Three other teams (Chicago Blackhawks, Minnesota Wild, and Los Angeles Kings) are just four points apart and all vying for that last playoff spot.
The fight will be brutal, and it's debatable that the Flames have what it takes to get there... they have Johnny Gaudreau, Sean Monahan, and Matthew Tkachuk after all.
The question then becomes will Smitty in net sustain through the last part of the season healthy, and will his play at least level off or improve?
After facing the Blackhawks next tomorrow night at home, they must go on a six-game road trip and that may make or break them. They actually play a home-and-home against the Blackhawks kicking off their long road trip.
We'll see if the Calgary Flames can start playing consistent hockey.
If they do they have as much of a chance of making the playoffs as any other team they're fighting against. They will have the opportunity to improve their disappointing showing in the playoffs last year.
And if they don't, they may be looking for another goalie for sure.
What is your take on the Calgary Flames inconsistent play? Let us know in the comments section below.