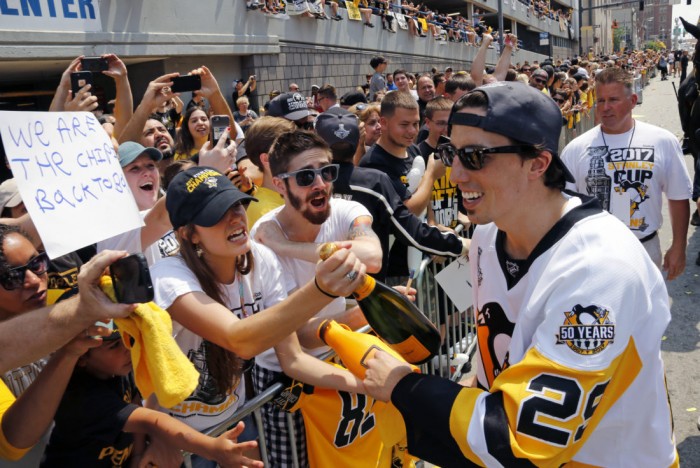 Kris Letang openly expressed his concern for his friend "Flower." Seeing his good friend leave the only city he has ever known hurt him.
It was obvious.
Other players shared the same sentiment, yet not as openly. Sidney Crosby spoke with a lump in his throat at the expansion draft about what Fleury would do for the city of Las Vegas. Mario Lemieux watches on with visible emotion on his face.
Watching Marc-Andre Fleury, Letang, and Crosby interact at the All-Star Game this weekend made it clear just how close they all really were and are.
Evgeni Malkin posted a tribute to Flower the night of the draft, Ian Cole stated that he was irreplaceable, Ron Burkle said he wishes he could have paid the expansion fee over again to keep Fleury. Then there was Matt Murray. Who on the first-day training camp stated, "I am not trying to fill Marc-Andre Fleury's shoes, no one is going to fill his shoes."
Fleury's legacy
Fleury's mark has been left. He has left his mark on the city, its people, and the Penguins.
The 375 wins, three Stanley Cups and every goaltending record in Penguins' history helps. The emotional return will coincide with the tears that will fall from many Penguins fans' faces as they see one of their favorites return to the place many will always feel Fleury belongs.
It is not just a return to PPG Paints Arena that will stir emotions, but a return to the city itself that will hit Fleury hard. A return to what was for so many years... normal.
Maybe it was how he left with so much dignity and grace that made you a diehard Fleury fan. Maybe it was the sliding save that won them the Cup in 2009. Maybe it was those yellow pads. Maybe you will cheer a little louder for him on Tuesday because you booed him during one of his rough patches.
Maybe you will cheer because you met him around town one day and he stopped to sign your shirt or take a picture. Or maybe you will cheer for him because, in a world that is plagued with heroes who let people down, Fleury has done anything but.
Or maybe you will cheer a little louder for him on Tuesday just because it feels like the right thing to do because the building demands you cheer for him.
Fleury's mark on the city of Pittsburgh goes much deeper then the 39,771 minutes he played with a Penguin on his chest. On Tuesday he will have a whole fan base on its feet, he will have all of Las Vegas tuned in and all his teammates on both sides of the ice will be thinking about the man they so affectionately call Flower.
Fleury's loyalty to the city of Pittsburgh is not something we see every day. It is easy to root for someone who always has been the best. Professing your loyalty to a sports hero like Sidney Crosby or Mario Lemieux is as easy as it gets.
Supporting your team's goalie that one year when he had a playoff save percentage of .834 and another year .924 isn't as easy.
The whole point of the love affair between Fleury and Pittsburgh is that it was never easy and it was one heck of a ride.
Fleury's time in Pittsburgh may always be overshadowed by those three years he struggled in the playoffs, but on Tuesday, February 6th, 2018, you will see the most anticipated return of a sports athlete in Pittsburgh's history, and the star of the show will be a man that the city of Pittsburgh watch grow up right before its eyes.
A lot of those fans who are cheering will be the same ones who wanted him out of town in 2012. They may also have been one of the 600,000 who chanted his name in the Stanley Cup parade last summer. There will also probably be one of the hundreds who wanted him traded last February.
There will be a few of them who will remember his first save, first shutout, first loss, first puck-handling blunder. There will also be many who aren't quite sure who to cheer for on that night.
Overall, what is understood when you talk about the city of Pittsburgh and Fleury is simple; they just like each other.
They were a perfect match.
Many memories will come up on Tuesday, it isn't because Fleury was the best goalie in the league when he was in Pittsburgh, although he was on more than a few occasions. It is because you simply can't and won't ever be able to look at this era of Penguins' hockey without thinking of Fleury.
The signature smile, practice antics, and those plane rides with Crosby will always be a part of Penguins' history. For all that Fleury has been through, all the ups, all the downs, so much heartbreak, so much jubilation, Fleury's NHL legacy will always start in Pittsburgh.
And that is something that the citizens of the 412 will always be proud of.
A look back
It started in 2003 when he was drafted, the Penguins acquired the first overall pick from the Florida Panthers in a trade that sent the first and 73rd overall picks to the Penguins in exchange for Mikael Samuelsson and the third and 55th picks.
Pittsburgh just couldn't pass up on Fleury. They needed a goalie that was going to do everything possible to put the team's needs before his own and put the team on his back when needed. It showed early on.
Most goalies spend two or three years in the minors before getting a start in the NHL. Fleury made his debut at age 18. He was the youngest goalie in the NHL.
Think about that for a minute. Three years before he was playing Midget AAA in the Montreal area in Quebec. Fast forward three years and 90 games for the Cape Breton Screaming Eagles and he is the first overall pick of the deepest draft in NHL history and the starting goalie for a team captained by Mario Lemieux.
Wow.
A few days before he was about to cash in on a signing bonus to stay in the NHL he was sent back down to the QMJHL. From 2003-2006 he would play 61 games for Cape Breton, 66 games in the AHL and 71 games in the NHL.
Out of the 71 NHL games, he won a grand total of 17 of them.
Then Sidney Crosby happened. For the next five years, he won a Stanley Cup, went to the Cup Finals, made a Stanley Cup winning save and signed a beautiful seven-year contract.
He was in net for the Game Five when Pittsburgh won vs the Detroit Red Wings in triple overtime. He made 55 saves. He was in net the next year in Game Five too when he got pulled after he allowed five goals.
As previously stated, so many ups, so many downs.
He was pulled against the New York Islanders in 2012 and replaced by Thomas Voukon. Instead of trading Fleury that summer they got him a new goalie coach and a much calmer and steady Fleury emerged.
The average fan might not remember, but in 2015 Fleury he was the team's MVP. The years when Malkin and Crosby were injured, Fleury steadied the ship. In 2015 he had 10 shutouts, none more important than the one on the last night of the regular season, which secured them a playoff spot.
He was Pittsburgh's best player that year against the New York Rangers, despite losing in five games. To quote Crosby after the series, he said, "Fleury deserved better."
The rest of Fleury's time in Pittsburgh doesn't need much explanation. He was playing the best hockey of his career when he was sidelined with a concussion. Matt Murray took over and he never really got the net back. Coach Mike Sullivan helped that happen, but it happened nonetheless.
However, in 2017 round one against the Columbus Blue Jackets, and round two against the Washington Capitals Fleury got the perfect send-off, in part because it was anything but perfect. That save versus Alex Ovechkin. Magic.
That game vs Columbus where he saved 50. Magic.
That shutout vs Ottawa Senators. Magic.
It's the little things about Fleury's career in Pittsburgh that made it special; like the way, the building chanted his name in Game One against Columbus last year when Murray got hurt. Or how he hid inside Colby Armstrong's hockey bag in 2007.
The time he fell onto the ice running out of the tunnel in Detroit, in the Stanley Cup Final endeared himself to Pittsburgh. And how he quietly put his hand over his heart and waved thank you to the fans on that last parade down the Boulevard of the Allies. Fleury is a special person, and, he is one of the best goalies of his generation.
An emotional goodbye
Fleury would have loved to be in the net when they hoisted the Cup in Nashville, but it wasn't meant to be. For a player who has had so many "wasn't meant to be's" it's quite remarkable the legacy he left with.
With tears in his eyes he lifted the Cup, with the young family that he had built and raised in Steel City by his side, with his best friends looking on and knowing that this was it, he stepped off the ice in a Penguins jersey for one last time.
Parties and champagne would follow, an emotional parade that at times felt more like a Fleury parade than a championship one. An autograph signing where people lined up at 6 am just to say goodbye and a tear-jerking locker room clean-out with Fleury's signature smile and Pittsburgh Pirates ball cap made headlines.
Then came the news that Fleury had waived his No Movement Clause back in February. He said he wanted to do what was best for the team and the city of Pittsburgh. That 18-year-old kid that was drafted first overall with the hopes that he would always pull through when it mattered most, came through in a way no one could have ever imagined.
In many ways, he saved the season.
That is why Pittsburgh and Fleury will always be linked, that's why Pittsburgh and Fleury always worked.
Vegas
Now here we are. Over 700 games after that first game in October of 2003. Nearly 400 wins since his first one against Detroit on October 18th, 2003. Fleury's on one of the best teams in the league, the undisputed starter, and having a career year.
No one is surprised when he is announced the starter night after night, and that's what this was really all about. Don't be surprised if Pens' fans are watching the Western Conference a little more closely this year. The Flower is in Vegas, it's hard not to root for one of your favorites.
It has become pretty clear; Marc-Andre Fleury is the greatest Penguins goalie to date, and it isn't even close.
He too helped save the franchise and now he's helping to start a new one. Maybe he will finish his career in Vegas, or maybe somewhere else, and there will always be a group of the Penguins faithful who hope to see him dawn that Penguins' sweater again, but either way, they say you never forget where it all started.
For Fleury, it started in Pittsburgh, it started where you drive under that Fort Pitt tunnel and see the city unfold before your eyes. It started in "the Igloo" and migrated to PPG Paints Arena. It started so many years ago, and that is something neither him nor the city will ever forget.
On Tuesday Fleury's hockey story comes full circle to Pittsburgh. His hockey story... that is. His legacy and personal connections he built through playgrounds, hospital visits, pucks flipped over the glass, and kind gestures will live on in Steel City forever.
The roof might blow off the arena if Fleury makes a windmill save and it's almost a guarantee his standing ovation will be the longest in recent memory in the city of bridges.
But, it really doesn't even matter how well Fleury plays. It doesn't matter because if Penguins' fans have learned anything about Fleury; through lost starting jobs, Stanley cup wins, built playgrounds, tearful goodbyes, and cartwheels in practice; it's that he might be down, but you can never count him out.
From listening to the many quotes Fleury has given, a part of Fleury and his family will always call Pittsburgh home. For fans and teammates alike, the feeling couldn't be more mutual.
There are very few athletes that have left Pittsburgh and took our hearts with them... Fleury did.
So this speaks for the whole city. Welcome home Flower, it is so good to see you, and it is so nice to see you are doing well!
THE save
For all the tear-filled moments that will be created and cherished on Tuesday, let's end this article with one moment that will never bring a tear to any Pens fans' eyes.
What's running through your mind as Flower is set to return to Pittsburgh in a Vegas jersey? Comment down below.